Arblaster & Clarke Wine Tours - vacations and travel
South Africa Wine Tour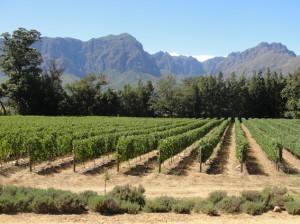 Cape town airport, south africa
Culinary & Wine Travel trips
The Cape is one of the most spectacular vineyard regions in the world. Our wine holiday of South Africa covers the best of the wine and some of the most beautiful sites. On this winetour, unlike casual tourists in the wine lands, you receive personal welcomes from the wine-makers, great wine tastings and private invitations to lunch or dinner.

The Cape has a long tradition of wine production dating back to the Dutch settlers of 1652. When the British took over a new wealth was brought to the country and many of the gracious Cape-Dutch homesteads were built. It was hoped initially that the Cape would become "the vineyard of the Empire". This happened to some extent, although quality table wine production didn't catch on, Cape 'Port' and 'Sherry' became popular and 'Constantia' Muscat established a superb reputation.

Then came a downward spiral caused by the political situation, a partial boycott and bad publicity. At the same time European laws to protect names such as 'Sherry' came in and there was a surge in quality elsewhere in the New World. This led to a near total disappearance from international markets. Following the country's 'opening up', exports and quality increased, recently soaring to very high levels and receiving international acclaim. We'll discover the latest developments in the wine scene.

We start our South Africa wine holiday in Cape Town where we stay on the lively waterfront.On the Victoria & Alfred wharf there are numerous restaurants, wine shops and even a brew-pub serving food. There are interesting shops and in-door markets to browse round too. Table Mountain, the Two Oceans Aquarium, a boat trip around the harbour and a visit to Robben Island make it worthwhile to fly out a couple of days before the tour begins or stay after!

On our first evening we have a comprehensive tasting at Buitenverwachting in Constantia and an included dinner, where you will meet the rest of the party and enjoy wines selected by our Wine Guide. From Cape Town, we explore the Cape of Good Hope Nature Reserve and Boulders Park to see the colony of African penguins.

We head north-east inland next, first to Stellenbosch, where we taste remarkably good sparkling wines with Villiera. We visit Warwick and enjoy a picnic by the shores of their lake.

We cross the spectacular Du Toitskloof Pass to visit the Worcester and Robertson regions. These were traditional 'fortified' regions but here we taste interesting exciting modern wines in Robertson with De Wetshof and Springfield. Robertson was traditionally an average white wine region but it is now much better and increasingly known for good cabernet too.We stay in the lovely small town of Montagu.

Down on the coast at Hermanus on Walker Bay we have a keynote visit and lunch with Hamilton Russell, pioneers of Pinot Noir and Chardonnay in South Africa and always one of the most enlightened of the Cape estates. Nearby the former orchards of Elgin are the latest cool climate quality hot spot. Here we visit one of the new star estates, Paul Cluver.

The Huguenot town of Franschhoek (literally 'French Place') is our next base. In Franschhoek we visit L'Ormarins winery. The wines perform extremely well, in particular in the premium range.

From Franschhoek we visit the Stellenbosch wine region again and Thelema Mountain for a private tasting of Gyles Webb's sensational wines. Rudi the winemaker will join us, dependent on what's happening with the harvest! We also enjoy an evening Snoek Braii (fish BBQ) with the masters of pinotage, Kanonkop. We have a wonderful lunch with superb wines at Tokara.

There will also be free time in the attractive University city of Stellenbosch, one of the best-preserved towns from the era of the Dutch East India Company who settled in the Cape in 1652. The town is famous for the Cape Dutch thatched and gabled buildings that line its streets. The tour ends with a visit to the magnificent famous botanical Kirstenbosch Gardens.

This tour offers some fantastic scenery, fine food and glorious weather. As well as being an up to the minute wine tour, it covers most of the Cape's beautiful sites, a tour not to be missed!
Locations visited/nearby
South Africa, Africa
Comments from Facebook
Itinerary
Thursday 14 February. Day 1: Meet in Cape Town. Comprehensive tasting at Constantia. Included dinner with wines selected by Wine Guide. Overnight 4* Victoria & Alfred hotel, Cape Town.

Friday 15 February. Day 2: Visit Cape of Good Hope Nature Reserve. Lunch included. Visit Boulders Penguin Park. Free time for dinner in Cape Town. Overnight 4* Victoria & Alfred hotel, Cape Town.

Saturday 16 February. Day 3: Visit Wine Estate Villiera. Picnic Lunch at Warwick. Included dinner in Montagu. Overnight 4* hotel, Montagu.

Sunday 17 February. Day 4: Visit Springfield Wine Estate in Robertson. Wine Estate lunch at De Wetshof. Free time for dinner in Montagu. Overnight 4* hotel, Montagu.

Monday 18 February. Day 5: Visit Hamilton Russell & lunch. Afternoon wine visit at Paul Cluver. Travel to Franschhoek. Free time in Franschhoek for dinner. Overnight 4* Guest House, Franschhoek.

Tuesday 19 February. Day 6: Wine visit at Boekenhoutskloof. Free time in Franschhoek. Afternoon visit at L'Ormarins winery. Dinner at Kanonkop Wine Estate. Overnight 4* Guest House, Franschhoek.

Wednesday 20 February. Day 7: Visit Thelema Mountain wine estate. Lunch at Tokara (winery restaurant). Free time in Franschhoek. Overnight 4* Guest House, Franschhoek.

Thursday 21 February. Day 8: Visit Beyerskloof in Stellenbosch. Free time in Stellenbosch for lunch. Late afternoon visit to Kirstenbosch Botanical Gardens. Tour ends, transfer to airport (one complimentary transfer from Stellenbosch to Cape Town Airport to coincide with BA058 flight to London). Opportunity to extend in Cape Town, go on Safari or explore the Garden Route (please call for details of our recommended travel partner).

This tour is sold without flights, which enables you to have maximum flexibility pre and post tour. We have found in the past many of our clients have enjoyed staying on after the tour, and having a flight included restricted this option.
More information from Arblaster & Clarke Wine Tours: