Arblaster & Clarke Wine Tours - vacations and travel
The Rhône by Train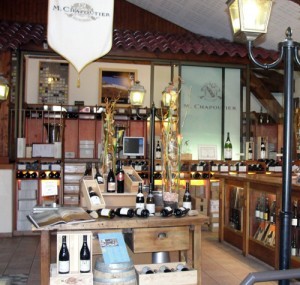 Valence, france
Culinary & Wine Travel trips
The Rhône was once the most important economic and political route in the development of Western Europe. Its numerous beautiful towns are steeped in history. The Phoenicians, the Greeks and the Romans all used the river as their route into the country and beyond, preferring to navigate the river (as far as Lyons) then continue across Gaul by horse and cart or on foot rather than face the sea beyond the Straits of Gibraltar. The long succession of conquerors and traders built the first elegant cities of the west and many of the most significant events in French history took place in the Rhône.

The Northern Rhone vineyards start just south of Lyons. This is the homeland of the Syrah, one of the greatest red grapes and three lovely white varieties, Marsanne, Roussane and Viognier. The attractive town of Valence is our base for the first two nights. It stands on the left bank of the Rhone. Our base here is a recently renovated family hotel near the old town centre. You may choose to upgrade to the superb 5* boutique hotel, le Pic, with its Michelin Triple rosette restaurant, run by Anne-Sophie Pic.

A former Roman colony, Valence later became the capital of the Duchy of Valentinois, set up by Louis XII in 1493 for Cesare Borgia. The most interesting sight is the Cathédrale St-Apollinaire, consecrated by Urban II in 1095. It suffered extensive damage in the French Wars of Religion, but was restored in the first decade of the 17th century. One of the more macabre structures in Valence, the Maison des Têtes, or "House of Heads," is a 16th century building with a flamboyant façade of the sculpted heads of notable ancient Greeks such as Aristotle, Homer, and Hippocrates. Between the cathedral and the Eglise de St-Jean there are numerous quaint, narrow streets, called cotes, which are the oldest streets in Valence. There are many shops and bars and a vast choice of restaurants offering French and international cuisines.

The wine visits start, again with a short train trip, to the Northern Rhone village of Tain l'Hermitage where we visit Michel Chapoutier. Their quest to interpret their various 'lieu dits' in Hermitage, Côte Rôtie and Condrieu, their desire to let the terroir speak led them to embrace biodynamism. The wines have more precision, a more attractive mouthfeel and are technically better but importantly, have more soul.

Ferraton are a small negociant with super quality from both the Northern and Southern Rhone. Their own vineyards in the Hermitage, Crozes-Hermitage and Saint-Joseph include impeccable sites and their vineyards too are tended bio-dynamically. We'll enjoy a further tasting over a light lunch too, trying wines from Cornas, St Joseph and Condrieu.

Next morning, we move to the Southern Rhone where we start with a tasting of those monumental, archetypical Rhone twins: Vacqueyras and Gigondas. The Domaine Le Clos des Cazaux is a leading estate of some 40 hectares in both villages. Until vines are 20 years old they are not used for their 'cru' appellations, not even as Rosé, and are sold as 'Côte de Rhône Villages'.

Our next visit is to the lovely Chateau Unang in the foothills of Mt Ventoux with 20 hectares of south facing vines, all on clay lime soils and up to 300 metres above sea level and open to the Mistral winds. We are welcomed here to lunch with owners, James and Joanna King.

We continue to the city of Avignon with its famous unfinished bridge, which is also situated on the left bank of the river Rhone. Our base here is a modern 3* or you may upgrade to the 4* la Mirande. Avignon is a thriving fashionable city surrounded by 14th century ramparts and dominated by the impressive medieval Popes' Palace, from where seven consecutive popes ruled. Today, in the old part of the city, there is a maze of winding streets to explore around the Place de la Republique and the Place de l'Horloge.

Châteauneuf du Pape is still the premier wine of the region, but it is having to adjust to being more of a first among equals as Gigondas, Vacqueyras and others jostle their claims to importance. That having been said there is something majestic about great Châteauneuf, as will be apparent at our visit to Andrew Jefford's choice of up and coming star producer, Domaine de Cristia. Cristia is one of the fast-rising new stars of Chateauneuf, now run by Baptiste, Dominique and Florent Grangeon. Sited in the northeast part of this vast appellation, their Grenache-based cuvees have been compared in quality to those of Rayas, thanks to the combination of old vines and sandy soils. Their Syrah and Mourvedre grow on classic Chateauneuf cobbles. They'll be happy to explain the nuances of Chateauneuf terroir to us.

After this, we visit one of the rising star regions, Costieres de Nimes just south of Châteauneuf de Pape. Costieres de Nimes is attracting more and more attention with each year that passes as a potentially outstanding Southern Rhone terroir. Like Chateauneuf, most of the AOC is on rolled pebbles from the former course of the Rhone, with limey clay subsoils. Here we'll visit, Chateau de Nages, Vignobles Michel Gassier one of the appellation leaders as well as one of the largest properties in the area, run (biodynamically) with great enthusiasm by Michel Gassier and his wife. Michel's philosophy is that great wines are made in the vineyards, not the winery. Currently in conversion to organic farming, their vineyards are maintained with strict agriculturally responsible farming methods. Michel Gassier's wines have been given innumerable awards, most recently being recognised as one of the year's 15 top winemakers of France by Bettane & Desseauve in 2009.

In the afternoon we'll return to Avignon, perhaps to visit the famous 'Palais des Papes'.

On our last day of touring we return to the vineyards below the peaks of the Dentelles de Montmirail. Domaine de Mourchon is an exciting domaine owned by the Scottish MacKinley family who bought old vines just up the valley from Gigondas and built a modern winery. The wines are produced as 'Côtes du Rhône Village Seguret', include a remarkable Grande Réserve that you'll taste.

We finish with a tasting and lunch with the Vignerons de Beaumes de Venise. The delicious aromatic 'Muscat de Beaumes de Venise' is probably the south of France's most famous sweet wine and Beaumes de Venise has now been promoted to become an Appellation for reds too. The Vignerons' quality is renowned and they are a good source from the surrounding appellations too.

The Rhone is France's second largest quality wine region and over the course of our six days Andrew will aim to show you its essence.

The Wine Guide is internationally acclaimed wine writer, Andrew Jefford, author of the New Wines of France and contributor to The Spectator, FT and other wine columns.
Locations visited/nearby
France, Europe
Comments from Facebook
Itinerary
Day 1 – Monday 25 April
Train to Valence from London St Pancras (via Lille). Included dinner at a nearby bistro. Overnight stay at a 3* hotel in Valence or upgrade to 5* Maison Pic.

Day 2 – Tuesday 26 April
Train from Valence to Tain (10 mins). Visit and tasting at Maison Chapoutier. Light lunch and tasting. Afternoon visit and a further tasting in Tain. Opportunity to visit the Valrhona chocolate shop. Return from Tain to Valence. Non-included dinner. Overnight stay at a recently renovated 3* hotel or upgrade to 5* Maison Pic.

Day 3 – Wednesday 27 April
Morning departure from hotel to head south. Mid-Morning visit and tasting in Vacqueyras. Lunch at a wine estate in the Côtes de Ventoux. Free time in the evening. Overnight stay at modern 3* or upgrade to 5* La Mirande.

Day 4 – Thursday 28 April
Two morning wine visits in Châteauneuf-du-Papes. Light lunch and tasting. Return to Avignon. Further visit and tasting. Free time in the evening. Overnight stay in a 3* hotel or upgrade to 5* La Mirande.

Day 5 – Friday 29 April
Morning visit and tasting and vineyard stroll in Seguret. Lunch at Beaumes de Venise, Visit the town of Vaison la Romaine. Beaumes de Venise. Return to Avignon. Overnight stay in a 3* hotel or upgrade to 5* La Mirande.

Day 6 – Saturday 30 April
Free time in the morning. Lunchtime return train to London St Pancras from Avignon (via Lille).

More information from Arblaster & Clarke Wine Tours: