Arblaster & Clarke Wine Tours - vacations and travel
Douro Vineyard Walk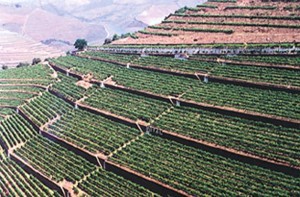 Airport near porto, portugal
Culinary & Wine Travel trips
The Douro remains as one of Europe's unspoilt paradise and is classified as a World Heritage Site. On this stunning walking tour, we'll explore the vineyards, quintas, villages and towns of the dramatic Douro valley; mostly on foot, but also by support vehicle and train.

The Port industry is famous for its hospitality, its lunches at the Factory House in Oporto, and its house parties at the remote Quintas of the Douro. A Quinta is a working farm complete with winery and some have accommodation for staff and visitors up from the Port Lodges in Vila Nova de Gaia. For this tour we are based in the homely surroundings of the top quality Quinta do Passadouro in the classic Cima Corgo region.

The Quinta is famous for both red table wines and its Ports all made by their superb winemaker, Jorges Serodio-Borges. Each evening we relax over dinner at the Quinta whilst enjoying these and other wines with tasty dinners of Portuguese specialities.

Every day, we go out walking in the vineyards either in the quiet side valleys or down by the river. The views as we walk are really quite stunning and during the day we will enjoy picnic lunches.

We visit leading firms such as Niepoort and Quinta do Noval and rising stars like Quinta do Vale D.Maria and Quinta do Portal.

At the visits you taste many of Portugal's top non-fortified wines, as well as Port. Quinta do Vale D. Maria's and Passadouro's red wines are amongst the most exciting in the Douro. Quinta de Nápoles is at least as famous for their superb wines as for Port. Portal makes good wines too. You may also taste from 'table wine only' Quintas such as Passadouro's neighbour, the excellent 'Fojo' and 'Lavadores do Feitoria' that you taste at the famous Solar do Mateus, a baroque masterpiece.

You'll also take the train which hugs the side of the Douro River up to the Douro Superior. Here we'll explore this remote area and visit Quina do Vale Meão. The train journey is an exciting experience in itself and is one of The Great Train Journeys of the World, with views of this now mostly calm but once turbulent river.

The Douro is extremely rural but there are one or two small towns. We visit Lamego, the prettiest and most interesting. The last day is free in Oporto; you can explore this atmospheric city or perhaps fit in an extra visit to one of the many port lodges that line the riverbank at Vila Nova da Gaia.

Despite the huge gradients which the terraces of the Douro conjure up, this walk is not overly strenuous. There are steep sections but the distances covered remain reasonable. Indeed there are optional extra sections on a couple days which can increase the amount of walking if you wish.

Locations visited/nearby
Portugal, Europe
Comments from Facebook
Itinerary
Day 1. Meet at Porto São Bento train station at 14:00. Transfer to Quinta. Dinner on arrival. Overnight Quinta at Pinhaõ.

Day 2. Walk in Pinhaõ valley, to Favios vineyards. Picnic Lunch. Walk back to Pinhaõ Quinta for dinner and overnight.

Day 3. Walk to Celeiros and tasting in Pinhaõ Valley. Picnic lunch near Paradelinha. Walk to Quinta Fojo. Tasting and dinner at Quinta.

Day 4. Walk in Douro Cima Corgo, starting at Quinta do Cavadinha. Train to Pocinho, Douro Baixa Corgo. Lunch at Quinta. Visit museum and tasting then walk to Pinhaõ, Cima Corgo part of Douro. Dinner at Quinta.

Day 5. Walk Quinta do Tedo to Quinta Napoles. Lunch at Quinta. Visit Lamego. Dinner at Quinta.

Day 6. Walk Foz do Torto, south of Douro River to Quinta Vale D. Maria. Picnic lunch at Casa la Redonda. Walk to Pinhaõ. Dinner at Quinta.

Day 7. Transfer to Oporto. Free time at lunchtime in Porto. Transfer to Porto Airport at one specified time.
More information from Arblaster & Clarke Wine Tours: