Arblaster & Clarke Wine Tours - vacations and travel
Bugundy Hospices de Beaune Auction & Wine Buying Syndicate Tour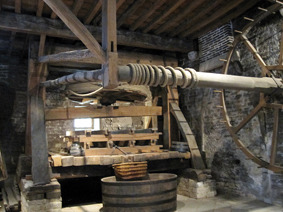 Champagne airport, france
Culinary & Wine Travel trips
For at least the past 16 years, every November, A&C clients have been travelling to France to participate in the Trois Glorieuses festivities set around the famous Hospices Vente des Vins auction in Beaune. It is not however the ideal time to taste these wines as they are very young at that time. This tour, being in the following June is a much better time to taste the wines and also to enjoy this beautiful region. The tour will be led by Charles Metcalfe, one of the co-Chairmen of the International Wine Challenge, though also known as a wine broadcaster and for his singing abilities, having been an Opera singer early in his career (like his friend, Oz Clarke).

Our tasting of the Hospices wines will show that the Domaine must now be considered among the top flight of Burgundy domaines. Anthony Hanson MW of Christie's and renowned Burgundy expert, has arranged for us to spend a morning with Monsieur Roland Masse, (regisseur of the Domaine de Hospices de Beaune), exploring the Hospices vineyards and having an in depth tasting. Roland is responsible for all the Hospices vineyards and for the winemaking; to be able to spend a whole morning with him and Anthony Hanson MW, is an extraordinarily wonderful thing for any wine lover to do.

Other visits will include Faiveley and we hope to lunch or have dinner at Maison Joseph Drouhin, dine with Bouchard Père et fils; and have special visits and wine tastings to Charles' selection of small stellar domaines that are not open to the general public.

This tour also offers the chance, to join our syndicate that has just bought a barrel of 2011 'Beaune 1er Cru Cuvée Guigone de Salins' at the Hospices auction.The five day tour will be hosted by renowned wine expert, Charles Metcalfe, one of the co-Chairmen of the International Wine Challenge. We'll visit Charles's selection of great négociants and smaller domaines. These will include prestigious lunches and dinners tasting and drinking some of the finest Burgundies available.

One evening, there is the option to attend 'Musique et Vin au Clos Vougeot'. This concert (with soloists from the Metropolitan Opera, New York) is followed by a dinner and an auction hosted by Anthony Hanson. Under the hammer will be great wines by the bottle, donated by some of Burgundy's top domaines to raise money for 'The Young Soloists'.

2011 was the 151st wine auction at the Hospices in Beaune – making it the world's oldest most continuous auction. The auction consists uniquely of wine from the Hospices vineyards sold in barrels containing the equivalent of 24 cases of wine (288 × 75cl bottles). The auction is run by Christie's, the London auction house, and its team of world-renowned wine specialists including Burgundy wine expert, Anthony Hanson MW. Funds raised go to the hospital, the historic Hôtel-Dieu and its museum of treasures.

It was Anthony's suggestion that we invite our clients to participate in a wine buying syndicate, with Anthony to advise us on the choice of wines, host the tasting in London and indeed to bid at the auction on our behalf. This was just too good an opportunity to miss and the thrill of watching the auction was really exciting. Anthony Hanson MW is, of course, widely considered world-wide to be one of the foremost authorities on Burgundy – indeed our own Tim Clarke has been enjoying reading and learning from his superb writings on the subject for the past 25 years or so. Arblaster & Clarke Wine Tours and their clients will be the proud owners of one of these historic barrels.

Locations visited/nearby
France, Europe
Comments from Facebook
Itinerary
Day 1 – Tuesday 26 June
You are free to make your own choice of travel to the region.
This evening, we'll meet at the 4* hotel for a welcome glass of Champagne, then stroll to the cellars of Bouchard Père et Fils for our private dinner and first tasting across their range up to Grand Cru level and including their famous Beaune Premier Cru, La Vigne de L'Enfant Jesus. As we are accompanied by Charles Metcalfe, and they know that we are now proud owners of a great barrel from the 2011 hospices auctions, of course Bouchard will ensure that special vintages are opened!

Day 2 – Wednesday 27 June
Today after our first visit and tasting in the Côte de Nuits, we visit Faiveley, in Nuits-St-George to see our very own 2011 Hospices barrels and hear about their progress, taste our wine and a further selection of superb wines from Faiveley.?
We continue to a special invitation to lunch at Domaine de la Vougeraie.
In the afternoon there is free time to explore Beaune, perhaps take a tour of the Hôtel-Dieu in Beaune town centre or just relax at our hotel in Beaune.?This evening is also free in Beaune.

Day 3 – Thursday 28 June
Today we will visit Charles Metcalfe's personal selection of small high quality domaines and enjoy a fabulous lunch at a Michelin starred restaurant. This evening we have dinner at the prestigious and well respected Maison Joseph Drouhin.

(Last year Tim Clarke travelled out to Burgundy just for the day to take part in this unique Burgundy wine moment!)

Day 4 – Friday 29 June
This morning we are joined by Anthony Hanson MW and Roland Masse, Regisseur of the Domaine de Hospices de Beaune for a visit to the vineyards of the Hospices.?We return to Beaune for lunchtime, with time to explore and relax before the late afternoon/early evening departure for the concert with mezzo soprano Joyce DiDonato. ?This evening there is a private invitation to the Gala event of 'Musique et Vin au Clos Vougeot'. Further details of the concert will be available nearer the date. This is followed by dinner prepared by the Clos Vougeot chefs and accompanied by the finest Burgundies. The after dinner charity auction of special rare bottles has Anthony Hanson MW as the auctioneer.

Day 5 – Saturday 30 June
Breakfast at the hotel.
Depart on your choice of transport.
More information from Arblaster & Clarke Wine Tours: