Arblaster & Clarke Wine Tours - vacations and travel
New Wines of Greece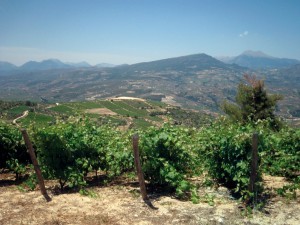 London heathrow airport, uk
Culinary & Wine Travel trips
Greek wine has changed beyond recognition over the past 25 years. The changes have been at least as profound as say New Zealand or Austria. The generation of pioneers has been followed by a new generation sporting their degrees in Oenology and experience working at Bordeaux chateaux and in the New World. They are determined to exploit Greece's secret weapon, its huge number, (at least 600), of native grape varieties. These 'autochthonous' varieties have been in place for hundreds or in some cases thousands of years and are acclimatised to the hot conditions giving pleasant flavours, restrained alcohol, good acidity and balance.
Arblaster & Clarke Wine Tours have been following this development closely and with great enjoyment and enthusiasm over the last 15 years, with our small ship wine cruises which every few years have been based in Greece. We have felt for some years, however, it was time to visit the vineyards by land, and in the autumn, when the weather can be extremely pleasant (indeed last November, several weeks later than this tour is planned for, we were still able to swim very comfortably in the sea and on completely deserted beaches as this is not a habit that the locals have picked up from the "mad" English!). This land based tour visits all of the wineries that we have got to know well through our "on board" wine tastings and shore forays.
The route takes us through stunning countryside, past famous archaeological sites and to stay in a trilogy of beautiful ancient cities – Napflion, Monemvasia and Nafpaktos plus modern Olympia (which, it has to be said, lacks charm!). We end in the bustling city of Athens, where anicent and modern rub along in an ever surprising overlay of contrasts and where the huge outcrop on which the ancient Acropolis sits constantly reminds you of the ancient past wherever you seem to go in the modern city below it.
On arrival at Athens we head down into the Peloponnese. Our first base is the attractive seaside town of Napflion. From here we explore the stunning countryside of Nemea, one of the 'hotspots' of Greek winemaking, visiting the groundbreaking Ktima Gaia and the stunning hilltop winery Domaine Helios. (Ktima is the Greek for Estate). Driving through the fertile valleys and hillsides, one does almost expect Hercules's lion to appear on the horizon.
Deeper in the Peloponnese we spend two nights in the beautiful Venetian wine port and stronghold of Monemvasia, better known in wine circles by its former name, Malvasia. After a hiatus of several hundred years, the Monemvasia Winery is making interesting, even delightful wines here. The vine pest phylloxera has never affected the province of Laconia so it is a strong repository of native varieties. We stay in the heart of the old town, the "kastro" which has been totally renovated exactly according to the ancient plans and is completely car free. The narrow main street at night will be totally deserted after the hoards from the vast, ugly cruise ships have gone (if, indeed they are still here in late October anyway) and we are staying in a beautiful small boutique hotel, with stunning views out to sea at the top of the village (see the picture of Monemvasia opposite – the hotel is in the top right of the picture).
Next we visit the upland vineyards of Mantinea, where Tselopos make aromatic whites and fine reds. Then over in the western Peloponnese, near Olympia, we visit another top estate, Ktima Mercouri, set idyllically in the olives above its private beach.
Here, we stay close to Olympia and there is an optional visit to the site. This is one of several sites on the itinerary. Others are archaic Mycenae, the ruins of Byzantine Mistras and the Kastro of Monemvasia. We then stay in Navpaktos (Lepanto) with its pretty harbour, fortress and good restaurants.
Near Corinth we visit pioneers of quality, Oenoforos. We promised to visit them 15 years ago. The visit is a little delayed!
We return to Athens where we have the rest of the afternoon and the morning to explore. We'll also enjoy an optional dinner with wines from parts of Greece that we have not got to, such as Lyrarakis's Cretan gems, Dougos from Thessaly, Semeli from Attika and Gerovasilou from Macedonia.
Our last visit is lunch with Ktima Fragou near Athens. Although they have stunning old vines in Attika, they draw the grapes for their great Cabernet from a cool part of the western Peloponnese.
This is another ground breaking A&C tour, visiting some of the most exquisite corners of Greece and tasting wines that we are sure you will find surprising and fascinating. We'll enjoy everything that is wonderful and beguiling about Greece and that makes it such a wonderful place to holiday in. The evening light on the hillsides and sea; the deep, intense flavours of the best cooked of its local foods; its unrivalled olive oils; the history, mixed with myth and of course the intense passion of those who have dragged Greek wines into the modern arena with such successful results.
Tim Clarke leads the Tour – his interest in Ancient History was first kindled in Greece at the age of 9, and he will set the wine scene throughout with dabs of anicent history and local anecdotes to give you a really special insight into the wines and the country. You will find his enthusiasm for, and his knowledge of Greece and its wines both fascinating and infectious.
Locations visited/nearby
Greece, Europe
Comments from Facebook
Itinerary
Sunday 23 October – Day 1: Morning flight with British Airways from Heathrow to Athens; Travel to Nafplion. Included dinner at traditional taverna in town, with wines; Overnight small 4* boutique hotel in the old town, Napflion.
Monday 24 October – Day 2: Morning visit; Lunch at wine estate; Return to Napflion; Overnight small 4* boutique hotel in the old town, Napflion.
Tuesday 25 October – Day 3: Morning visit; Free lunchtime in Napflion; Included dinner at traditional taverna; Overnight in Monemvasia.
Wednesday 26 October – Day 4: Morning visit; Lunch at favourite beach cafe; Free evening; Overnight in Monemvasia.
Thursday 27 October – Day 5: Lunch at wine estate; Overnight in modern 4* hotel in Olympia.
Friday 28 October – Day 6: Lunch at wine estate; Continue to Nafpaktos; Overnight modern 3* hotel.
Saturday 29 October – Day 7: Late morning winery visit; Lunch en route to Athens; Optional evening tasting and dinner; Overnight modern 5* in Athens.
Sunday 30 October – Day 8: Lunch at wine estate; Return BA flights to London Heathrow.
More information from Arblaster & Clarke Wine Tours: