The Dragon's Path - vacations and travel
Peru Women's Inca Trail Trek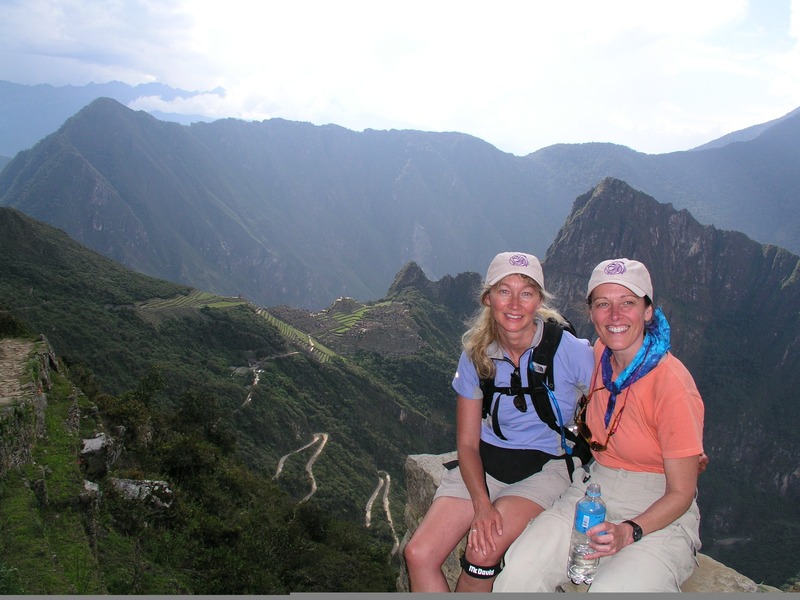 from $3,500* per person
12 Days
Year-round
Boutique accommodations

Exertion level: 5

Operator:

The Dragon's Path

16 people max
The adventure along the Inca Trail to Machu Picchu is indeed an unforgettable one. We follow in the footsteps of the Incas as we travel the ancient trail and lush Peruvian pathways to glorious views of Machu Picchu. The stunning combination of Inca ruins, glorious mountains, exotic vegetation and amazing culture will remain with you long after your journey is over. Discovered in 1911, Machu Picchu is still a mystery to archaeologists who can only question its function. The Incas were the first to build permanent structures in this area, and their handiwork invokes a tremendous feeling of awe. By making this journey on the centuries- old Inca Trail, you will gain a greater understanding of the Inca culture. The trail is a work of spiritual art, and walking it was formerly an act of devotion. We invite you to join us on this remarkable journey into another time period, another civilization.
0 testimonials about this trip.
1 testimonial about the provider, The Dragon's Path:
Reviewer:

L. Schulze

located in

Baltimore

,

Maryland

USA

wonderful trip as always! I've joined Kathy in Peru (twice!), Sicily, Nepal, Bhutan, the Basque Country, New Mexico and other destinations. Always great!

5
Comments from Facebook
Special information
This is a custom departure, meaning this trip is offered on dates that you arrange privately with the provider. Additionally, you need to form your own private group for this trip. The itinerary and price here is just a sample. Contact the provider for detailed pricing, minimum group size, and scheduling information. For most providers, the larger the group you are traveling with, the lower the per-person cost will be.
Offers some women-only departures.
Itinerary
Day 1: Cusco City Tour

Our journey begins in Cusco, the archaeological capital of the Americas, and the continent's oldest continuously inhabited city. After settling in to our comfortable hotel, we relax with Coca tea and allow our bodies to adjust in the altitude of Cusco (~11,000 feet above sea level). In the afternoon we take an easy guided walking tour of Cusco, including visits to Qoricancha (the 'Temple of the Sun'), the Cathedral, and the Colonial and Inca museums. Walking tour of historic sites is approximately three hours.

Overnight in Cusco (Dinner)


Day 2: Valley and Ruins Walk

Full of beautiful, massive Inca walls, Saqsaywaman dramatically overlooks the city. Nearby is Tambomachay with its natural spring and Inca-made waterfalls that still cascade into the ritual Inca Bath. We begin the day's walk from Tambomachay ('Temple of Water'), which lies at 12,300 feet, on a gradual downhill local village route to Saqsayhuaman (the 'Royal Sun House', 11,300 feet). We see where the Incas held their religious celebrations and visit some of the most sacred Inca sites. Our guide, a Cusco native of Inca descent, explains the intricacies of the ancient civilization. For more walking we may change our plans based on interest and continue our exploration of Cusco and its environs walking from Huaqoto to Tipon, through more spectacular ruins. We explore Inca agricultural and irrigation techniques and enjoy dramatic views of the Cusco Valley. Walking detail: Approximately 7 miles/6.5 hours of easy walking. Acclimatization day.

Overnight in Cusco (Breakfast, Lunch, Dinner)

Day 3: Chinchero Village, PIURAY/HUCHUY QOSQO HikE

A gradual ascent brings us to the pass at Huchuy Qosqo, with a beautiful view of the peaks of Pitusiray and Sawasiray and the Urubamba Valley below. Descent to Huchuy Qosqo - where one of the few standing three story Inca buildings dominates the complex. Continue downhill until we arrive at the Sacred Valley of the Incas, where a vehicle will pick us up and transfer back to Cusco.Tonight you are on your own for dinner and may choose from one of the many festive restaurants in Cusco.

Overnight in Cusco (Breakfast, Lunch)


Day 4: Pisac Ruins and Market & THE Salinas (Salt Terraces)

After breakfast we transfer to the mountain top ruins of Pisac, one of the finest in the Cusco region. This complex of ruins features fine example of Inca architecture, defense, religion, agriculture, roads and residential construction. We wind our way towards the Urubamba Valley floor and the village of Pisac where a traditional Andean market awaits us. Products from the surrounding communities are displayed in full color: assortment of weavings, fruits, vegetables, spices, livestock, jewelry and clothing. It is a cultural experience just to wander through the market and watch the bartering going on as it has for hundreds of years. We return to our retreat center, located in the lush Urubamba Valley, late afternoon with time to relax before dinner.

In the afternoon we walk along ancient farming paths from the village of Maras to the Salinas or Salt Terraces where salt has been collected since pre-Hispanic times. The snow-capped Andes provide the backdrop for our walk to this unique site still used for salt in the highlands. We then descend through the salt terraces, finally reaching the banks of the Urubamba River and continuing along the rivers edge to our Andean Retreat Center.Walking details: 12 miles, approximately 8 hours.

Overnight in Urubamba Valley (Breakfast, Lunch, Dinner)


Day 5: Cancha Cancha Village

Today we commence our walk with a transfer to the trailhead at Huaran (11,000 ft) and begin our gradual uphill walk to the traditional mountain village of Cancha Cancha (13,000 ft), situated at the base of a glacier. We walk alongside a glacial stream where llamas graze, and enjoy the cool morning shade as the sun rises over the Andean peaks on both sides of our path.

Midday, we enter the mountain community of Cancha Cancha and enjoy a picnic with local families. In the afternoon, we visit the small village school. We descend along the local path and return to our warm hacienda late in the afternoon. Throughout the day, we enjoy spectacular views of the Andes as we gain elevation. This day is one of the most challenging and rewarding that the tour has to offer. Hiking Detail: Approximately 8 miles, 8 hours walking.

Overnight in Urubamba Valley (Breakfast, Lunch, Dinner)


DAY 6: Veronica Glacier: Tastayoq Village

Today we journey to the remote Andean mountain village of Tastayoqat ascending to 13,500 feet. We interact with the local mountain people here, learning more about their way of life. After lunch we walk a ridge just below the snow line gazing across the snowy Urubamba range to Veronica, the tallest peak whose summit reaches 17, 000 feet. This challenging walk is one of the highlights of the trip and will be based on group fitness level with alternative available.Walking details: 12 miles, 8 hours.

OR

Restorative Willka Tika & Peruvian Cooking Class

Enjoy time at the retreat center walking through the meditation garden, practicing in the yoga room or relaxing in the outdoor tubs. Join the retreat center staff for a cooking class late morning to prepare our lunch.

Overnight in Urubamba Valley (Breakfast, Lunch, Dinner)


DAY 7: INCA TRAIL Trek– Chillca To Llaqtapata

After breakfast, we transfer to Ollantaytambo, a traditional little town at the foot of spectacular Inca ruins and terraces, with a street plan that is basically as the Incas designed it so many years ago. We have time to explore before while our porters prepare our gear. We transfer to Inca trailhead at Chillca (km 77) where we meet our porters and begin our trek along the original Inca trail, bound for the mystical city of Machu Picchu. Our porters will take care of the luggage and food during the trek; guests will carry daypacks only.

Our first trekking day is relatively easy with beautiful views of the Urubamba Valley and snowcapped Veronica Glacier. After lunch we pass trough the small settlement of Miskay before descending into the Rio Kusichaca Gorge and camping near the ruins of Llaqtapata.

Overnight at campsite (8,365 ft), (BLD)


DAY 8: INCA TRAIL: Cusichaca River gorge & Huayllabamba

Climbing slowly at first we traverse terraced-agricultural landscapes through the dry Cusichaca River gorge until we reach the Indian community of Huayllabamba, the last village along the trek. An optional sidetrek to Paukarkancha Ruins is available. The main trail ascends steeply from here through lush cloud forest and along mountain streams and old Inca trails. The vegetation thins as we approach the Warmiwanusqa Pass, the highest point of the trek. We camp at a large pampa (grass lands) below the pass, surrounded by snowcapped mountains and alongside glacial streams.

Overnight at campsite (~12,800 ft), (BLD)


DAY 9: INCA TRAIL: Warmiwanusqua Pass to Phuyupatamarca City

We awake early as sun stretches over the peaks and warms our tents. After a hearty breakfast we begin our most challenging day that includes three passes. Our first, Warmiwanusqa Pass (Dead Woman-- 13,776 ft.), is the highest point of the trek and possibly one of the most difficult portions. After a steep climb of approximately two hours we reach the summit for photos. From here the trail descends to the Pacamayo River Valley, a beautiful combination of water, meadows and spectacular views.

The trail turns up again on Inca-stone stairs to the famous watchtower ruins of Runkurakay. Cresting the second pass at 12,630 we rest before continue down the stone path where we enjoy lunch and time to rest before beginning perhaps the most beautiful portion of the trek. The afternoon begins with the impressive ruins of Sayacmarca as we continue to descend deep into the jungle, the air rich with scents of the rain forest with distant views of snowcapped mountains. At the end of the day we approach Phuyupatamarca (City above the Clouds), our final campsite with views of the Urubamba Valley and Salkantay Mountain in the distance. Trek Detail: Approximately 10 miles/7 hours trekking.

Overnight at campsite (11,906 ft)


DAY 10: Inca Trail to Intipunku (Gateway of the Sun)

For those with energy, we offer an early morning optional ascent several hundred feet to view sunrise over Salkantay peak. Leaving camp, we descend down 3,000 steps cut into the mountain along a series of Inca-engineered, stone-hewn steps and flagstone paths, through thickening cloud forest and rising temperatures. We visit the ruins of Wiñayhuayna (Forever Young) offering views of newly uncovered agricultural terraces at Intipata (Sun Place). The name Intipata comes from the abundance of beautiful, fragrant orchids growing year-round in the area. We arrive with a long descent down the 2,000 cut stone steps—our approach to the Intipunku (Gateway of the Sun) and the magnificent Machu Picchu. We ascend slowly, enjoying the spectacular site in the late day sun. The train has departed the valley far below and taken with it all of the day tourists. Relax in solitude before descending to our comfortable hotel for a hot shower and warm meal. Trek Detail: Approximately 6 hours trekking.

Overnight Machu Picchu (~8,000 ft), (BLD)


Day 11: MACHU PICCHU

Experience a morning-guided tour of the ruins, with an optional walk to the Inca drawbridge and Huayna Picchu, or the afternoon is yours to explore on your own. We enjoy our time in the most beautiful ruins of South America; the combination of Inca buildings, magnificent views, exotic vegetation and unforgettable mountains makes this place a unique treasure for travelers of every kind. We roam around Machu Picchu and take optional visits to the Temple of the Sun, the Three-Windowed Temple, the Royal Tomb or we can simply admire the majesty of the slopes overlooking the Urubamba Valley. Late afternoon we depart by train the Urubamba Valley and on to Cusco for our final night celebratory dinner.

Overnight in Cusco (Breakfast, Dinner)


Day 12: Cusco – Departure for Lima or Begin Asangate or Jungle Extension

Morning group transfer to the airport for flights to Lima (for flights schedule approximately 10:30 a.m.), and connecting flights back home (generally depart late evening) or flights on to Jungle extension (fly Cusco to Puerto Maldanado and return PEM to Lima directly)
More information from The Dragon's Path: