Classic Journeys - vacations and travel
Morocco: Fez to Marrakech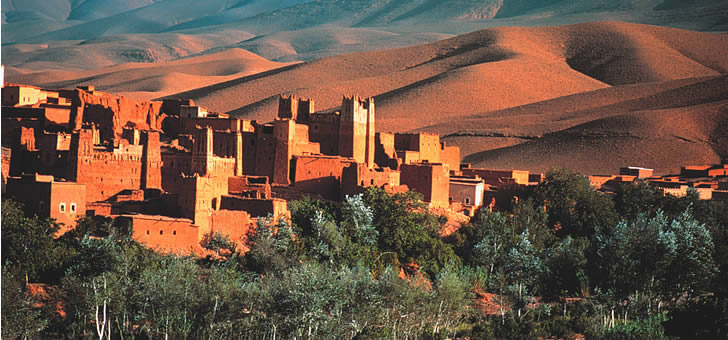 from $4,095* per person
9 Days
November-January, March, May, September
Boutique accommodations

Exertion level: 3

Operator:

Classic Journeys

18 people max
Fes-saïss airport, saïss, morocco
Culture & Nature trips
Entering a desert encampment after sunset, you see only the glowing Berber tents carpeted with kilims. Cumin-scented stew simmers over a campfire. And away from the native singers and the circle of light, the sky is simply amazing. Not until a morning breeze stirs your tent's flap do you see in full light how stunning your desert setting is. Our Morocco travel adventure is full of surprises and this is just one of the many we share with you. Colossal Saharan dunes. Cool cedar-forested mountains. Narrow gorges with ribbon-like oases in their depths. And the Kasbah? It's the word for fortress and a restored one from the Middle Ages is actually one of our hotels. The marvelous news is that, for all its surprises and adventure, Morocco travel also delivers everything you expect. We take in the vivid, noisy markets as we travel. Morocco offers warm hospitality from a culture accustomed to the diversity of Berber, Arab, Jewish, African and Mediterranean influences. You may also be surprised to know that the climate is moderate; this is the coolest and most welcoming of the African nations.

Locations visited/nearby
Morocco, Africa
Comments from Facebook
Itinerary
We spend the first two nights in Fès, Morocco. Guided tours here include a fascinating exploration of the labyrinthine 9th century Medina and dine at La Maison Bleue, one of Morocco's finest restaurants.
Crossing the Atlas Mountains to Erfoud (1 night), the landscape changes from cedar forest to pre-Saharan hills. The next day, we travel by Land Rover for a remarkable walk along the 1,000-foot-high sand dunes of Merzouga. As the sun sets, we are welcomed into the land of the Blue men—a camp where we spend a night in tented Berber lodgings (1 night). Following the desert's edge, we enter the spectacular gorges of the Todra River for a scenic amble and a memorable lunch. In Ouarzazate (2 nights), our hotel rooms are carved from stone and overlook a wind-sculpted landscape that offers fascinating walks.
The road to Marrakesh (2 nights) traverses Morocco's highest mountain pass. En route, we'll visit a remarkable clay city on the caravan trail to Timbuktu. In Marrakesh, there are lush gardens to explore…snake charmers and fortune tellers…and shopping in the world-famous souks for carpets, tribal jewelry and Moroccan crafts. On our final evening, we're treated to cocktails and dinner in an elegant private residence.
More information from Classic Journeys: