Bio Bio Expeditions - vacations and travel
Hiking the Famous Parks of Southern Patagonia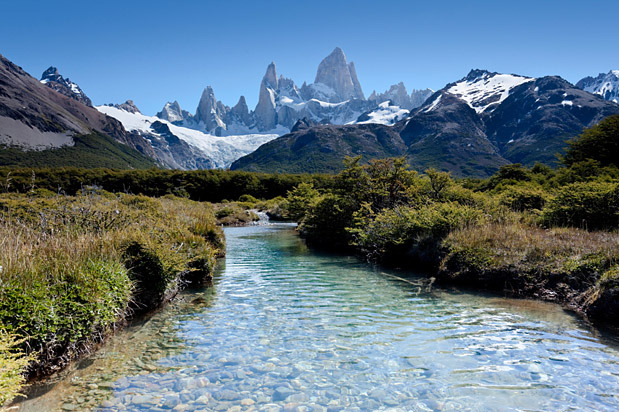 from $4,400* per person
12 Days
January-March
Comfort accommodations

Exertion level: 3

Operator:

Bio Bio Expeditions

12 people max
Calafate airport, argentina
Active & Adventure trips
Chile's Torres del Paine and Argentina's Los Glaciares National Parks are among the great scenic wonders of the world! This Patagonia hiking trip is a pilgrimage which all passionate trekkers and mountain-lovers must do at least once in their lifetime. This extraordinary Patagonia adventure vacation brings you to the very heart of both of these legendary regions in Chile and Argentina.

We begin in remote reaches of Argentina's Los Glaciares Park with spectacular views of Cerro Torre, Fitzroy and the Southern Patagonia Ice Field. Next, we cross into Chile, where we explore Torres del Paine National Park, an icon for dramatic mountain scenery! We'll see jaw-dropping vistas of rock spires, jagged snowy peaks, the huge expanse of the Patagonia Ice Field, tranquil azure lakes, and golden grasslands bright with wildflowers. Each night, we'll savor the days activities over tasty meals in cozy lodges. Don't miss this "must do" hiking adventure in South America's magical mountain paradise - Patagonia!

Locations visited/nearby
Argentina, Chile, South America, Patagonia
0 testimonials about this trip.
Reviewer:

Allan Levin

located in

Futaleufu

,

Marc, you have been a pleasure to work with. We know that our vacation last year was a once in a lifetime opportunity – neither of us had ever been on a vacation that long. We put ourselves in your hands and you and Bio Bio overachieved every step of the way.

5

Reviewer:

Linda Parker

located in

California

The Fu is 'FUN!' Big water, blue skies, great group, horseback riding, kayaking, mountain biking, hot tubbing, massage, sauna, happy hours, card games, great food, and of course world class rafting…wow! Riding a horse, galloping through a meadow, surrounded by the snow-capped Patagonian peaks. I had never seen anything so beautiful. It made me cry. Thanks to Bio Bio for the excellent rafting, the in-camp luxury, and an overall unforgettable experience!


5

Reviewer:

Ira Shetty.

located in

Futaleufu

,

Hi Marc & Lawrence. I have to begin by thanking you both so much! I cannot begin to tell you how amazing this trip was for me. I know I sound dramatic, but it was life altering for me. I had an outstanding time and can't wait till Zambezi.Gosh. I can't tell you what a transition it was for me to return to NYC. Sub zero temps, the fast pace, and well my cuisine has taken a huge nose dive… I miss the river, snowcapped mountians, full moons, and most importantly the members of your team. I just wanted you to know what a great crew you've gotten together.


5
Comments from Facebook
Itinerary
Day 1
Meet guide at El Calafate airport and transfer to Hotel Kau Yatun for dinner and orientation. Explore Calafate on your own. (D)

Day 2
After breakfast we will begin our tour to Glacier Perito Moreno, one of the most spectacular glaciers in the Southern Patagonian ice field. Walking along the terraces you will get many different views – great for photos, and you may even be lucky enough to catch a glimpse of ice calving into the lake! We take it one step further and board the "Safari Nautico" to navigate close to the walls of the glacier, getting the closest view possible. Lodging and dinner at the Hotel Kau Yatun. (B+L+D)

Day 3
We will set off by private bus to Torres Del Paine National Park (5hrs), arriving around lunchtime. We will arrive at our Eco base camp for the next 4 nights. Here we discover the most beautiful treasures of Torres del Paine NP, with easy and active programs, while enjoying superb comfort and ease at the new sustainable EcoCamp's Suite Domes. You'll enjoy breathtaking views of the Torres from your doorstep. The next 4 days you will have an option of easy or more strenuous hikes. The three most impressive, scenic and famous hikes in Torres Del Paine will be offered. (Grey Glacier, the Mighty Torres and the French Valley. There will also be less strenuous options offered. Not necessarily in the order below) (B+L+D)

More info on our base camp for the next 4 nights
Our Suite Domes are comfortable 28mt2/ 300 ft2 tented igloo-type double domes built the same way as the ancient native Kaweska's dwellings. Its structure produces minimal environmental impact while providing an efficient thermal and wind resistant unit, with great exposure to nature in the most magnificent Patagonian setting. Each dome has a private bathroom, comfortable double or twin beds, and it is heated by a modern low- emission wood stove. In addition, every dome has its own composting device to process waste. Electricity is generated with a micro hydro turbine and solar panels. EcoCamp's Suite domes are located in a Lenga (beech) forest next to the existing standard domes but allowing enough distance so as to create a separate and independent atmosphere with more refinement and comfort. The domes are set up with enough space between them to provide adequate intimacy and introspection.


Day 4 (the next three days there are options – not necessarily in the order below)
Today we'll hike from Paine Grande Lodge along the shores of mountain-lined Lake Pehoe to the northern end of glacial Lake Grey. We'll enjoy a picnic lunch before boarding the boat that sails to the blue face of Glacier Grey. You'll have lots of time to marvel at this calving glacier before the boat ride across Lake Grey with its floating pieces of ice. You clothes and personal belongings are once again transported separately from the lodge in duffel bags. From Lake Grey's southern end we transfer to the EcoCamp. If the weather does not allow us to navigate Lake Grey, we'll instead hike to Glacier Grey. Then at Pudeto we'll board the catamaran to cross Lake Pehoe. From there, we'll take a short drive back to Cascada EcoCamp where we'll enjoy the night. (B+L+D)

Walking duration: 2 hours.
Walking distance: 4 km / 2.5 miles.
Boat ride on Grey Lake: 2 hours round trip.


Day 5
Time for a great breakfast and lots of enthusiasm! Our goal is to complete the most famous trekking trail in Torres del Paine NP. We walk from the campsite towards Hostería Las Torres and connect with the winding uphill path to Ascencio Valley – the valley which supports the eastern face of the Towers' base. Dry mountain spots, beech forests and small rivers are passed along the scenic walk into the valley. It's not a difficult walk, but energy should nevertheless be saved for the final challenge: the moraine. This mass of boulders is the last guardian before our face to face meeting with the uplifting Torres del Paine. The moraine is sufficiently steep to consider doing it slowly and with an adequate amount of precaution. After a considerable effort, the Towers come into full view, rising majestically before us with the glacial lake visible below. This is one of the most breathtaking sights of the world! The famous Torres del Paine (2, 900 m/ 9, 400 ft) consist of three gigantic granite monoliths, the remains of a great cirque sheared away by the forces of glacial ice. Is there any better place on this planet to have lunch? Of course! But since we are in Patagonia, at the feet of the mighty Torres del Paine, we will enjoy life, the view, and a bite to eat! Once everyone is ready, we backtrack along the same trail through Ascencio Valley, and return to the EcoCamp. (B+L+D)

Trekking duration: 10 hours round trip.
Trekking distance: 21 km /13 miles round trip.


Day 6
After breakfast, we start our day driving towards Pudeto dock, located by the shores of Pehoe Lake. Once there we board the catamaran that will take us to the northern west sector of the Lake from where we will start the challenging trek to Valle Frances (French Valley), taking a steep trail that goes into the very heart of the Paine Massif. How deep we go depends on our groups' rhythm. An active walk leads us to the hanging bridge over the French River, located at the foot of the south east face of the Massif. From this point, we can enjoy our first truly wonderful view and then continue up the trail until reaching the upper prospects of the valley. The entire group of geological formations of the high valley can be admired here: Hoja (Blade), Máscara (Mask), Espada (Sword), Catedral (Cathedral), Aleta de Tiburón (Shark's Fin) and the magnificent Fortaleza! (Fortress). It is time to have a picnic and recover from the walk. Overnight Eco Camp. (B+L+D)

Boat ride on Pehoe Lake: 30 minutes each way.
Trekking duration: 6 hours round trip.
Trekking distance: 11 km / 7 miles round trip.


Day 7
Today we will continue across the Patagonian steppes to the tiny village of El Chaltén. We will take off from the Eco domes in the morning, on a long but scenic drive and arrive at El Chalten in the afternoon. We will have plenty of stops to stretch our legs and enjoy all the scenic viewpoints. This is a remote corner of Patagonia, but thanks to the growing interest in mountaineering and hiking this town (with less than 100 year- round residents) has sprung up in recent years. El Chaltén is the gateway to Northern Glacier National Park. From town and our hotel there are impressive views of Rio de Las Vueltas and the famous FitzRoy Massif (11,703'). An impressive 40 percent of this park is covered in ice fields and there are 47 glaciers. We'll have the afternoon free to relax and perhaps see a bit of the town. We will spend the next 5 nights at our hiking base, the Hosteria Senderos. (No meals)

Day 8
The group will take a transfer from the hotel to Hosteria El Pilar, where the trail starts. (17 km from the town). Soft activity: Hike up rio Blanco and panoramic point of the Piedras Blancas glacier and back to El Pilar. Transfer will be waiting for return to El Chalten. Trekking duration: 4 hours Hard activity: Continue hiking from the panoramic point of Piedras Blancas glaciar to Poicenot campsite. Returning to El Chalten by Laguna Capri trail. If the group wants they can do the hike up to "Laguna De Los Tres" (the best panoramic point of the Fitz Roy!!!)

Trekking duration: 6 hours. If you decide to go to Laguna de los Tres it ́s about 8 hours.
Lodging & dinner at the Hosteria Senderos. (B+L+D)


Day 9
Trekking to Cerro Torre. We start with a short uphill section until reaching the first viewpoint. From here the Cerro Torre and valley entirely visible in its entirety. For those willing to walk further, our guide leads you to Laguna Torre, approximately 9km away from town. The trail runs through a glacier-originated valley. The lagoon features the Torre Glacier calving on the far side, and the Cerro Torre group & spires rising in the background.

Soft activity: 3 hours trekking duration.
Hard activity: 6-7 hours trekking duration. Lodging at the Hosteria Senderos. (B+L+D)


Day 10
Hike to Pampa de las Carretas, where a beautiful and panoramic view of the Fitz Roy and Torre hills. Continue to Loma del Pliegue Tumbado. Taking the Laguna Toro trailhead from El Chalten, after an hour of hiking we reach our first look out of Cerro Fitz Roy, Cerro Torre and Cerro Huemul. Once above the vegetation level (approx. 1000m/a/s/l), you can find yourself amongst fossils such as ammonites and belemonites. This lookout offers a view outside of the conventional views of Cerro Torre and Cerro Fitz Roy and Paso del Viento (gate to the ice fields). This trek also has the advantage of not being as popular, so you will not be among too many tourists. Return to El Chalten by the same trail.

Trekking duration: 8 hours (There is an option for a less strenuous hike).
Lodging at the Hosteria Senderos. (B+L+D)


Day 11
Time to explore the Viedma Glacier, the largest in the "Los Glaciares National Park". Soft activity: Viedma boat trip. It ́s a 2 hour boat trip with spectacular views of the lagoon and Viedma Glacier. Time duration: 4 hours Hard activity: Viedma ice trekking. The excursion starts at 09.00 am, once on board we will navigate in Lake Viedma and enjoy views of Mount Fitz Roy and Huemul. We will arrive at Viedma Glacier and land on a rocky promontory where the group will put on crampons and start a guided hike to the ice caverns and other interesting formations. Expert guides will lead you to the front of Viedma Glacier, where you will be able to observe the traces of ice erosion and ice caverns. After this hike, you return to the boat and navigate by the front of the glacier, where you will see its 55 m. ice walls of innumerable tints of blue.

Time duration: 7 hours


Day 12
Transfer to El Calafate in the morning for your flight home – After 12PM.

More information from Bio Bio Expeditions: