Abercrombie & Kent - vacations and travel
Kenya Family Safari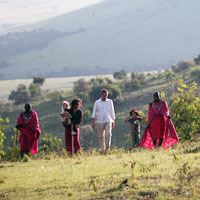 from $6,550* per person
11 Days
June-August, December
Luxury accommodations

Exertion level: 3

Operator:

Abercrombie & Kent

24 people max
Jomo kenyatta airport, nairobi, kenya
Family & Friends trips
This program is part of A&K's Family Holidays. Set out to see the world-famous "Big Five" as well as endangered species, including the Rothschild giraffe, chimpanzee and black rhino. Young travellers have many activities to choose from, including archery with the local Maasai, casting animal tracks in plaster and making fire in time-honored fashion. A tribal dance performance and optional balloon safari provide surefire thrills for family members of all ages.
Locations visited/nearby
Kenya, Africa
Comments from Facebook
Itinerary
Days 1-2: USA or Canada/ Nairobi, Kenya
Arrive by overnight flight in Nairobi, the starting point for your adventure through the wilds of Kenya. Prepare to meet elephant, watch hunters on the prowl and interact with an African tribe in their own village.
Nairobi Serena Hotel
Day 3: Nairobi
Start your day at the Giraffe Center, home to endangered, graceful Rothschild giraffe. Offer them food while perched upon a platform, watching as they gently snatch it from your hand with their long, blue tongues. Continue to Daphne Sheldrick's Orphanage to see small elephant cared for by attentive keepers. Meet the other families sharing your adventure at tonight's festive welcome dinner.
Nairobi Serena Hotel B D
Day 4: Nairobi/Nanyuki
Drive to the Sweetwaters Reserve within the Ol Pejeta Conservancy at the foot of Mount Kenya. Set out in search of animals by safari vehicle, or choose to take escorted walks and a night game drive. Sweetwaters is an excellent place to see two of Africa's most endangered species: black rhino and chimpanzee. Both species are protected here in reserves set aside for them.
Sweetwaters Tented Camp B L D
Day 5: Nanyuki/ Samburu Game Reserve
Travel to the bush of the Samburu Game Reserve. Your comfortable, tented camp is perched along the banks of the Uaso Nyiro River, which is a lifeline and the nerve center of this reserve; animals congregate along its banks to quench their thirst. The reserve is also the home of the nomadic, cattleherding Samburu tribe.
Samburu Intrepids Club B L D
Day 6: Samburu Game Reserve
Young safari-goers embark on game drives and encounters with Samburu's "Special Five" — the reticulated giraffe, longnecked gerenuk, Somali ostrich, Grevy's zebra and beisa oryx. Your family may also take guided walks with a focus on game tracking, go butterfly catching and visit with the Samburu people. Go on treasure hunts, play football or volleyball, swim, or paint and draw — your tented safari camp offers fun options for every member of the family.
Samburu Intrepids Club B L D
Day 7: Samburu/Masai Mara Game Reserve
Awaken to the sounds of the wilderness. After breakfast, board a flight across the Great Rift Valley to the Masai Mara, land of the red-robed Maasai tribe. Arrive at your tented camp beside a sweeping bend in the Talek River, and take an afternoon game drive across the limitless plains.
Mara Intrepids Club B L D
Days 8-9: Masai Mara Game Reserve
Spend two days in this magnificent savannah country, home to Kenya's most varied animal population. Lion may be seen throughout the park, along with elephant, giraffe and zebra. Cheetah and leopard are also regularly spotted, and you may also find rhino. Young adventurers experience a mammal study on morning and afternoon game drives; take guided walks with the resident naturalist to identify animal tracks and cast them in plaster; and set out on nature walks with an eye toward herbal medicine. Meanwhile, discover abundant birdlife, and learn to identify bird calls, bills, feet, habitats and plumage patterns. Between game drives, you may even visit a primary school in the local village. Learn the art of beadwork and leatherwork or how to properly throw a spear or start fire with sticks. At night, your family sees a display of traditional song and dance. An optional hot air balloon safari is an amazing way to start the day — and an experience the family will never forget. End your stay in the Mara with a farewell dinner, and say goodbye to your new friends.
A&K PHILANTHROPY PROJECT: Visit a local primary school where A&K sponsors a Conservation Club, teaching children to preserve their environment.
Mara Intrepids Club B L D
Day 10: Masai Mara/Nairobi/USA or Canada
Fly back to Nairobi, continuing to your dayroom, which is reserved until your homebound flight.
Nairobi Serena Hotel (dayroom) B
Day 11: USA or Canada
Arrive home in the USA or Canada.
More information from Abercrombie & Kent: