Sea Kayak Adventures, Inc - vacations and travel
Island Wilderness Adventure - Kayak & Camping Tour BC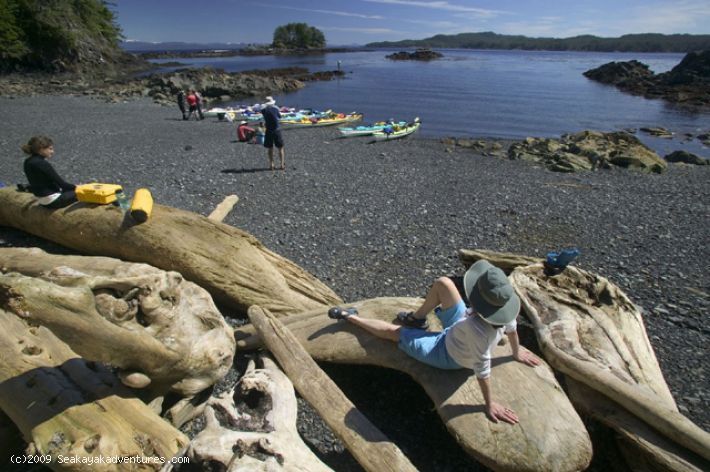 from $1,550* per person
6 Days
August
Comfort accommodations

Exertion level: 3

Operator:

Sea Kayak Adventures, Inc

16 people max
Port hardy airport, british columbia, canada
Boats, Barges & Small Ship Cruises trips
Explore an area of extraordinary wilderness off northern Vancouver Island offering secluded kayaking away from other people, scenic campsites and incredible wildlife encounters. See humpback whales, seals and porpoises while paddling your kayak on a one-way route through a beautiful maze of islands and intricate channels making up Broughton Islands Marine Park, one of the most stunning archipelagos on earth, before entering Johnstone Strait and the realm of the orca (a.k.a. killer whale).

Experience by kayak a marine environment few others share -- the shrill call of a bald eagle perched in a treetop, a family of killer whales cruising by camp and vibrant sea stars below the waterline -- this area is magical. Visit islands rich in native history. Your adventure includes a water taxi ride at one end so you can go deeper into places far from civilization.

The meeting point for our six days of adventure is the north Vancouver Island town of Port McNeill. The snow-capped mountains of mainland British Columbia create a stunning backdrop as we head out into the straits to island-hop. This is more than just a vacation - you want an escape that stimulates and enriches your life. Naturalist guides, gourmet meals, high quality equipment, superb whale watching and all the special details we're known for can be found on this trip.
Locations visited/nearby
Canada, North America
0 testimonials about this trip.
Reviewer:

Alan M

"It was my best birthday ever. The scenery was spectacular & the whales did not disappoint. Our guides were exceptionally kind, flexible, accommodating, relaxed & knowledgeable (plants, birds, sea creatures, & stars). The food was way beyond my expectations & abundant. I was even baked a birthday cake (right on the beautiful beach where we were camping) & served cold Champaign. I expected a lot for my 60th BD & this trip far exceeded my expectations. "


5

Reviewer:

Arlene Perry

"Since this was my first trip of this kind, I really didn't know exactly what to expect. However, the whole experience was just great…the people, the first-rate equipment, the area & nature, the guides, the food was wonderful, plus the weather and traveling connections. I especially appreciated the equipment list you sent. It all fit into my backpack and I was ready to go."


5

Reviewer:

Arthur Rosenshein

"The trip exceeded my expectations … outstanding guides, excellent food, well planned, beautiful location. The weather was perfect…blue skies, sunshine and warm temperatures with a light breeze. The kayaking and snorkeling were great."


5
Comments from Facebook
Itinerary
Day 0: You can take the scenic drive up island by vehicle or you can arrive in Port Hardy via a spectacular flight over the coast from Vancouver and then take a taxi to Port McNeill. Proceed to the hotel. There is an evening orientation meeting in the hotel lobby where you will meet your guides.
Day 1: In the morning, we'll take a water taxi to the launch site in Echo Bay, listen to an orientation on kayaking and safety, and begin paddling to our first camp.
Days 2-5: We will be kayaking and exploring the adjacent islands and passages located between Broughton Islands Marine Park, Blackfish Sound and Johnstone Strait. We will have four different camps, so we may not move camp every day. On an average day, we will be kayaking for two hours in the morning after breakfast, stop for lunch on a beach, and spend another two hours kayaking and exploring before arriving at camp by the afternoon. Evenings and dinner in camp.
Day 6 Saturday: Break camp and paddle to a scenic beach for lunch, then paddle to Telegraph Cove in the afternoon. We recommend that you overnight in Port McNeill.
More information from Sea Kayak Adventures, Inc :