Western Spirit Cycling Adventures - vacations and travel
Bryce to Zion Family Trip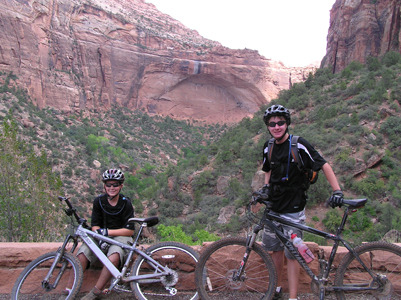 Airport near st. george, ut, united states
Family & Friends trips
Our Bryce to Zion tour has it all-two national parks, both single and double track riding, beautiful camping, and a lodge to boot for the final night.

We ride in, out, and between each park using backcountry routes, which include the spectacular singletrack of the Virgin River Rim Trail. From the first day's ride through the Hoodoos of Casto Canyon to the final hike on Angels Landing, or the Zion Narrows-the unusual geology will continue to amaze you.

The riding varies from winding singletrack to a ride in the van! After four days of camping we'll arrive under Zion's 2,000-foot sandstone walls and spend the night at a lodge in Springdale, Utah. Here we'll feast at our favorite restaurant, The Bit and Spur.

This is a terrific tour that will take you up and over several large plateaus that form Southwest Utah's most distinct geological features. You can control the challenge, as the support van is never far away.


Locations visited/nearby
Utah, United States, North America
Comments from Facebook
Itinerary
TRIP DAY 1
From our meeting point near Zion National Park, we will shuttle 100 miles to scenic Red Canyon on the outskirts of Bryce Canyon National Park. After a brief orientation and bike check, we will begin this outstanding cycling adventure with a fun road that takes us to the spectacular and colorful Casto Canyon. Here we pick up an ATV track that will take us through this deeply cut canyon. Brilliant red rock formations surround us on either side as we gradually climb up toward the plateau country north of Bryce. From here we can see the rock formations of Casto Bluff and the Flake Swale, and then we turn for a fast and fun descent. Our camp tonight will be nestled in the Ponderosas in Red Canyon. TOTAL MILEAGE - 16 miles
TRIP DAY 2
After breakfast we will make our way to Bryce Canyon National Park. Bryce is known for its colorful and strangely eroded cliffs. The unique layers of Bryce were formed from the 43 million year old Claron Formation, an iron rich layer of limy sediment. After a stop at the visitor center, we will shuttle over to Sunset Point for a hike down into the canyon. Here we will find ourselves surrounded by an array of fantastic shapes called Hoodoos. After lunch we will ride out of the park on a series of dirt roads and ATV trails into the backcountry to our camp just above the Sevier River Valley on the Paunsaugunt Plateau. Bring your swim trunks for a refreshing dip at Tropic Reservoir! TOTAL MILEAGE - 25 miles of riding, 2-3 miles hiking
TRIP DAY 3
Today, we will begin with a 1,200 foot climb to the top of the Sunset Cliffs. From the summit, far reaching views can be enjoyed in all directions. To the north, the Paunsaugunt Plateau and the Table Cliffs Plateau loom upwards some 2,000 feet. To the east lie the canyons of Bryce. To the south are the Pink Cliffs and to the west lies the main fork of the Sevier River and the Markagunt Plateau. After a short rest stop in this breathtaking setting, we will begin a fun filled, 2,000 foot doubletrack descent that takes us through the small town of Hatch on the Sevier River. We will then load into the van and shuttle the rest of the way across the plateau to our camp in the aspen trees. From here we will ride to Strawberry Point for a spectacular afternoon view, with optional singletrack through the aspens back to camp. TOTAL MILEAGE - 15 miles AM, 6-8 miles PM (optional)
TRIP DAY 4
Today we will ride on the spectacular Virgin River Rim Trail. The trail contours through the trees along the edge of the plateau. The Pink Cliffs drop below us, stepping down to the Grey Cliffs of Zion in the distance. The trail is fairly wide with challenging climbs and swooping descents, and the route that it follows along the edge of the rim is brilliant. We will stop for a short hike to Cascade Falls, the underground outlet of Navajo Lake and the source of the Virgin River. This is the river that created the dramatic canyons of Zion. From here there is either a strenuous climb along the rim to the ridge line for more great riding with an amazing three mile descent to camp at Navajo Lake, or a mellow ATV track to the fun and rolling singletrack around the lake. Navajo Lake is great for an afternoon swim, and afterwards we enjoy a delicious dinner among the whispering aspens and tall grasses on the west side of the lake. TOTAL MILEAGE - 16 miles, 10 miles optional
TRIP DAY 5
This morning we ride the fun roller coaster ride of the Navajo Lake Loop. The far side of the singletrack passes through a lava field, evidence of the forces that formed the plateau. We then shuttle south along the Sevier River and soon we reach the red pavement of Zion, heralding the entrance of the park. After lunch and a quick van ride through the historic tunnel, we hop onto our bikes again. Once inside the park prepare for one of the most beautiful sections of road riding you will ever do. As Scott Martin, an editor for Bicycling Magazine says, "How can people bear to do this in car?" We will ride right into Springdale and our Bed and Breakfast for the evening. Tonight, dinner will be at one of our favorite restaurants, the Bit & Spur. TOTAL MILEAGE - 18 miles
TRIP DAY 6
On our last day we will do one of Zion's classic hikes, either Angels Landing or the Zion Narrows. We will begin on our bikes, riding north through the park under the Great White Throne, the East Temple, and the Mountain of the Sun. If we choose Angels Landing we will hike up into the cliff tops with views in all directions. If weather permits, we can attempt the Zion Narrows, one of the Colorado Plateau's most spectacular canyons. In June and September this hike may not be possible due to high water levels. Yet in the hot summer months when the water flow is lower, we can hike right through it. We will have lunch on the trail today, and after our ride back down the canyon, we will load up for the shuttle back to St. George. TOTAL MILEAGE - 18 miles of riding, 3-6 miles hiking
More information from Western Spirit Cycling Adventures: