Alaska Alpine Adventures - vacations and travel
Twin Lakes Paddle - Lake Clark National Park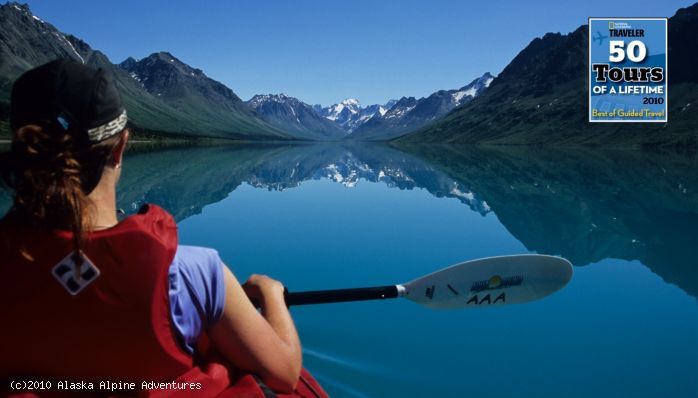 from $3,250* per person
7 Days
May-September
Comfort accommodations

Exertion level: 3

Operator:

Alaska Alpine Adventures

8 people max
Airport near anchorage, ak, united states
Family & Friends trips

Recognized in 2010 as one of National Geographic's "Tours of a Lifetime", join us to experience Alaska's best kayaking and hiking trip. The supreme wilderness of Twin Lakes, located in the heart of Lake Clark National Park, is a wonderland of crystalline waters set beneath a rugged rim of mountains and vast tundra expanses. It's home to various birds of prey, moose and caribou, Dall sheep, Black and Brown bears, and the legacy of Dick Proenneke – the conservationist featured in the popular PBS documentary, Alone in the Wilderness. In 2012, join us September 2-8 for an amazing adventure photography workshop with Alaska fine art photographer David Taylor.

Twin Lakes exudes the truest essence of Lake Clark National Park; a wilderness nirvana, where the allure of living a more simple life, in tune with nature and the changing seasons, captured Mr. Proenneke and will certainly captivate you. For over 30 years Dick Proenneke carved for himself a life in this wilderness, and his hand-hewn log cabin reminds us of his enduring presence. You'll marvel at the old world resourcefulness and craftsmanship that went into the building of his backcountry home and sense the overwhelming, yet comfortable, solitude that he enjoyed.

With our collapsible kayaks providing unlimited access to the waterways, we'll paddle and camp along the shorelines of Upper and Lower Twin Lakes. Along the way we'll stop to stretch our legs hiking into the valleys of Hope and Beech Creeks, climbing into Low Pass, and making a loop through the curiously named Death Valley. These day hikes offer a nice compliment to the clear water kayaking and offer amazing views of the Twin Lakes basin! As the sounds of our floatplane break the calm, we'll ponder waving off our pilot and building our own cabin on the shore of Twin Lakes.

In September of 2012, we've teamed with Alaska fine-art photographer David Taylor to offer a first! Combine this award winning adventure with a guided pro-photographer and capture images from your trip you never thought possible.

Trip Highlights:
Kayaking and hiking in the wilderness of the spectacular Lake Clark National Park. A visit to Dick Proenneke's cabin on Twin Lakes, and some of Alaska's most breathtaking mountain scenery.


Locations visited/nearby
North, Alaska, United States
0 testimonials about this trip.
Reviewer:

Caroline Seaman

"The scenery and routes were gorgeous – we loved the area. Food was fantastic and far exceeded our expectations. Guides were extremely knowledgeable and fun to travel with.""

5

Reviewer:

Augie Spagnola

"This was a great trip, it truly exceeded my expectations."

5

Reviewer:

John Wargo

"As a seasoned backpacker worldwide, I would rate this trip as a once in a lifetime experience!

I've never had better food in the field.

Great weather, spectacular scenery.

Overall – outstanding!"

5
Comments from Facebook
Itinerary
Day 1: Today you'll fly from Anchorage to Port Alsworth – one of the most stunning bush flights in Alaska. After meeting your guide, you'll check into our lakeside lodge on Lake Clark, spend the afternoon hiking to Tanalian Falls, and finish the evening with an orientation/welcome dinner at the lodge. Lunch & Dinner included
Day 2: This morning you will load into a floatplane for the magnificent bush flight to Lower Twin. We'll set up camp at the west end of Lower Twin Lake, assemble our kayaks and go for an afternoon hike. We'll hoist daypacks and head off to explore an area locally known as "Death Valley." This fluvial filled wash is spectacular and leads us directly into the tundra. We'll climb another Alaska watershed to a pass and enjoy spectacular views of Big Valley and the mountains surrounding Twin Lakes. All Meals Included
Day 3: After yet another great breakfast, we'll load the kayaks and head up the shores of Lower Twin. We'll spend the day kayaking, picnicking for lunch, and enjoying the remote splendor of this special piece of Alaskan wilderness. As we head east toward the Upper Lake, the mountains will become more dramatic. We'll scope the shore for wildlife and will make camp near the stream connecting upper and lower Twin Lakes by late afternoon. All Meals Included.
Day 4: We'll spend our day hiking in the high country that makes up the Beech Creek drainage above and to the south of our camp at the connecting stream. Our hike will take us through a mixed spruce woodland forest and up into a tundra carpeted watershed above the lake. The views of Emerson Creek and the Alaska Range to the north will inspire us for tomorrow's hiking adventure to Emerson Falls and the kayaking on upper Twin Lake. All Meals Included
Day 5: The early dawn will greet us with more adventure and we'll start is all by lining our kayaks up the connecting stream. After a couple of hours of walking our boats up the creek, we'll be kayaking the azure waters of Upper Twin Lake. We'll make our way over to the mouth of Emerson Creek and will set up camp. We'll grab a healthy lunch and a couple of energy bars and start hiking up to the falls. Emerson is a spectacular Alaska drainage and the waterfall was one of Dick Proenneke's favorite places to visit. The day will conclude with a gourmet dinner and, as always, a dessert will that nourish our bodies for a good night's sleep. All Meals Included
Day 6: Today we'll paddle to Hope Creek and our camp for the final night. Alaska size peaks will dominate our panorama and the solitude of kayaking Upper Twin will entrance us. Camping near the mouth of Hope Creek allows a short walk to Dick Proenneke's cabin. After a hearty dinner, we'll make our first visit to Proenneke's cabin – his year-round home from 1968-98. We hope you feel Dick's spirit as you wander about his property, admire is craftsmanship and imagine his existence so far from our modern world. All Meals Included.
Day 7: Today we will break camp and await our floatplane pick-up. We'll return to Port Alsworth on Lake Clark by early afternoon After showers and a celebratory lunch, we'll tally up our wildlife sightings, and revel in the adventure that we will never forget. We'll then pay an afternoon visit to the Lake Clark National Park visitor's center where you'll have a chance to purchase maps and postcards. You'll then board an afternoon charter flight to Anchorage. If you are departing Alaska on this day, please schedule all homebound flights for after 9PM. Breakfast & Lunch Included.
More information from Alaska Alpine Adventures: