ECHO River Trips - vacations and travel
Idaho's Middle Fork of the Salmon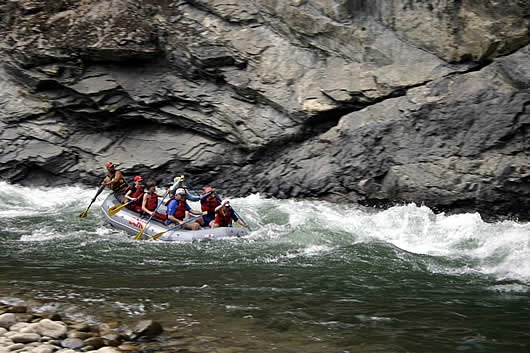 from $2,095* per person
6 Days
June-September
Comfort accommodations

Exertion level: 3

Operator:

ECHO River Trips

23 people max
Stanley near airport road, idaho, united states
Boats, Barges & Small Ship Cruises trips
Spend 6 days winding thru 75-100 miles of pristine Idaho wilderness featuring breathtaking scenery, crystal clear water, exciting rapids, natural hot springs, outstanding trout fishing and rich Native American history. You'll experience everything that makes a river trip a unique, adventurous journey.

The Middle Fork begins as a small, quick stream close to 6000 feet above sea level and increases more than five-fold in volume over its 100 mile course. The upper river flows through a tight canyon covered with Douglas fir and lodgepole pine. As your journey continues, the canyon opens and features ponderosa pine, sagebrush and mountain mahogany, which are more typical of the high desert.

The last two days, you'll float on through the impressive Impassable Canyon, with almost vertical rock walls. You see the Middle Fork at its full strength here. The rapids are bigger and closer together. As the trip nears an end, you enter the Main Salmon and encounter Cramer, which is a relatively new rapid caused by a landslide in 2003. It provides the perfect end to the trip just above take-out at Cache Bar.
Locations visited/nearby
Idaho, United States
Comments from Facebook
Itinerary
Pre-trip Orientation
You'll want to arrive in scenic Stanley, ID the day before your trip. It is a beautiful small town nestled at the foot of the Sawtooth Mountains. At 8 PM, there will be an orientation meeting at the Mountain Village Lodge. Here you will meet your head guide and the other guests on your trip.
Stanley, ID
The head guide will distribute dry bags, sleeping bags and pads, so you can get packed up and be ready to head out in the morning. You'll also find out if you'll be flying or driving into the river and what time to be ready (usually 8 AM). You can ask last minute questions and fill out a quick form if you're having your car shuttled to Salmon. There's a store right next to the Mountain Village lodge where you can pick up any last minute things for the trip.
Day 1
Make sure to eat a hearty breakfast and meet your group in front of the hotel at the designated time, with everything packed in your dry bags and dressed for the river.
For trips in May- early July, you'll ride by bus to Boundary Creek, (about an hour). Late July-September, the first 25 miles of the river are too low to run, so you'll fly to Indian Creek aboard a small charter plane. The flight is short (30 minutes) but beautiful and lands on an airstrip right along the Middle Fork.
McCall Air Landing on the Middle Fork
When you arrive at the put-in, you'll meet the rest of your guides, listen to a brief talk from a Forest Service official about caring for the canyon, and hear a safety talk from an ECHO guide. During this time, the guides are loading the boats and preparing to shove off.
Boundary Creek Put-In with ECHO River Trips
If I had to choose one river to run, once a year for the rest of my life, the choice would be easy. I would choose the Middle Fork.
- Jeff Rennicke, river guide and writer
If you begin at Boundary Creek you'll encounter a small, fast stream with lots of rocks. Be ready to paddle and listen to your guide's commands. It is too tricky and shallow for inflatable kayaks in this section. If you begin at Indian Creek the river is larger and deeper making it appropriate for inflatable kayaks.
Upper section of the Middle Fork Salmon with ECHO
You will stop in the early afternoon for lunch and to stretch your legs, and then head downstream for camp. We like to hit camp early this first day, so we can have time to ease into our camp routine. There should be time for fishing, reading, playing games, visiting or a short hike. Hors d'oeuvres will be served first, followed by your first hearty river dinner. Your head guide will usually give an overview of what to expect for the following day. Then you will relax until you're ready to head to your tent for the night.
Day 2
You'll wake up in your cozy tent and peak out to the beauty all around you. This is your first full river day. Coffee, tea and juice will be ready by 7 AM, along with light breakfast options like yogurt, fruit and cereal. A heartier breakfast will be ready around 8 AM, with things like pancakes and bacon, French toast and sausage, eggs-to-order, etc. You won't go hungry on an ECHO trip!
Campsite with ECHO River Trips on the Middle Fork Salmon
After breakfast you'll pack up your dry bag, and bring it down to the boats. It will take some time to get camp broken down and packed up, and we try to be on the water around 10 AM. This is fine, because you'll want the day to warm up before you get wet.
Once again, you'll raft until early afternoon with various stops along the way including an hour or so for lunch. Some time during the day there might be an extra stop to visit a hot spring, take a short hike to a waterfall or view the Native American pictographs.
Native American Pictographs on the Middle Fork Salmon
Depending on the stops you make and the distance between your assigned campsites, you'll arrive in camp in the early to late afternoon and you can once again relax, hike or read. The guides will make hors d'oeuvres first, followed by dinner and then off to bed.
Days 3-5
You will wake to the quiet canyon each morning and follow the routine of DAY 2, with coffee around 7, breakfast around 8 and be on the river between 9 and 10. The guides will keep you posted on which big rapids to expect during the day and they'll pull over for lunch midday.
Cliffside Rapid on the Middle Fork Salmon
Campsites are assigned on the Middle Fork, so this will dictate how long you spend on the water each day. You may arrive in camp earlier in the afternoon on some days. Drinks, hors d'oeuvres and a full dinner are enjoyed each night.
As the trip continues you'll form bonds, have more experiences to share in the evenings, and get into the flow of life on the river. Your koob game will most likely improve and you will appreciate the solitude all around you. You'll fall asleep each night excited to do the whole thing over again.
Koob Game on the Middle Fork with ECHO
Day 6
On this last day you'll wake up deep in Impassable Canyon, where the river is at least five times bigger than where you started. Breakfast will be served as usual and you'll load up for this last stretch of the Middle Fork. You'll float through the confluence of the Middle Fork with the Main Salmon, where there's one more great rapid to end the trip.
Impassable Canyon on the Middle Fork Salmon
You'll arrive at Cache Bar around 1-2 PM and while the guides de-rig the rafts and load up, you'll have lunch that has been brought in from town. Hopefully you'll get a group photo before bidding the river farewell. You'll load up in the bus and head for Salmon, ID. We make one stop on the way back to Salmon, at the general store in North Fork for ice cream and bathroom breaks.
You'll arrive at the Stagecoach Inn in Salmon in the early afternoon. We recommend spending the night here as a way of easing your re-entry into the real world. Groups often meet up with their guides at the Shady Nook Restaurant for a farewell dinner.
If you had your car shuttled, it will be waiting for you in the parking lot of the Stagecoach Inn. If you are flying back to Boise to meet a commercial flight, you'll head out in the morning.
More information from ECHO River Trips: