ECHO River Trips - vacations and travel
Rogue River Rafting in Oregon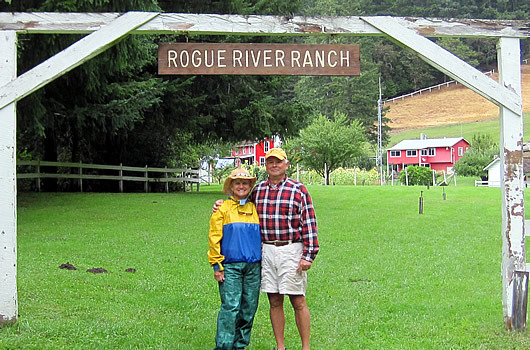 from $895* per person
5 Days
May-September
Comfort accommodations

Exertion level: 3

Operator:

ECHO River Trips

20 people max
Galice airport, oregon, united states
Boats, Barges & Small Ship Cruises trips
The Rogue River inspires strong loyalty that has many guests returning year after year, making it a regular part of their vacation plans. After your first trip through this lush, green canyon loaded with wildlife and stunning scenery, you will understand why it probably won't be your last.

The Rogue offers a near perfect combination of exciting but safe rapids, warm water, a comfortable pace and plenty of wildlife sightings. It is a wonderful river for families and beginners, yet offers enough whitewater excitement for teens and river veterans. On your trip you could see deer nibbling near the shore, black bears feasting on trout, osprey and bald eagles soaring above and river otters frolicking with their young. You can spot salmon journeying to their breeding grounds upstream and possibly a beaver that has moved in across from a regular camping spot. If you're really lucky, you could spot an osprey dive into the river, surface with a fish and carry it to its nest. Your kids will be amazed.

A trip down the Rogue River can last from 3-5 days, but most trips are 4-day and 3-night camping trips. It is possible to do a 3-day trip early in the season, where you'll spend 2 nights at a couple of the rustic lodges along the way. A 5-day trip usually includes a lay-over day at one of the campsites, which allows you and your family more time to hike around the area, view the scenic waterfalls and spend the day leisurely fishing, reading or relaxing. Whichever trip you choose, you'll cover the same 38-mile stretch of the Wild and Scenic section of the Rogue, which has been protected from development since 1968.

Southern Oregon has much to offer if you want to combine your trip down the Rogue with other outdoor adventures. The Oregon Shakespeare Festival takes place in Ashland each summer and is only an hour away. Oregon's gem, Crater Lake, is an incredible freshwater lake found in the crater of a volcano. The Oregon coast has tidal pools to explore and sand dunes to plow through, both of which have delighted kids for ages. You can customize a vacation to suit your family and keep everyone entertained.

Locations visited/nearby
Oregon, United States
Comments from Facebook
Itinerary
Pre-Trip
Plan to arrive in the Galice or Grants Pass area by the evening before your trip. You can stay at the Galice Lodge, Morrison's Lodge or a Grants Pass area motel. Get a good rest for an early start and big days ahead!
Day 1
You'll meet your head guide and other guests at the Galice Resort at 9 AM. Be sure to have a hearty breakfast, which you can get at the Resort if you arrive early. Come dressed in your river clothes and ready for action. Your head guide will distribute dry bags packed with sleeping bags and pads and you'll transfer your personal belongings into the bags before loading them onto the trailer. Everyone will then load up in passenger vans for the short (15 min.) drive to the put-in.
Safety Talk on the Rogue River
You'll begin your trip at Almeda Bar, a large rock bar downstream from Galice. Your head guide will give a detailed safety talk, and then you'll put on a life jacket, load your dry bags on the rafts and head out!
You'll stop for lunch after a couple of hours and then enter the Wild and Scenic section of the river. Grave Creek Rapids thrill the rafters and challenge the kayakers. Next, you reach Rainey Falls, which most guests will hike around and can watch for leaping salmon.
Rainey Falls on the Rogue River
After Rainey Falls it is smooth floating to camp. You'll arrive early enough to put up tents, and then you can take a short hike, a brief swim, relax, or delve into vacation reading before dark. The guides will prepare appetizers, followed by dinner and dessert before everyone heads to bed.
Day 2
You'll awake in the coziness of your tent and peak out to the quiet forest and flowing river. Coffee and tea will be ready by 7 AM with light breakfast options like yogurt, fruit and cereal. A hot breakfast will be ready around 8 AM with pancakes and bacon, French toast and sausage or scrambled eggs with English muffins.
Camping with ECHO on the Rogue River
After breakfast, you'll get dressed, take down your tent and load up your dry bag for the guides to tie down to the rafts. We try to get on the water by 10 AM. During the day you may stop for some interesting side hikes or points of interest along the river.
You'll stop for lunch around midday for about an hour and then paddle on to your next campsite, again arriving with plenty of daylight for camp games, quick hikes, fishing or relaxing before dinner.
Boats on the Rogue River
I don't know when I've had so much enjoyment on a vacation. The guides were great, the food was great, and how much beauty can you get in four days? I'm planning for next year.
- D. Holt, Tuscon, AZ
Day 3
Okay, now you're in the swing of things: coffee, breakfast, pack-up, load-up, on the river! This is a big whitewater day with Mule Creek Canyon and the infamous Blossom Bar. You will probably visit the Rogue River Ranch complete with old pioneer photographs, farm tools and history of the Rogue River and stop for a quick lunch.
Rogue River Ranch
Afterwards, you'll encounter the best whitewater of the trip. At Mule Creek Canyon the river plunges through a narrow canyon with sheer rock walls. When the whitewater lets up, you have a chance to enjoy the spectacular beauty.
Mule Creek Canyon on the Rogue River
After a break comes Blossom Bar, an extremely tricky maze of rocks, and the most challenging rapid on the Rogue. The guides will stop to scout the rapid and there may be a line of boats to get through. Everyone will either ride on a big raft through Blossom or some guests may walk around it.
Then it is smooth floating through more beautiful scenery until camp. This will be your last night with all of your new friends, so we like to have a bit of a fiesta complete with fajitas and river-ritas!
Day 4
Your last day begins like the others, but perhaps a little earlier. There's still plenty of paddling and the beautiful Flora Dell waterfall. After lunch, you'll continue down to the take-out at Foster Bar, usually arriving by 1 or 2 PM.
Flora Dell Waterfall on the Rogue River
Take-out is a shocking signal that the trip is really over as you get your first glimpse of civilization, which inevitably elicits sounds of dismay from the group. The disappointment is soon lost in the bustle of unloading the rafts, changing clothes, loading the vans, and saying goodbye to all but your head guide. You'll load back up in passenger vans for the ride back to Galice. It is a beautiful but curvy ride that takes a couple of hours.
Back at Galice (3-5 PM), you'll bid your fellow guests adieu, unpack your dry bags and give them to your head guide. Most guests choose to spend another night in Galice, although you could head to Ashland, Crater Lake, Portland or the Oregon coast, if you're continuing on your vacation.
More information from ECHO River Trips: