ECHO River Trips - vacations and travel
Rafting Chile's Futaleufu River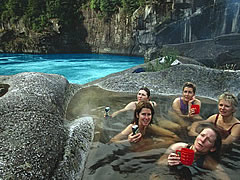 from $3,400* per person
10 Days
February
Comfort accommodations

Exertion level: 3

Operator:

ECHO River Trips

12 people max
Puerto montt airport, chile
Boats, Barges & Small Ship Cruises trips
This ten-day excursion in Patagonia, Chile features incredibly blue water, breathtaking alpine scenery, rapids ranging from Class III to Class V, and luxurious permanent camps with river-carved stone hot tubs and wonderful off-river activities.

The Futaleufu River has a few sections of Class V whitewater that you may choose not to do. A beautiful horseback and hiking trail that follows the river opens the trip to anyone, regardless of experience, because you can choose to walk around any of the big rapids.

A couple of days are spent doing an array of other activities including hiking, horseback riding, rock climbing, rappelling, and canyoneering in our private camps. This is a wonderful, multi-activity destination in an exquisite place.

We have arranged this trip at the urging of many of our adventurous guests who have wanted to see the river but preferred ECHO to be involved in its operation.

We are working with Earth River, the most experienced and established outfitter on the Futaleufu River. We really like the way they have developed their extraordinary camps, and we are good friends with many of their guides. Either Dick Linford or Zach Collier (and maybe both) will represent ECHO on the trip.
Locations visited/nearby
Chile, South America
Comments from Facebook
Itinerary
DAY 1 - Depart U.S. for Chile
Leave the United States and travel to Santiago, Chile.
DAY 2 - Santiago, Chaiten, Terminador Camp
Arrive in Santiago, pass through customs, and transfer to flight to Puerto Montt.
Upon your Puerto Montt, you'll meet a representative who will help you board a small charter flight (included) to Chaiten. From Chaiten its a few hours drive up to the Futaleufu and we'll stop along the way for a glacier hike.
DAY 3 - Rio Futaleufu, Terminator Camp
Isla Rapid on the Futaleufu River You'll begin with our inflatable kayak put-in on the Class II (beginner level) lower Futaleufu River. After a kayak training lesson, you'll begin paddling the stunning, turquoise colored river. After lunch at the take-out, you'll be driven 15 minutes to the Terminator Camp trailhead and hike 1 mile into the camp (personal bags are transported by ox cart).
Terminator Camp is the first of four wonderful camps on your trip. It is located on over a mile of privately owned riverfront and sits on a bluff overlooking the river. The camp has 12 private, two-person, hand-hewn cliff dwellings, each with beds and a bird's-eye view of the river. At the center of the camp is a large cypress deck where you can mingle with other guests and gaze at the beautiful stretch of river below. The camp also has hot showers, flush toilets, and a covered dining area in the event of rain.
DAY 4 - Terminator Camp, The River, Cave Camp
Those wanting to run Class V whitewater will hike for half an hour and then drive to the put-in for the upper river. The river here runs through Infierno Canyon, with sheer rock walls rising hundreds of feet above the water. The world-class rapids, as wild as any rapids run commercially anywhere, include Infierno, Purgatorio, and Escala De Jacobo. Each rapid, while very challenging, is followed by a pool of slow water. These pools are great for rescue and recovery.
Those who choose not to run the Class V rapids can hike or ride horses down the river, and meet the rafters for lunch.
After lunch everyone will raft down to Campo Casa de Piedra, or House Rock Camp, a 1,000 acre private preserve. This place gets its name from a massive slab of white granite that rests on two boulders, creating a cave-like interior of over 1,600 square feet. In front of the shelter is a lovely spring-fed pond named Laguito Azul, or Little Blue Lake. Here, you can kayak the incredibly clear water that feels more like floating on air. Swimming below 30-feet down, you may see trout and salmon weighing up to 25 pounds!
Stone Hot Tub next to the FutaleufuFrom camp we'll walk down to scout Zeta, the most spectacular rapid on the river. At high flows Zeta is unrunnable. At its easiest, it is solid Class V. Those who wish to run the rapid do so. The rest walk a short distance downstream to Cave Camp. Cave Camp features a smooth pothole carved by the river that has been made into a hot tub that can hold twelve people easily. Soaking in the tub at night, beneath the southern stars, is a real treat. Sleeping quarters are a series of private nooks perched along the river, overlooking Zeta. This camp also has flush toilets and showers.
DAY 5 - Cave Camp, Tyrolean Traverse, Tree House Camp
Tyrolean Traverse above Zeta RapidWe begin the day setting up a Tyrolean Traverse across the river. If you want, you can don a climbing harness, and pull yourself along the rope suspended above Zeta Rapid. This is an exhilarating experience. If you choose not to use the traverse, you can cross the river in rafts. A moderately strenuous hike past waterfalls and through an old growth hardwood forest ends at Lake of the Frogs, a 10-acre lake offering swimming, canoeing and fishing. Here you'll find the Tree Camp, which features a gazebo for meeting and eating, a hot tub, and beautiful tree houses built by a master carpenter with no nails!
After rest, relaxation, or swimming, you can take an afternoon hike to a scenic overlook offering 360-degree vistas of snow capped peaks, lakes, and seven miles of the Futaleufu. Condors are often spotted here, as they soar in the updrafts created by the peaks. You'll then return to Tree Camp for dinner and sleep.
DAY 6 - Tree House Camp, Zip Line, Cave Camp
The TowerThe day begins with a leisurely hour and a half hike back down to the river, which you can traverse with a zip line that drops 25 vertical feet into a pool below Zeta Rapid. A zip line is a rope stretched tight across the river, slanting so that gravity carries you across and down. We attach a loop, a safety line and a pulley to the rope. You simply hold on to the loop, and let nature do the rest. The safety line makes a fall impossible. Like the Tyrolean traverse, this is an exhilarating experience. If you don't feel comfortable with it, you can cross the river in rafts. Cave Camp is nearby.
After lunch at Cave Camp guests can choose between relaxing, horseback riding, kayaking Laguito Azul, or climbing The Tower. The climb involves some serious rock climbing, including rappelling back down. People aged 5 to 75 have done it, but it is not for those afraid of heights!
We spend the night at Cave Camp.
DAY 7 - Cave Camp, The River, Mapu Leufu Camp
Back on the river! After an easy float you'll arrive at Throne Room Rapid, which is unrunnable. We "ghost boat" it, which means we let the boats float empty and pick them up at the other end. Then we have two hours of nice Class IV whitewater before arriving at Terminator Rapid.
Terminator Rapid on the Futaleufu RiverTerminator got its name on the first raft descent of the river. It was a Steve Currey Expeditions trip but besides Steve, the crew were Peter Fox, Dan Bolster, and Brad Lord, all former ECHO guides! The river was very high, and Brad flipped his 20-foot raft in the rapid, which of course, had no name at the time. They decided to terminate the trip at this point, and the name stuck. Below Terminator are the Himalayas, a series of huge waves and solid Class V action. Those who choose not to run this section can hike along the trail and watch the action.
After lunch you'll walk upstream 1.5 miles to the mouth of Rio Blanco Canyon. Those who wish can "canyoneer" this canyon. Canyoneering is traveling up (or down) a steep river canyon, by swimming and climbing. In this case, wetsuits and river shoes are required. The wetsuits are provided. If you skip the canyoneering, you'll cross the river to Mapu Leufu Camp.
This camp is 120 feet above the river, and offers wonderful views of the river in one direction, and of alp-like peaks in the other. Activities from this camp include mountain biking, swimming, kayaking, hiking and fishing. Your quarters are wood cabins built along the river's edge. Once again there is a hot tub, showers, and flush toilets.
Meanwhile the rafts have been taken by oxcart back upstream, in case you want to challenge Terminator again the next morning.
DAY 8 - Big River Day, Campo Mapu Leufu
Mapu Leufu Hot TubThis will be your last day on the river. It is a fitting climax to the trip, and one of the most exciting rafting days in the world. You begin by tackling Terminator and the Himalayas again, but this time you'll continue through a long stretch of Class IV water before lunch.
After lunch you face more Class IV and two Class V rapids: Mas O Menos and Casa De Piedra. After this series of rapids the canyon opens up to vistas of distant mountains and glaciers.
In the early afternoon you'll return to Campo Mapu Leufu for a farewell dinner celebration.
DAY 9 - Chaiten, Santiago
This morning you'll drive to back to Chaiten. You'll catch a charter flight back to the Puerto Montt Airport and then catch your return flight to Santiago.
DAY 10 - Santiago and Beyond
Arrive home or continue vacation in Chile.
More information from ECHO River Trips: