Serendipity Adventures Costa Rica - vacations and travel
Costa Rica 10 day active naturalist private custom nature tour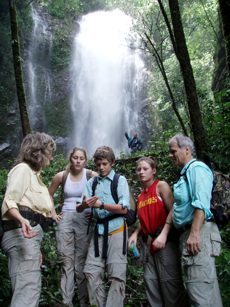 Costa rica
Active & Adventure trips
This adventure in nature was designed for a family of six: 2 parents, 3 kids 7 to 19, and Rose, one very active 72 year old grandmother. She wanted her family to see nature and several different ecological systems without being pushed along by a crowd. She wanted all the others in her group to get enough adventure to use up their energy. She wanted her grandchildren to meet real people who lived and worked in Costa Rica — farmers, ranchers, fishermen, teachers, shopkeepers. And she wanted everyone to take part in every activity.

Locations visited/nearby
Costa Rica, Central America
Comments from Facebook
Itinerary
Day 1: Arrival, and a lovely country inn
Rodolfo Sanchez, the Serendipity leader for this adventure, will meet your flight at 3:45 and whisk you away to our favorite boutique hotel in the lush hillsides of coffee country. At dinner on a cliff overlooking wild rainforest you'll get your first real look and sounds and smells of Costa Rica's lush tropics.
Caribbean beach at Manzanillo
Day 2: Hiking in the cloud forest with exotic plants, animals, and waterfalls
After breakfast we'll start the drive across the central mountain range, stopping in our friends' private forest preserve. We'll hike among spectacular waterfalls and pre-Jurassic plants, some more than 300 years old. Here live several strange looking mammals, and the resplendent Quetzal, the elusive bird whose feathers served as currency for Aztec royalty. If you are brave with cold water, go play in the pure waterfalls. The cloud forest is misty because the evapotranspiration is prevalent in this terrain. The cloud forest is a mighty producer of oxygen.
Day 3: Hot springs and the back side of Arenal Volcano to see red hot lava
After a few hours' morning hike we'll drive the rest of the way through the mountains to the ever erupting Arenal Volcano. Tabacón is here, the fancy big tour bus resort style hot springs, well manicured pools and beautiful bodies in swimsuits, and catering to hundreds. Our favorite hot springs is a quiet and private place where we'll take you. If you are feeling really adventurous, we also know a wonderful place where only the local people come, slide down a muddy path - take your waterproof flashlight. It's your choice.
After dark (here almost on the equator sunset is 5:30 pretty much year round...) we'll head around the back side to find THE place for viewing. Thank you, 4x4! Even if the clouds block our view, the sounds are enough to fire your imagination — we'll get close enough to hear it, and far enough from the tour buses.
Day 4: Nature at its best - floating down the river
We'll inflate our Duckies for a quiet float down a river with riverbanks full of nature, watching for birds and monkeys and lizards and crocodiles (well, caiman, really). Silence is so important here.
With the little Duckies we can truly creep up on the birds, monkeys and lizards, and a few other interesting animals. There are sloth in the trees. You'll appreciate Rodolfo's expert eye to catch sight of one. There are extremely well camouflaged animals wherever you look - fruit bats, which look a lot like wet leaves, lizards, nesting birds in the mud banks, and snakes, quiet and inactive, coiled on branches to absorb the sun. And birds, lots and lots of birds, hiding below the lowest branches or sitting in the brightest sun possible, wings stretched to dry their feathers. The monkeys scream challenges to everyone.
Day 5: Frogs and butterflies, then enter a primary forest to ascend ABRAHAM for lunch in the tree tops
We'll stop at a very different type of farm. With red poison dart frogs and green tree frogs and turquoise frogs and angelfish, it is a place you will never forget. Our friend Claudio uses the frogs as natural insect control to protect the exotic ferns and plants he raises to sell.
Next to Claudio's farm is a butterfly project. Local women have developed a market for butterfly collectors around the world. This community project is as grass roots as it gets -- not a "tour" open to the public (indeed, there is no sign anywhere) but genuine sustainable farming.
After breakfast we travel by 4x4 and by foot across rivers, through pastures and pineapple fields, and into a primary flatland rain forest. The culmination of this journey is an ancient (more than 400 years old) tree. We named him Abraham, for his ancestral stature in the jungle. We are ascending to the platform 110 feet above the ground to watch the forest, birds flying below you, and howling monkeys in trees next to you. This is a genuine "canopy tour", where you sit in the canopy and watch nature, at your leisure. Scientists estimate 70 to 90% of life in the rain forest is in the canopy.
Here in the jungle canopy is our favorite place to have lunch.
Day 6: On the way to the beach
We have about 4 hours of driving today. The Caribbean zone is perhaps the most primitive and ignored part of Costa Rica, and is rich in bio diversity and REAL people. We will stop at the animal rescue sanctuary of Luis and Judy Ramirez, with star guests Buttercup and Spiderman.The Caribbean coast has year round lush vegetation with gently comfortable temperatures . Weather here is much like the coastal areas of Florida or the Bahamas or Jamaica, anywhere that the Caribbean weather system dominates. Rainfall is nearly the same month to month year round. Costa Rica's Caribbean coast is less developed, and a naturalist's paradise. There are no large American resorts on this side of Costa Rica but superb restaurants and exotic boutique hotels flourish here. (Serendipity has equally interesting activities and hotels on the Pacific coast, from north Guanacaste beaches to the extreme south Osa Peninsula, and in Tortuguero on the north Caribbean coast. We describe the south Caribbean here because it is so diverse, so little used, and the south Caribbean is filled with eclectic hotels, restaurants, beaches, and accessible nature. While the Caribbean weather is pretty equal most of the year, the Pacific coast has one major dry season (mid December thru April) and one major rainy season (May thru October).
We will plan your trip according to your travel dates and priorities for hotel style and what you want to do.)
Day 7: Walking and talking with Tino on the south Caribbean coast
Flora and fauna in the southern Caribbean coast is similar to species found in the Osa Peninsula. This area is also home to Costa Rica's largest indigenous population, the Bri Bri, who operate small communal farms as they have since before Columbus arrived. We have opportunity to visit some of these isolated farms.
The best day, though, is with Tino. Tino has his own permaculture "farm" - with hundreds of edible species growing, literally, next to the almost-invisible path through the forest. Tino seems to know every bird and lizard on a first-name basis.
Day 8: Play in the waves and turtle nesting
The beaches range from pure white sand and quiet waves to some of Costa Rica's best surfing. The shoreline retains pristine serenity, without the crowds and clutter of large beach destinations. So enjoy today. Turtle watching is a night activity, using red lanterns so we don't disorient the trancelike arrival of the females lumbering onto the shore. The beach area is protected by the watchful eyes of hundreds of volunteers who come stay here each year to protect this shore.
March is the beginning of the two month nesting season for the gigantic leatherbacks. The nesting beach is entirely protected, and difficult to access (fortunately for the turtles). We'll use the 4x4 to get to Gandoca on a dirt road, then to the protected area where the turtles come ashore.
We have come to gaze in awe at this phenomenal primitive ritual, bringing these turtles back to their own birthplaces, as they have been doing since before mankind arrived on this planet.
(Note on turtle nesting: There are different areas and different species of turtles, so there are different seasons for each area. When we design your travel, when turtle nesting is a priority, we have a good idea of which beaches and moon phase for viewing.
Day 9: Snake farm and orchid garden, then picnic at sunset
We'll leave the beach after breakfast on our way back to San José. First is Minor Cervantes, who teaches local children about the role of snakes in the ecology. Then to Lankester Gardens, with magnificent tropical plants and Costa Rica's largest orchid garden. We can stop in the city for museums and shopping.
Or we can bypass the city and head back into the coffee country for a picnic and a view of the Pacific at the top of Espiritu Sanctu (not a place where any tour buses go — it's strictly four-wheel-drive) - there's no end of things we can do with Rodolfo enthusiastically showing you his country on this, your last real day here.
Day 10: Your departure
Your return flight from Costa Rica. Rodolfo will take you to the airport at 11:00 to catch your flight at 1:15 (they really want you there two hours before flight time — but we know another shortcut....). You'll leave behind Rodolfo, guanábana, gallo pinto and the miserable potholes. But you'll take back some great new skills, and memories of Rose doing things she hasn't done since childhood. And you can come back, any time you get the urge...
More information from Serendipity Adventures Costa Rica: