Serendipity Adventures Costa Rica - vacations and travel
Costa Rica mountain biking for experts - Tropical Biking!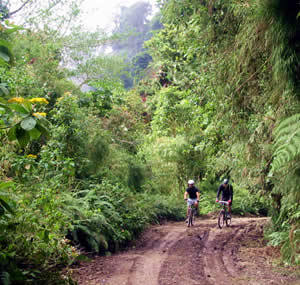 Sarchi, alajuela, costa rica
Active & Adventure trips
The ultimate in mountain biking in Costa Rica — Luxury Mountain biking (is that possible!) - fat-tire bikes supported with 4 wheel drive. Where? — start at the airport, end in the Pacific — pedal through cloud forest, rain forest jungles, deserted beaches and around — or hike over — an active volcano.

How tough? - we beat you up on the bikes, then pamper you with outstanding food, great hotels, the faithful 4x4 that carries everything (and allows us to get away from the paved routes so commonly used for biking tours in Costa Rica). With some hot springs and waterfalls and tree climbing and swimming holes thrown in for good measure.

We present you with a super biking adventure, which you will put together with your biking friends. Since this is a pretty rugged route, you'll want to select your travel mates carefully. We can handle up to about 15 people, but who's there is YOUR CHOICE. This is NOT a fixed departure trip — it is a route for exceptional biking, and designed for bike experts, and people who don't care how tired they get.

The support 4x4 vehicle carries everything from your clothes to some camping gear and bike parts and extra water and, of course, an extensive first aid kit designed for road rash and other ground contact sports injuries.

PLEASE NOTE: aside from our guides, the only people on your trip will be the ones you bring with you. Trip costs are dependent on how many people you bring in YOUR expedition.
Locations visited/nearby
Costa Rica, Central America
Comments from Facebook
Itinerary
Day 1: Mountain biking from the airport?
Your Serendipity leader will greet you at the airport. If you arrive on an early flight (before 9 AM), then you'll make it to the first hotel via bike, right from the airport. We're off to a small bed & breakfast in the direction of Sarchí, a town famous for its woodworking crafts. (And if you buy some stuff, we'll carry it for you).
Day 2: Mountain biking through Costa Rica cloud forest
Breakfast is hearty, because today we encounter steep hills, up and down, and ascend into a private and remote cloud forest (climbing from 4200 ft. to about 7900 ft. altitude). For those who need to acclimatize we'll start at the top of the major hill. The biking is definitely back road hard surface gravel. The reward is to experience a whole new magical world at the top.
We will stop for tonight here, and hike at our friend's private cloud forest preserve near Poás Volcano. This hike is within the type of forest which exists only in the clouds in the mountains of Central and South America and southeast Asia, and most famously the gorilla territory of Africa. This is a cloud forest, and one of the least understood ecological systems amongst Americans, but one of the most essential to the world's weather. It is also plain beautiful and fun hiking, and a refreshing place to dive into the pools of (very chilly) crystalline water. We'll camp here tonight, or, if you are really a glutton for biking, we can press on to a hotel about 15 km. beyond. Once we get there, you'll swear you are in a Latin version of Switzerland — rolling pastures, billowing clouds, small, neat farm houses.
Riding mountain bikes across a river.
Day 3: Mountain biking from the highlands into the Arenal Volcano area
Today we go through twisty country lanes over small rivers , down into the lost valley (where the only reliable transportation is horses, foot or bike) on a trail once used by oxcarts to carry cheese to the Central Valley. On the way to our hotel we can stop to play,diving into waterfalls and basking in a clear, mountain spring.
Day 4: Mountain biking to the rain forest
The Arenal area is full of great stuff to do so we're staying here for a full day. But our favorite is to bike to a primary rain forest where we leave the bikes for a different form of "locomotion" — ropes and harnesses and the canopy. Ascending to Serendipity's platform is a good way to keep in shape. And the reward is a vista most people never see - the forest from above, where the birds come in for landings, where the monkeys traverse the forest below you. Because you are seeing the life from above it, the daylight shows off the splendor of the colors, not just bird and animal silhouettes in the trees above you.
Towards afternoon it's time to worship the volcano. We'll head towards the base of the volcano, and jump off a few rocks into a bubbling stream, with a rope to swing out to the middle of the water. We can pack up the bikes onto the chase and head for the hot springs that are the Tourist Mecca for the volcano area. The tour buses come by the dozens, and the spas fill up with people of every imaginable type — including the spectacularly handsome Costa Rican men and women who strut their stuff at the resort.
Day 5: Mountain biking around Arenal Volcano
Here's the choice: follow the perimeter of lake Arenal with gentle ups and downs on paved roads that have been ravaged by potholes, time, and regular landslides, making it a perfect mountain bike obstacle course. Or take the first short distance by bike, then climb on foot to the top of Cerro Chatto and look down on the erupting Arenal nearby. Then the bikes will meet us and we'll descend on back roads around the lake — roads suitable only for horses, tractors, and (crazy) mountain bikers.
Arenal volcano at sunset
Once around the lake we encounter the dreaded Pan American Highway — solid lines of huge trucks, narrow bridges, and high speed driving on two lanes of bad pavement. We've opted to skip this part on bikes, and will instead drive down to Puntarenas and enjoy a night of (temperate) revelry).
Day 6: Mountain biking to the Pacific coast
We'll catch an early ferry to the Nicoya Peninsula (unless you'd prefer swimming the 20 km across the Gulf). Then we stay on back roads through the Nicoya peninsula on our way to the true Pacific Ocean, and your first baptism by salt water.
Day 7: UP THE COASTLINE
The coastal road is pretty easy for bikers, almost impossible for even 4x4's. Now you'll understand why the 4x4 accompanying us has the snorkel. With a half dozen rivers to cross, it is best to be prepared. But lucky you — almost everywhere you can stop and hop into the water to cool off.
Camping on the beach — there's nothing else quite so lovely.
Day 8: Mountain biking right into the Pacific Ocean
The last trek gets us back to "civilization" — riding up the coastline until we find a real bed and a real shower... and some restaurant food.
Day 9: Back to San José (and civilization?) by plane
The "island hopper" plane leaves at 7:30 AM, and it's your return flight to San José, alas! You get to take a few sore muscles, some extraordinary memories, and perhaps a new skill or two, with you. You'll have seen things and done things only explorers got to do in the not so distant past. And you'll have a much greater understanding of nature, ecology, and where mankind fits into this world.
More information from Serendipity Adventures Costa Rica: