Serendipity Adventures Costa Rica - vacations and travel
Costa Rica Tarzan and Jane adventures for families or honeymoons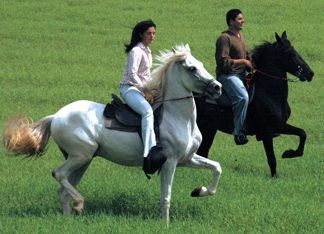 San jose, costa rica
Active & Adventure trips
Designed as a honeymoon for Steve and Judy, a very adventurous pair of newlyweds, this trip offers challenges and excitement for the young and foolish, including horseback, volcano and hot springs, tree climbing, and mountain biking, interesting hiking and swimming, along with beautiful beach, some luxury and pampering. This fast paced trip requires some stamina, but more importantly, a strong spirit of adventure and a good sense of humor.
Locations visited/nearby
Costa Rica, Central America
Comments from Facebook
Itinerary
Day 1: Luxury hotel to unwind
Your Serendipity leader will meet your 1 PM arrival at the airport, and head away from San Jose. While Manuel gets your things into your room and arranges for dinner, you can wander off down the pathway on the side of the cliff to a giant waterfall. Stay here until dark, but don't forget your flashlights.
This is a truly elegant place to park yourselves for a day. The high standards of all the hotels is stark contrast to the ruggedness of the rest of the trip.
DAY 2: tree climbing - on the inside
We're headed to the Northern Zone, famous for Arenal volcano and the hot springs (and another really beautiful 4-star hotel). But there is so much more here. Our first stop is in a primary forest to learn more about ropes, harnesses, and descending from trees. First you have to get up into the tree -- on the inside. The hike through this primary forest brings on thoughts of Tarzan and Jane.
Day 3: Mountain biking to an old fashioned swimming hole
After a BIG breakfast hop on the mountain bikes and head to our favorite swimming hole, complete with a rope swing to hurl yourself off the rocks. True Tarzan and Jane. This makes a canopy (zip line) tour look pretty tame....but we can add one of these today as well (at an extra cost)
And after the strenuous efforts you deserve a soak in the hot springs at the base of Arenal. If the clouds dissipate, we have a glorious view of the lava flow after dark.
Day 4: Horseback Extraordinaire
Serendipity's horseback riding is NOT trail riding. If you are a novice, you'll leave a comfortable rider. If you are an expert horse rider, you will feel the wings of your soul from the back of our horses. Ride Zorro or Bandolero, Piñata or Presumeda -- elegant Spanish horses, American quarter horses or our favorite, smooth Pasofinos.
It's not just the horses -- it is where we ride. Serendipity horseback is traveling on four strong legs, running backwards in time. Until merely 100 years ago horses were our primary form of transportation, and they still are in rural Costa Rica. Join us for an exceptional horseback experience. Let us show you why the horse is called the Noble Animal.
Serendipity's Costa Rica horseback riding division, Centaura Costa Rica, offers week-long honeymoons with horses -- at the volcano, in the jungle, at the beach.
Day 5: Rain forest Hiking on the way to the Beach
The Celeste River forms itself from two sources, each bringing a mineral from deep within the earth. When they meet, the resulting color is electrifying. Hiking to the source of the Celeste is a naturalists dream, about 5 miles of jungle, with volcanic fumeroles bubbling through mud. And what a beautiful place to -- of course! swim again. Then on to the beach to enjoy the sunset on the sand.
Say goodbye to your Serendipity adventure leader, now your friend... you get the beach all alone, to yourselves.
Day 6: The Beach -- with a good left tube?
You tell us what type beach you envision - a place with great surfing, or scuba, or unmolested nature, or night life, or deep sea fishing. Or romantic and secluded -- ripe for skinny-dipping. We have two coastlines, and an almost limitless selection of hotels. Our favorite places are small and simple, but have mastered the art of good service - comfort and hospitality. We've explored both coasts and know where we like staying - and hope you will like our choices, too.
Day 7: The Beach - Last day in Paradise
This is your final day in Costa Rica so spend it wisely. But we know you'll come again - maybe with a few kids.... this is just your beginning.
Day 8: Return from Paradise
The saddest day of all is the last one, but look on the bright side -- you'll be back. You'll be flying back to San José this morning, to catch your international flight.
More information from Serendipity Adventures Costa Rica: