Mountain Madness - vacations and travel
Serengeti Walking Safari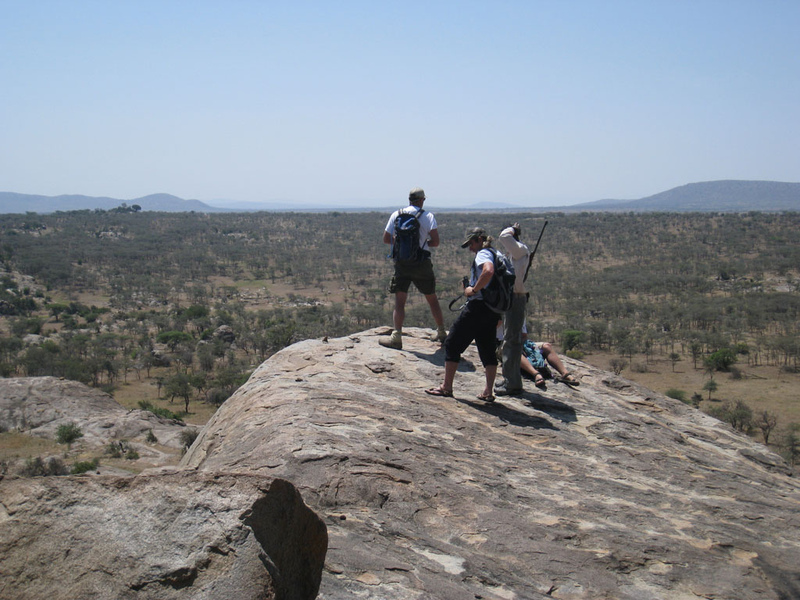 from $3,800* per person
10 Days
February, July-September
Comfort accommodations

Exertion level: 3

Operator:

Mountain Madness

14 people max
Kilimanjaro international airport, arusha, tanzania
Family & Friends trips
Serengeti National Park was established in the early 1950s. Since that time there has been no walking anywhere in the park. The park has 3 large wilderness areas that allow no vehicle travel either. After many years of struggle with the National Park service we have finally opened up these wilderness areas to a limited number of walking safaris. Mountain Madness is one of the very few who are able to offer this great new adventure.

You will be in very good hands with our walking safari guides who have been training for years in preparation for running these safaris. They have done firearm training with police and military personnel, professional hunters in Tanzania as well as walking safari experts from Southern Africa.

Being out of the vehicles in this vast savanna and acacia woodland gives you a unique opportunity to explore the details of this ecosystem. Animal tracks, bones, birds, antelope both small and large can be observed at length. Nothing will go undiscovered in your path. You can hike to the top of the large rock outcrops called "kopjes" where you can observe the plains below and plan the next section of your walk toward camp for the night.
Locations visited/nearby
Tanzania, Africa
0 testimonials about this trip.
3 testimonials about the provider, Mountain Madness:
Reviewer:

Bill Alorets, Glacier Mountaineering Course

"Great trip! Lots of training and summit day was incredible. Lead and assistant guide was always available and incredible patient. I highly recommend Mountain Madness to anyone!"

5

Reviewer:

Vince Colletti, Basic Rock Course

"I had one of the most amazing weekends of my life and our guide was responsible for that. I can't say enough words of praise for him, or the staff of Mountain Madness. You definitely have a return customer!"

5

Reviewer:

Angelina Trujillo, Mt. Baker Slow boat climb

"Thank you! This trip was very successful due to our guides and their support. My limited experience and older age was taken into account on how they managed our group which was the reason for all of our success!"


5
Comments from Facebook
Special information
This is a custom departure, meaning this trip is offered on dates that you arrange privately with the provider. Additionally, you need to form your own private group for this trip. The itinerary and price here is just a sample. Contact the provider for detailed pricing, minimum group size, and scheduling information. For most providers, the larger the group you are traveling with, the lower the per-person cost will be.
Family oriented trip.
Itinerary
Day 1 - 2
Depart from your homeport and travel to Arusha, Tanzania
Air Travel: All itineraries include travel days. Plan to fly to Kilimanjaro International Airport (JRO) in Arusha, Tanzania on the pre-scheduled arrival and departure dates and times, unless you are planning additional travel within Africa.
Day 2
Itikoni Private Luxury Camp, Arusha National Park
Elevation: 6,500 feet / 1981 meters
Mountain Madness Land Cruisers transport you from Kilimanjaro International Airport to an exclusive Private Tented Camp nestled in beautiful Arusha National Park. Here you will rest and prepare for your climb and enjoy some game viewing that may include elephant, colobus monkeys, buffalo, and fantastic bird watching. This region is incredibly scenic with views of Mt. Kilimanjaro and Mt. Meru dominating a panorama of grasslands and high tropical landscapes. You will enjoy a night game drive on your way to camp.
Day 3
Itikoni Private Luxury Camp, Arusha National Park
Today is spent relaxing and recovering from your travels. You will have an opportunity to familiarize yourself with the guides and fellow members of your group. Today your guide will have a trip briefing and review your equipment. There may be time for a walk or drive, to the grasslands for views of Mount Kilimanjaro and African game, such as giraffe; buffalo and antelope are usually seen in the area.
Day 4
Drive to Wilderness Walking Camp
Today you will have a game drive on your way to the Wilderness Walking Camp. Arrive in camp for the night before you head out on your walking safari the next day.
Day 5
Wilderness Walking Camp
Driving north from our Serengeti camp through the Seronera River Valley, the countryside is gently rolling and quite heavily wooded with acacia trees, broken occasionally by grassy plains. As we move further north we will see granite "kopjes" (out crops) emerging from the trees in the distance. We leave the main road for a barely discernable track to our first camp. Camp is set in a huge area of beautiful kopjes surrounded by shady groves of acacia trees. We will find camp set up and ready to move into, tea and snacks will be ready for some quick energy before heading out on our first walking. Your guide is a very experienced bush walker and will show you what you need to know to fully enjoy this unique wilderness walking experience. Because walking has never been allowed in the Serengeti National Park many of the places we hike have not been visited by man for more than half a century. Each walk is truly exploring a new area for the secret spots that the animals use. We will find a good spot for sundowners, then back to camp for dinner and overnight.
Day 6
Wilderness Walking Camp
Today's walking will not be far from the Orangi River – this is a seasonal river but has a few spots that have pools for much of the year, in other spots the elephants dig in the sand for trapped water – the location of these 'sweet spots' is handed down from generation to generation. We will start our walk early while it is cooler and try and catch the tail end of the night's action. There is no set trail for us to follow, we will find animal tracks and look for game patterns in an attempt to see as much as possible, we will move slowly, pausing often to look at some thing or to take in our surroundings and feel the wind. As the sun climbs higher we will find a cool and shady spot to rest and have our bush lunch. Much of the wildlife will be doing the same and we will relax on a vantage point during the heat of the day. Our route for the day will take us along an arc of rock kopjes that skirt the Orangi River. Once we leave camp in the morning the camp crew will break camp, move it ahead of us and pitch it in a new beautiful location ready for us when we arrive.
Day 7
Wilderness Walking Camp
Another early start before the day gets too hot – we will continue to follow the arc of kopjes and acacia trees, skirting the occasional glades before finding a good spot to descend towards the Nyabogati River. There is much thicker bush and bigger trees along the river and we will move carefully through these to find a rest spot for lunch. After lunch we continue to follow the kopje studded line of the river to our new camp location.
Day 8
Mobile Luxury Camp
Our final morning of walking will lead us upstream following the river towards some more kopjes on the higher ground. In places we will walk on the dry sandy riverbed or scramble over rocky sections and at other times we will swing away form the river valley to the edges of the plains. Before the sun climbs to high in the sky we will meet with our cook for a fabulous "bush lunch". This will be the end of our "walking" experience as the vehicles to take us out of the walking area will meet us at lunch. From here we will drive to the mobile luxury camp for your last night .
Day 9
Drive to Arusha
Today you will drive back to Arusha for your night flight out.
Day 10
Arrive home
More information from Mountain Madness: