CycleWest Ireland - vacations and travel
Ireland: A West Coast Extravaganza
"Our trip was fabulous!. You really know how to organize a tour for the greatest scenery and   wonderful accommodations. ....the… "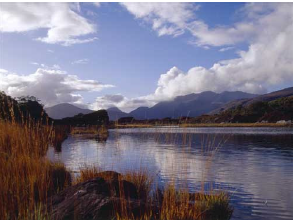 from €1,995* per person
9 Days
June-September
Boutique accommodations

Exertion level: 3

Operator:

CycleWest Ireland

12 people max
Dublin airport, dublin, ireland
Active & Adventure trips
This extraordinary Irish biking adventure has been designed with escape, elegance and an overall terrific experience in mind! We offer
you the opportunity to explore and contemplate life to its fullest, away from all the hustle of everyday life. Our West Coast Adventure
offers you a biking trip through the spectacular vistas of Galway Bay, the historical Burren, the Aran Islands and scenic Connemara.
Immerse in the history, the culture and the pure magic of the West of Ireland

Our West Coast Adventures offer a selection of terrific biking tours through the spectacular vistas of Galway Bay, the historical Burren,
the Aran Islands and scenic Connemara. Immerse in the history, the culture and the pure magic of the West of Ireland.
This extraordinary bike tour has been designed with escape, adventure and an overall terrific experience in mind! Our West Coast bike
tours offer an immersion of rich and vibrant culture; fun filled sightseeing, great routes and physical interaction with the landscape:
the perfect blend for all.
In the Burren, you will enjoy the stone forts, monuments, alpine and arctic flowers and plants that grow side by side, the seeds having
been deposited by glacier millions of years ago. This is the mystical land of disappearing rivers and lakes, closed valleys, caves and
limestone pavements. You may even find a real fairy fort!
The Aran Islands, three timeless islands in an endless sea showcase weathered monuments on awesome cliffs, great labyrinths of
limestone, meandering walls, patchwork fields, quiet beaches and a welcoming island people.
Crossing by ferry from the Aran Islands, you will know immediately that you have arrived in Connemara by the light that constantly
changes the mood and tone of the landscape!
For this rewarding bike trip, we have chosen a wonderful variety of quality, select accommodations that offer a blend of luxury,
location and personal hospitality. You will enjoy the delights of stunning settings and vibrant culture.
Locations visited/nearby
Ireland, Europe
3 testimonials about this trip
Reviewer:

Dan Peters and Family

located in

Superior

,

Colorado

USA

"Our trip was fabulous!. You really know how to organize a tour for the greatest scenery and   wonderful accommodations. ....the little lanes we spent the majority of our time on were so relaxing and fun to ride on. They also got us into the wilderness and I often felt we were a hundred miles from anywhere!"


5

Reviewer:

Mauro and Gabriela Belisario

located in

Roma

,

Italy

 'I must say that everything has been excellent. (Five stars*****), even the weather you provided us. Many thanks.'



5

Reviewer:

Richard & Virgina Munkelwitz

located in

Burlington

,

VT

USA

We think that Fidelma's obvious pride in her company and its growing international reputation made a major contribution to our enjoyment. Coming from Vermont, we realize the importance of living in a stunningly beautiful part of the world. The Irish people who live on the West Coast are similarly blessed, and it was a joy to ride through their land and to meet these wonderful and warm people''




5
3 testimonials about the provider, CycleWest Ireland:
Reviewer:

Peter D'Amico

located in

Raleigh

,

North Carolina

USA

"I have been telling everyone who will listen to me just how wonderful an experience my Ireland trip was. My pictures are developed and I carry them with me all the time. I can honestly say it was the best vacation I have ever had. The sights, the people, the accommodations and even the challenge made for a very fulfilling experience. You have really done an excellent job in developing this program. I would do it again in a heartbeat"

5

Reviewer:

Andrew Rogers

located in

Brevard

,

North Carolina

USA

"10 out of 10"

5

Reviewer:

Brian Goldberg

located in

Madison

,

Connecticut

USA

"My father and I had a wonderful time. The cycling was adventurous. I particularly enjoyed cycling on the tiny roads of Connemara---where sheep seem to be the only road traffic in many places. Your knowledge of the region combined with your dedication to all the details of our trip enabled me to learn about the region, enjoy its beauty and cycle without a worry"

5
Comments from Facebook
Itinerary
Day 1: Welcome to the Emerald Isle!
Here we begin our celebrated tour of the West Coast of Ireland: the Burren region, the Aran Islands and Connemara. We meet in
Galway City and transfer by coach to our tour start point. The tour starts with a tour of the spectacular Cliffs of Moher and then
descend to the at seaport village of Ballyvaughn, County Clare. Evening dinner and welcome to the West Coast of Ireland! We will
spend the next two nights here in Ballyvaughan.
DAY 2: Castles and Caves
Today we explore medieval Newtown Castle before setting off on our day's adventure. This day is designed a leisurely day to bring you
into the heart of the Burren, explore Ailwee Caves and the Wild Bird sanctuary where we watch the falcons fly. A day of history and
scenery, of ancient ring forts and dolmans. Onward to the environmental initiative of The Burren - the Burren Interpretative Centre in
Kilfenora. Discover a world of wildlife, folklore, ancient archaeology and wonderful plant life. Explore Kilfenora Cathedral and Celtic
High Crosses. Overnight in Ballyvaughan.
Daily Miles: Minimum mileage of 15 miles with extensions. Total possible miles: 42.
DAY 3: Moonscapes and Music
Having viewed Newtown Castle, a 12th Century tower house, we continue with today's biking. A leisurely ride along one of the most
scenic coastal routes. The flaggy shoreline, Fanore Beach and Blackhead Lighthouse are amongst just some of the points of interest
you view along the route this morning. An afternoon ferry ride from the village of Doolin will take us to the historical Aran Islands,
where Gaelic is the spoken language. Visit the historical Dun Aengus Hill top fort towering 700 ft above the ocean. Enjoy the vistas of
white washed cottages and the intricate network of stone walls. This is a visit you will treasure long after your visit to Ireland.
Transfer by ferry and overnight on the Aran Islands.
Daily Miles: Minimum mileage of 19 miles with extensions. Total possible miles: 30.
DAY 4: Ferries and Foxes
Mid Day departure from the Aran Islands to the Rosaveal ferry port. We traverse a route bordered by heather and bracken, through
scenery that is wild and barren. Lunch at Screebe House followed by a bike ride through the Rugged Twelve Bens mountains towards
the rugged coastline. Evening cocktails and dinner at a local restaurant, where the food and produce are all sourced in the West of
Ireland. Overnight in Clifden.
Daily miles: Minimum mileage of 25 miles with extensions. Total possible miles: 45
DAY 5: Seascapes and Sandcastles
Early morning start to Roundstone village, the most picturesque fishing harbour in Connemara where traditional Galway Hooker,
lovingly cared for over the years, can be seen on Bertraghboy Bay. We visit Malachy Kearns Musical Instrument workshop, the home of
the traditional Bodhran. Departing Roundstone to Ballyconneely village via stunning beaches at Dog's Bay and Gurteen Bay, we follow
the rugged coastline to Ballyconneely, taking time to visit the Connemara Smokehouse, perched on the water's edge. Here the
Roberts' family run Connemara's longest established smokehouse, are one of the few specialists in wild smoked salmon. We bike to the
Alcock and Brown monument, dedicated to the first transatlantic flight in 1919 from New Foundland. Returning to Ballynahinch Castle
hotel by way of the scenic bog road where sheep are our only distraction. Tonight we dine at a nearby award winning, family run
restaurant where the seafood is truly the 'catch of the day'. Overnight in Clifden.
Daily Miles: Minimum of a 19 loop, with longer routes from 22 - 45 miles.
DAY 6: Rest and Relaxation
Today is a day with splendid opportunities to explore the little antique stores and galleries of nearby Clifden town. There are optional
activities today including Horse back riding along the shores of Omey Island from the village of Cleggan; Golfing at the Connemara
Golf Club at Ballyconneely or Fly fishing at Ballynahinch Castle. We bike the Sky Road. 'C'est Magnifique', I heard one day as we
absorbed the island vista before us. We make our way to Connemara National Park and Letterfrack village, arriving at the splendid
neo-gothic, Kylemore Abbey, nestled between the cliffs of Doughruagh and Poulacappal Lough. Tonight we recap our day's adventure
at Recess.
Daily miles: Minimum of 15 miles, with the average miles to day covering 32 miles. Extensions available.
DAY 7: Wild Connemara
Today our route will take us through the Lough Inagh Valley, one of the finest valleys in Ireland. On this morning's bike ride you'll see
a stunning vista of peatlands, lakes, and forests. Today we take a cruise on the Killary Fjord, Ireland's only fjord, on 'the Connemara
Lady'. We then continue biking around Killary Fiord surrounded by Maamturk and Mweelrea mountains. Through the village of
Leenane, the setting for the Oscar winning film "The Field" with Richard Harris. Ease into the evening as you watch the sunset and
enjoy some local gourmet delights and shared tales of the day's adventure. Overnight in Leenane.
Daily miles: Minimum 18 miles. Day's average 35miles with extensions.
Day 8: Coastline and Clew Bay
Immerse yourself in your surrounds this morning. We spin onward through the mountain pass between Mweelrea, Connemara's
highest mountain and the Sheefry Hills. Pedal by Doolough, spectacular in its dark beauty. This route is often referred to as the Famine
Trail, dating back to tragic local events during the famine years of the 1840's. We reach Louisburgh, which translates to the delightful
name of 'Meadow of the Buttercups' a quiet, traditional village and continue westward along Clew Bay. We arrive at Croagh Patrick, the
west of Ireland's pilgrim mountain. Explore Murrisk Abbey, hike part of the Holy Mountain - or climb to the summit (2300 ft). Onward
to the lively heritage town of Westport, a charming planned town with a unique blend of the old and new. Walk along the tree lined
river at 'The Mall' and enjoy a late afternoon drink to unwind from your day. We enjoy an evening of traditional, local fare, followed by
traditional Irish Music where the lass faint hearted can join in and sing or dance should you so desire! Overnight in Westport.
Overnight at Knockranny House Hotel.
Daily miles: Minimum 22 miles with a challenging extension climb of the Sheefry Hills (two 700ft climbs in quick succession).
DAY 9: Castle Extension or Departure
Today, sadly, today we bid you farewell. This morning you depart from Westport to your next point. We can assist you with any
planning, be it rail, flight or car hire. Please also see our 'trip arrival and departure' instructions' for transport options.
You also have the option of extending your bike trip by one further day. Transfer or bike from Westport to Cong, and stay overnight at
the historical, five stars, Ashford Castle Hotel. This is a magnificent opportunity to visit Ballintubber Abbey, the 13th century abbey and
continue to the historic village of Cong, most famed as the setting for the John Forde movie 'The Quiet Man' starring John Wayne and
Irelands' famed Maureen O'Hara. Ashford Castle, perched on the edge of Lough Corrib, was built in 1228 and in later year's home to
Sir Benjamin lee Guinness, of the famed Guinness family. Avid gardeners, Sir Guinness and his son, Lord Ardilaun created the beautiful
gardens and surrounding acreage of woodlands. Nearby, the 12th century ruins of the Augustinian Abbey stand as a legacy to this fine
castle.
Activity options include: horseback riding, falconry, fishing, golf in lieu of biking. These activities as options are costed as extras to
your trip but can be booked on your behalf on advance. You may also elect to take a leisurely cruise on Lough Corrib from Ashford
Castle. This option includes a visit to historical Inchgoill Island, where the remains of 5th Century St. Patrick's church lies nestled in
the woods. Outside is a memorial stone with the inscription ' Lie Luguaedon macci Menueh' (the stone of Luguaedon, son of Menueh),
one of the oldest inscribed stones in Ireland dated to 500 A.D.
Enjoy an evening dinner overlooking the castle grounds, often accompanied by music from the Drawing Room's grand piano.
Transfer next day to Galway Airport or Rail Station for departure to your next point.
Overnight at Ashford Castle Hotel
Daily miles: chose between a private castle transfer or bike ride. Minimum miles: 22 miles. Extension through Tourmakeady and
Clonbur: 42 miles.
More information from CycleWest Ireland: