CycleWest Ireland - vacations and travel
Ireland: A Celtic Journey
"I have decided that Ireland is my favorite place on Earth!  I can't tell you how much I enjoyed the… "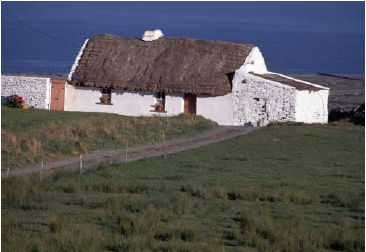 from €825* per person
7 Days
June-September
Boutique accommodations

Exertion level: 3

Operator:

CycleWest Ireland

12 people max
Dublin airport, dublin, ireland
Active & Adventure trips
Nothing could adequately describe the resplendent rock garden that is the Burren, with its abundance of exotic flora, bird and
wildlife. Dotted with megalithic stone tombs, some representing the regions earliest monuments (from about 3,800 BC)
including Poulnabrone Dolman. There is an abundance of Christian and pre-Christian monuments, along with medieval
settlements - castles, ring (fairy) forts, wishing wells and ancient churches spanning the centuries of time.
You will enjoy the stone forts, monuments, alpine and arctic flowers and plants that grow side by side, the seeds having been
deposited by glacier millions of years ago. This is the mystical land of disappearing rivers and lakes, closed valleys, caves and
limestone pavements. You may even find a real fairy fort!
The Aran Islands, three timeless islands in an endless sea showcase weathered monuments on awesome cliffs, great labyrinths
of limestone, meandering walls, patchwork fields, quiet beaches and a welcoming island people.
For this rewarding bike trip, we have chosen a wonderful variety of quality, select accommodations that offer a blend of
comfort, location and personal hospitality. You will enjoy the delights of stunning settings and vibrant culture.
Locations visited/nearby
Ireland, Europe
3 testimonials about this trip
Reviewer:

Kelly Christensen

located in

Colorado

"I have decided that Ireland is my favorite place on Earth!  I can't tell you how much I enjoyed the bike tour. It was so beautiful and amazing!  I really want to go again".




5

Reviewer:

Kathelln and Patrick Easton Robb

located in

Chicago

,

USA

"We had such a wonderful time!    It was one of our best family vacations.   It was so nice to be together, and to be outside on bicycles.  The kids would have been bored silly if they were on a tour bus the entire time.   Being on a bicycle is so liberating, and just so much fun.  And Patsy and Elizabeth were just the most amazing guides. Hopefully more families will do this, when they realize just how fantastic it is! "



5

Reviewer:

Kimberley and Darryl Minard,

located in

Burlington,

,

ON

Canada

'Excellent experience. We were thrilled with the first rate tour guide, driver, support, tailored route, experience, catering  to our needs,
historical information….. everything! Ireland was fantastic!"



5
3 testimonials about the provider, CycleWest Ireland:
Reviewer:

Peter D'Amico

located in

Raleigh

,

North Carolina

USA

"I have been telling everyone who will listen to me just how wonderful an experience my Ireland trip was. My pictures are developed and I carry them with me all the time. I can honestly say it was the best vacation I have ever had. The sights, the people, the accommodations and even the challenge made for a very fulfilling experience. You have really done an excellent job in developing this program. I would do it again in a heartbeat"

5

Reviewer:

Andrew Rogers

located in

Brevard

,

North Carolina

USA

"10 out of 10"

5

Reviewer:

Brian Goldberg

located in

Madison

,

Connecticut

USA

"My father and I had a wonderful time. The cycling was adventurous. I particularly enjoyed cycling on the tiny roads of Connemara---where sheep seem to be the only road traffic in many places. Your knowledge of the region combined with your dedication to all the details of our trip enabled me to learn about the region, enjoy its beauty and cycle without a worry"

5
Comments from Facebook
Special information
This is a custom departure, meaning this trip is offered on dates that you arrange privately with the provider. Additionally, you need to form your own private group for this trip. The itinerary and price here is just a sample. Contact the provider for detailed pricing, minimum group size, and scheduling information. For most providers, the larger the group you are traveling with, the lower the per-person cost will be.
Family oriented trip.
Itinerary
Day One: Your Adventure Begins!
Meeting point at your tour start point in the village of Kinvara. The journey will take about 45 minutes to one hour depending
on traffic from Galway City. Spend the afternoon exploring Dunguaire Castle and strolling by the village harbour. Learn about
the 'Galway Hooker', a local fishing boat used by local fishermen for more than a century. Late afternoon bike fit out, slideshow
and briefing. Overnight at the Merriman Inn Hotel.
Day Two: Kinvara to Corofin
You begin today's biking with a warm up ride through winding country roads and farmland to Kilmacduagh Monastic site, where
present day church buildings and round tower date back to the 13th and 14th centuries. See one of Ireland's last remaining
ancient Round Towers, an 111 ft tall leaning tower. You cycle onward to a picnic site where you may have lunch. This is a
unique area steeped in ancient history and dotted with ancient archaeological sites, which you take time to explore. Onward to
the village of Corofin, where you overnight at Corofin Country House. (Days miles: 19 – 35)
Day Three: Corofin to Doolin via Lisdoonvarna
You cycle onward through the heart of the remarkable Burren hills to our lunchtime stop at Kilfenora. You may visit the Burren
Interpretative Centre and the ancient Kilfenora Cathedral. This is a unique area steeped in ancient history and dotted with
ancient archaeological sites, which you take time to explore. A short trip to the Caherconnell Ring Fort followed by the ancient
4500 year old Poulnabrone portal dolman. Overnight in Ireland's matchmaking town of Lisdoonvarna at Ballinsheen
Guesthouse (Days miles: 29)
Day Four: Lisdoonvarna to Cliffs of Moher
Today's biking is a leisurely ride along one of the most scenic coastal routes to the Cliffs of Moher. A lunchtime stop at the
village of Doolin, a Mecca for traditional music and traditional pub grub! Take an opportunity to explore Doolin Cave and its
wonderful secret – a towering Stalactite – before returning to Lisdoonvarna. Overnight at Ballinsheen Guesthouse (Average
miles 25, alternative route: up to 45 miles).
Day Five: Lisdoonvarna to Aran Islands (8 Miles on islands plus ferry)
Step back in time and enjoy the traditional and cultural flavours the islands have to offer. Early morning ferry ride to the Aran
Islands from Doolin to the Island of Inishmore, the largest of the Aran Islands. Witness the tranquility, the whitewashed
cottages and the intricate network of stone walls built by generations of island inhabitants. The island offers several ancient
sites to visit, including the hilltop fort, Dun Aengus, one of Europe's oldest forts.
Overnight on the Aran Islands. (Days miles: 15 plus extra as needed)
Day Six: Mid day transfer to Galway City.
We highly recommend spending some additional time to explore the city of
Galway. The heart of Galway City is an intertwining of small winding streets, Quay Street and High Street; the city's 'left bank'
area is perennially popular and full of character. Nearby is the medieval Spanish Arch and O'Brien's bridge leading out of town
to the Salthill Promenade, a walk with stunning view of Galway Bay. Transfer by rail or coach to Dublin. Overnight at the
Herons Rest (subject to availability). in the historical quarter of Galway City subject to availability.
Day Seven: Departure
Sadly we must bid you farewell. Transfer by rail or coach to your next destination.
More information from CycleWest Ireland: