Social Tours - vacations and travel
South India - The Malabar Holidays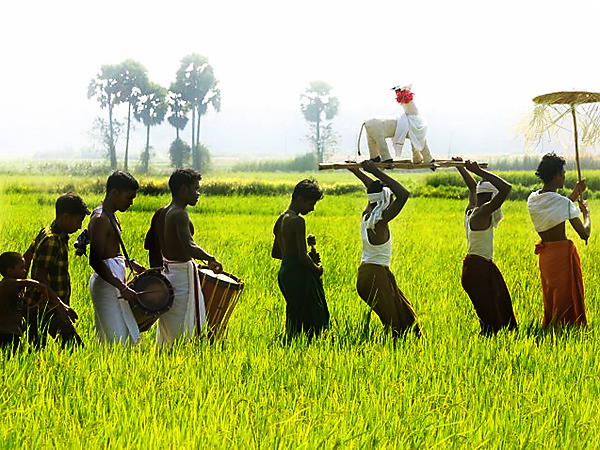 from €815* per person
14 Days
Year-round
Comfort accommodations

Exertion level: 3

Operator:

Social Tours

12 people max
Cochin ,india
Culture & Nature trips
Malabar was once a British Principality of India. After Independence, Malabar as a state was no longer recognized and the region was divided to form the northern part of what is today called Kerala. Though Malabar has no geographical boundaries, no presence on a map of India, it still exists as a state of mind: laid-back, slow, to live and let live. This is the spirit we capture in this package that begins with Cochin and goes along backwaters, River Nila, Mountains of Wayanad, and ends at the virgin beaches of Kannur in Malabar region..

While most of Kerala is recognised as a traveller's must–visit destination, Malabar is yet to be discovered. And hence to the uninitiated offers a plethora of delights ranging from a river cruise to legend trails to spice tours to tea estate visits to craft villages and heritage sites.

This is a Kerala where the everyday and exotic merge seamlessly. For a traveller who is weary of experiencing shrink wrapped plastic package tours, the Malabar leg comes minus hype and spin and instead is a way of life that asks little of the traveller except an open mind.
Locations visited/nearby
India, Asia
Comments from Facebook
Special information
This is a custom departure, meaning this trip is offered on dates that you arrange privately with the provider. Additionally, you need to form your own private group for this trip. The itinerary and price here is just a sample. Contact the provider for detailed pricing, minimum group size, and scheduling information. For most providers, the larger the group you are traveling with, the lower the per-person cost will be.
Itinerary
Day 1 Cochin:
Arrival into Cochin. To be met outside airport terminal. Transfer to one of the small heritage hotels at Fort Cochin.
Afternoon sightseeing covering important historic monuments like Dutch Palace, Jewish Synagogue and Jew Town.
Overnight in Fort Cochin.
Day 2 Cochin - Alleppey:
Post breakfast, transfer to Alleppey by road. Board the houseboat for a day cruise. The House boats will be cruising through the backwaters of Kuttanad -the rice bowl of Kerala and Alleppey (Alappuzha) in Kerala. The cruise will go along vast paddy fields, fishing nets, coconut grooves, and local villages. In the evening, the boat will be anchored in scenic locations were you can watch sunset and sunrise the next day. Lunch and Dinner to be served on board.
Overnight on the houseboat.
Day 3 Alleppey-Karimbavalavu:
Short morning cruise after sunrise and onboard breakfast. Disembark the houseboat for a short transfer to secluded island on the backwaters. There are six cottages over looking the backwaters with the most stunning views. Known for its bird lives, this island is a good stopover for relaxation. Cycling, village visits, and small trips in canoes are included.
Overnight at Karimbavalavu.
Day 4 Karimbavalavu Island-River Nila:
Morning drive to River Nila - 4hrs drive..Arrive and proceed to Hotel/Homestay. Visit handicraft and pottery making centres and spend twilight with folk artists, in the courtyard of local household, show casing the folk heritage of River Nila. This is an evening to understand the folk traditions of the region. A young team of performers will take you through dance forms, music and percussions that make the region so rich in its cultural tradition.
Overnight at Nila.
Day 5 Nila:
Breakfast at the hotel. Morning visit to Kerala Kalamandalam. Day with the maters. An interaction with students and masters of classical dance and music school of Kerala. Return back to Hotel for Lunch . Thereafter checkout and transfer to a traditional farm stay in the afternoon-45 minute drive. A 400 year old heritage house that is representative of sustainable life style. Guest to stay with the family. 3 separate rooms for guests. In the midst of the organic farm, this heritage house is part of the Responsible tourism initiative that is making positive changes to the destination.
Relaxation and overnight at the farm stay.
Day 6 River Nila.
Post breakfast we proceed to spend time with family of musicians in Mulayankavu. The musical trail is a journey to show case the percussion culture of River Nila. A lecture demonstration on various kinds of musical instruments is concluded by an amazing performance by the group. Lunch at one of our interpreter's house. Proceed to board a country boat cruise that goes through a stunning landscape comprising small canals, rivers and backwaters of relatively unknown area called Tirur. This trip goes through several small islands where various communities of toddy tapers, coir rope workers and fishing communities live. Return back to Kooderi.
Dinner and overnight at the farm stay.
Day 7 River Nila - Nilambur:
Drive to Nilambur (1hr drive). Maranat Mana is several hundred years old heritage property reflecting the age old traditions of a Kerala Brahmin family. Focusing on sustainable living, this places strikes an excellent balance between traditional life style and modern living. The two acres of sacred grove inside the farm is a representation of bio-diversity that is still sustained.
Overnight in Nilambur
Day 8 Nilambur:
Spend the day in the village or just at the majestic home stay. Activities at no extra cost includes visits to farm and traditional bathing ghats.
Overnight in Nilambur.
Day 9 Nilambur - Wayanad:
Drive to Wayand (3hrs drive). Home to several Spices, wayanad now has a viable spice cultivation program. From Cardamom to Cinnamon, Pepper to Ginger and even Vanilla, you can see for yourself the abundance of spice all along the hills of Wayanad. The idea of spice tour was conceived as an alternative source of income for small scale farmers and planters in Wayanad. Spice tours are also arranged in such a way that it introduces the planters life style amongst these spice gardens to travellers.
Overnight in Wayanad.
Day 10 Wayanad:
Early morning visit to one of the Wildlife Sanctuaries of Wayanad: The two wildlife Sanctuaries of Tholpetty and Muthanga in Wayanad offer excellent wildlife spotting. The animal population of the sanctuary ranges from Asiatic Elephant, Tiger, Panther, Jungle cat, Civet ,Nilgiri Langur, Wild dog, Wild gaur, Spotted deer, Sambar, Malabar squirrel and Bear. Reptiles like monitor lizard and a variety of snakes are seen. Peacock, Babblers, Cuckoos, Owl, Wood pecker and Jungle fowl are only a few among the different types of birds seen in the area. Post lunch visit, Uravu where our guests can visit their workshop, interact with the artisans and designers and see how they create marvels out of different varieties of Bamboo grown locally. The visit also includes interaction with the promoters, visit to the bamboo nursery.
Overnight in Wayanad.
Day 11 Wayanad - Kannur:
Drive to Kannur (3hrs drive). The most idyllic beaches in the Malabar region, gives you the most relaxed time to spend. Far away from any of the crowd, the locations gives you opportunity to go in a boat to near by towns if you wish. Kannur, known for its traditional folk art forms is an ideal setting to watch them in rural villages nearby.
Day 12 Kannur:
Relax- Beach near Kannur. One can also visit St. Angelo Fort, Arakkal museum and the Cannanore Lighthouse.
( We can take you to temples nearby for Theyyam performances)
Day 13 Kannur:
Relax- Beach near Kannur.
Day 14 Kannur - Calicut Aiport / Train station
Transfer to Calicut Airport.
More information from Social Tours: