Holiday River Expeditions - vacations and travel
Women's Rafting and Yoga on the Green River through Lodore Canyon
"Thank you again for the  absolutely  incredible  Cataract Canyon trip.  You guys were awesome, in both personality and professionalism.  What … "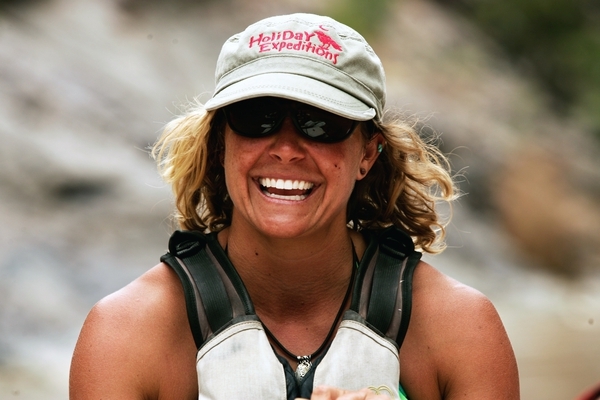 from $1,080* per person
4 Days
July
Comfort accommodations

Exertion level: 5

Operator:

Holiday River Expeditions

20 people max
United States
Active & Adventure trips
There isn't a better yoga studio for a women's river rafting trip than Lodore Canyon in the heart of Dinosaur National Monument. Cradled between two steep and beautiful canyon walls, this section of the Green River winds through the Unita Mountains and features some of the best beaches in the West! These picturesque refuges are ideal places to make camp, practice yoga, and restore your inner balance. Let our expert river-guides-turned-chefs prepare your meals to keep your body and mind fueled for this holistic retreat. While this women-only river rafting trip provides a comfortable environment in which to explore your practice, it still includes quite a bit of adrenaline in the way of world class whitewater rapids! We also bring inflatable kayaks for some solo adventure. Each day encounter new and thrilling challenges as you learn to move in time with the river and with your own personal currents. You'll be joined on this trip by Salt Lake City Yoga Instructor Katie Woods.
Locations visited/nearby
Dinosaur National Monument , Green River , Lodore Canyon, United States
1 testimonial about this trip
Reviewer:

Janet Skeen

located in

NM

Thank you again for the  absolutely  incredible  Cataract Canyon trip.  You guys were awesome, in both personality and professionalism.  What  amazing patience, kindness, and grace you exhibited when dealing with all eleven of us women!  Holiday obviously has very high standards  regarding to their guides.

5
Reviewer:

Geralyn DeFelice

located in

Pittsburgh

,

PA

USA

"Just want to thank you for everything and to let you know that I TOTALLY LOVED THE TRIP--WILL REMEMBER IT ALL MY LIFE! I will never be the same after experiencing the river as we did! Personally, I felt the entire trip was perfect. What a great group of people Holiday has! Our guides were great and we so enjoyed them. The food was delicious, loved Clari, the yoga and massages, our hikes, the rapids, our campfire...perfect!"


5

Reviewer:

Ryan Higginson

located in

Salt Lake City

,

UT

USA

I have done the white rim with holiday 5 times, and each trip is the highlight of the year for me. The scenery is spectacular. The bigger than life red rock spires and bluffs that are prevalent throughout the ride give an abundance of photo opportunities. Doing the ride in 3 or 4 days allows for enough time to take in the scenery, and still get plenty of biking in each day. The guides for each of my trips have created an atmosphere of lighthearted fun and excitement balanced with plenty of knowledge about the geography and native american indians who inhabited the area in the past. I'm always impressed with the great food they prepare and the organization around the kitchen. The white rim trip has always been an unforgettable experience.



5

Reviewer:

Kim England

located in

Scottsdale

,

AZ

USA

We had a great time. We appreciated the informed guides and the educational experience they were able to provide. Our 7 year old thinks it was the BEST trip ever! The kids activity kit came in handy. Making friendship bracelets and sand castles. The ducky was his favorite! Also, We never expected the food to be one of the highlights of a camping/rafting trip!


5
Comments from Facebook
Special information
Offers some women-only departures.
Itinerary
The Women's River and Yoga Retreat trip has become one of our most popular outings. Everyone on the trip from guides to guests will have time each morning for meditation and yoga. These sessions will be instructed by a facilitator, who teaches Hatha Yoga, Meditation, and Yoga philosophy. You will be presented with the movement of Yoga as a wonderful heart opening and mindful experience. Your women guides will help you to relax, learn massage therapy, stress reduction techniques, and practice meditation and yoga. They are experts at ensuring your comfortable passage through the West's most spectacular rivers and canyons. They take pride in professionalism and impeccable service. Guests will also experience Holiday Expedition's excellent camping cuisine, sleep under the stars and raft the exciting river canyon.
Day 1: We meet at Holiday headquarters in Vernal, Utah at 7:00 a.m., Mountain Time. We'll give you waterproof bags, show you how to pack them, and give you time to shop for last minute items from our store (be sure to see our packing checklist for items we carry). Then, into the vans. It's a three-hour ride through rolling sagebrush and mountain landscape to Brown's Park National Wildlife Refuge and the put-in. After loading the boats, we'll float through the Gates of Lodore, search out a lunch spot, and row downstream to our camp, deeper into the red, billion-year-old rocks of the canyon. Ease into your first night of camping with a gentle sunset stretching session.
Day 2: We are now deep inside the Uinta Mountains. Your guide might ask you to consider why the river has cut through the mountains instead of flowing around: a geological puzzle to pass the time. Your yoga instructor might invite you to salute the sun as it begins to descend the canyon walls. Today we will run the most technically challenging rapids of the trip, including Hell's Half Mile. An afternoon hike to a dramatic overlook at Alcove Draw will help you work up an appetite for fajita night.
Day 3: We'll float out of Lodore Canyon and into Echo Park, where the Yampa River flows into the Green and you can test the different temperatures of the free-flowing Yampa and the dam-controlled Green. Swim in the calm water around Steamboat Rock and then prepare for more rapids as we enter Whirlpool Canyon. Spend the afternoon hiking, yoga-ing, meditating, fishing, or big horn sheep–spotting at Jones Hole, a riparian gem in the middle of the arid landscape.
Day 4: The last morning may include a silent, meditative float on the flat water of Island and Rainbow parks. Raptors can often be seen perched in the giant cottonwood trees on the island beaches. Split Mountain looms on the horizon, our last taste of adrenaline before the take-out. We'll have lunch and enjoy another hour of precious river time before arriving at the boat ramp and loading up for the 35-minute ride back to Vernal. We typically arrive at our headquarters at approximately 4:00 p.m.
Please keep in mind that this is a sample itinerary and not an exact description of your trip. The intent is to give a general idea of what your trip may entail. Rest assured, if you're not doing these things, it's because you're doing other amazing things! It's why our motto is "Go With the Flow"!
More information from Holiday River Expeditions: