Holiday River Expeditions - vacations and travel
Retro River Rafting on the Yampa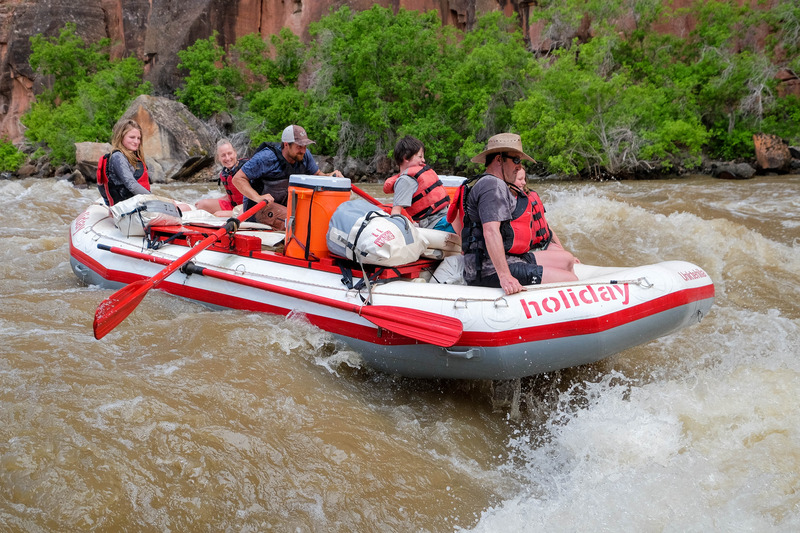 from $1,205* per person
5 Days
June
Comfort accommodations

Exertion level: 5

Operator:

Holiday River Expeditions

20 people max
United States
Active & Adventure trips
Retro river rafting? Is this just some kind of alliterative joke? Does that mean we're going to be running rapids with bucket boats and cooking over fire? Just how retro are we going? Back to the days of John Wesley Powell's heavy oak boats? Or way back to the time when mountain men were trapping beavers in buffalo boats?
Okay, well, we probably won't be going quite that retro. But this trip will be a bit of an homage to the founders of this crazy river rafting thing that we all love. We'll probably lace up our Chuck Taylors, hike up our cut-off jean shorts, dust off the
Sierra cups and drink a toast to the people like Dee Holladay, who made a trip like this possible. And we're bringing along Roy Webb, renowned river historian, to teach us all a thing or two about those who came before us.
To top it all off, we're doing this retro river rafting thing on the Yampa River, the one river that still behaves much as it did back in the "golden era" of rafting. Still unregulated by dams, still free-flowing, the Yampa in June is as wild as they come. Join us for this very special trip back in time.
Locations visited/nearby
Baja , Mexico , Espiritu Santo Island, United States
0 testimonials about this trip.
Reviewer:

Geralyn DeFelice

located in

Pittsburgh

,

PA

USA

"Just want to thank you for everything and to let you know that I TOTALLY LOVED THE TRIP--WILL REMEMBER IT ALL MY LIFE! I will never be the same after experiencing the river as we did! Personally, I felt the entire trip was perfect. What a great group of people Holiday has! Our guides were great and we so enjoyed them. The food was delicious, loved Clari, the yoga and massages, our hikes, the rapids, our campfire...perfect!"


5

Reviewer:

Ryan Higginson

located in

Salt Lake City

,

UT

USA

I have done the white rim with holiday 5 times, and each trip is the highlight of the year for me. The scenery is spectacular. The bigger than life red rock spires and bluffs that are prevalent throughout the ride give an abundance of photo opportunities. Doing the ride in 3 or 4 days allows for enough time to take in the scenery, and still get plenty of biking in each day. The guides for each of my trips have created an atmosphere of lighthearted fun and excitement balanced with plenty of knowledge about the geography and native american indians who inhabited the area in the past. I'm always impressed with the great food they prepare and the organization around the kitchen. The white rim trip has always been an unforgettable experience.



5

Reviewer:

Kim England

located in

Scottsdale

,

AZ

USA

We had a great time. We appreciated the informed guides and the educational experience they were able to provide. Our 7 year old thinks it was the BEST trip ever! The kids activity kit came in handy. Making friendship bracelets and sand castles. The ducky was his favorite! Also, We never expected the food to be one of the highlights of a camping/rafting trip!


5
Comments from Facebook
Itinerary
Sample Itinerary
Day 1:
Please arrive at Holiday's headquarters in Vernal, Utah, at 8:00 a.m., Mountain Time. We will issue your waterproof bags, show you how to pack them, and give you time to buy any last minute items from our on-site store (see our packing checklist for items you can find at our store). From Vernal, it's a 90-minute van ride to the put-in at Deerlodge Park in Colorado. After preparing the rafts and getting you oriented, we'll push off and begin to move on river time. We'll enter Yampa Canyon almost immediately, and encounter several fun, splashy rapids. Lunch may be on a beach near a historic cabin. Make camp and fall asleep to the sound of rushing water.
Day 2:
We'll run some good rapids today, including Teepee and Big Joe. The canyon walls continue to rise above us, and by mid-day we'll start to see the white Weber sandstone, for which the Yampa is famous. Spend the afternoon hiking to the top of Wagon Wheel Point, a strenuous but worthwhile climb to a high point overlooking the lower canyon walls.
Day 3:
Hike to a wide cave where ancient indigenous people left signs of their presence. Follow the river's entrenched meanders past the 1,200-foot Grand Overhang. Listen for the screech of hunting peregrine falcons that nest on the canyon rim. Carefully kiss the Tiger Wall: it's sure to bring good luck for your run through Warm Springs Rapid, the biggest of the trip.
Day 4:
This morning may include a silent float as we approach the confluence with the Green River at Echo Park. Dip your toes into the place where the rivers meet and watch the different colored-water flow side by side for a surprising distance. The geology changes dramatically as we float through the Mitten Park Fault and into Whirlpool Canyon. Spend the afternoon at Jones Hole Creek: fishing, hiking, petroglyphs, big horn sheep, and waterfalls are all possibilities.
Day 5:
Choose to paddle an inflatable kayak through the last several miles of calm water in Island Park. We'll follow the river as it makes a sharp left turn and cuts its way into the aptly named Split Mountain. The river drops an average of almost 20 feet per mile for the last eight miles. Enjoy your last several rapids before we pause for lunch and finally arrive at the boat ramp. We'll load the boats and then transport you the final 35 minutes back to our warehouse in Vernal. We typically plan to arrive back at our headquarters by approximately 4:00 p.m.
Please remember that this is a sample itinerary, not an exact description of your trip. Our goal is simply to give you an overview of what the trip may entail. We invite you to embrace the inherent changeability of a wilderness river trip and come prepared to have fun and go with the flow!
More information from Holiday River Expeditions: