Trek Trek Adventures - vacations and travel
Family friendly adventure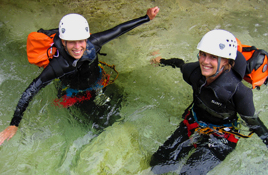 from €850* per person
8 Days
May-September
Comfort accommodations

Exertion level: 3

Operator:

Trek Trek Adventures

12 people max
Lake bohinj, bohinj, slovenia
Family & Friends trips
Settle down by the Bohinj glacier lake under the Alps to learn and explore in the Triglav National Park. Get the necessary skills to find the way in nature's embrace, learn about scouting the woods of the old, canyon in the forgotten river and cycle the secluded shepherd's roads around Bohinj. Paddle down the warmest river in Slovenia, Kolpa River, and end the day camping around and open fire.

TrekTrek has taken the vast experience from adventure travel and coupled it with family friendly activities. Our family experts designed this program to teach the whole family about local traditions and nature. Your children will be learning firsthand about geography, languages, history and the environment - while playing and exercising. Unspoilt nature treasure hunt in and open fire scout songs: all come packaged in a safe and versatile program for children growing up to be responsible adults, and for parents who still feel young from within.

Locations visited/nearby
Slovenia, Europe
0 testimonials about this trip.
Reviewer:

Best regards, Annette

I wanted to let you know what a great trip I had and to say thank you for all of your pre-trip help. The trip was fantastic. A lot of the credit for that can go to Tanja. She is a terrific guide, cook, and representative of Slovenia. The rest of the credit can go to your beautiful country! It was also nice to get to meet Luka and Ursula, even if only quickly. Thanks again for everything.


5

Reviewer:

Natalie S.

located in

New York

Its history, culture and scenery were superb. Luka's enthusiasm and exuberance were infectious.


5

Reviewer:

Kylie R.

located in

San Francisco

I was impressed by the variety of activities. The scenery, the sights, medieval towns, the alpine hiking and the caves were spectacular!


5
Comments from Facebook
Special information
Family oriented trip.
Self-guided (includes hotels, maps, luggage transfer, etc but no guide).
Itinerary
DAY 1 Arrival to Bohinj
Bohinj - a network of picturesque villages situated near the glacier lake is a perfect base for adventures in the Triglav National Park. Welcome dinner.
Accommodation in Bohinj
DAY 2 Bohinj - orienteering
Face an orienteering challenge trip around Bohinj lake, a kind of a treasure hunt but upgraded for older kids, including canoeing, different skill-games and hiking together with a map and compass. During the day, find also time for swimming and relaxing on the beach.
Accommodation in Bohinj.
DAY 3 Bohinj - hiking
Embark on a daylong trip to Mostnica canyon and Voje valley. Hike along the Mostnica stream, one of the most stunning waterways in Slovenia. Coming out higher, you thread through highland green pastures to observe the cows and sheep grazing. At the end of the valley look for traditional homemade shepherds food. In the afternoon, return back to Bohinj.
Accommodation in Bohinj.
DAY 4 Bohinj - multisport day
From waters to rocks, there are ample opportunities for rest and adventure in the surrounding area. Our suggested optional activities are canyoning in the morning and high rope course in the afternoon after a nice midday swim.
Accommodation in Bohinj.
DAY 5 Bohinj - Bled - Ljubljana - Kolpa valley
Visit the world famous Bled Lake with a small islet in its midst, the very image that represents Slovenia worldwide. On the way to the south have a break and explore the old part of Ljubljana. Conclude the day in the amazing Kolpa River canyon. Set up a camp with quintessential campfire and barbecue.
Accommodation - campsite by Kolpa river.
DAY 6 Kolpa valley - canoe trip
On a canoe the descent through the canyon passes several water mills hiding in the untouched nature. Swim and play in warm and clean turquoise Kolpa River.
Accommodation -campsite by Kolpa river.
DAY 7 Osilnica
Continue the boat trip until midday and then transfer to Osilnica. In the evening, venture on an educational nature walk with the local hunter. Optional afternoon activities also include archery, high-rope course or walk to a nearby Kolpa river where old fishermen gather before the night fall.
Accommodation in Osilnica.
DAY 8 Transfer Osilnica- Ljubljana
Arrive to Ljubljana and shop around the quaint, narrow streets along the bank of the Ljubljanica River. Go up the castle or get lost in one of the cafes situated in medieval part of the city. Transfer to airport
More information from Trek Trek Adventures: