Eyes On Africa - vacations and travel
Spirit of the Namib - Namibia Safari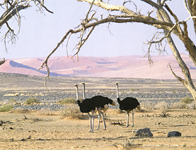 Contact provider for price
10 Days
Year-round
Comfort accommodations

Exertion level: 3

Operator:

Eyes On Africa

12 people max
Windhoek airport, namibia
Family & Friends trips
Combination Wilderness Safaris Vintage camp, Discoverer Camp, lodge overnight and serviced dome tent camping in private concession areas and campsites.

This old-style serviced camping safari recreates a sense of adventure for the traveller seeking an authentic African experience.

Adventurer Explorations camps consist of serviced spacious dome tents, designed to provide comfort in remote wilderness areas. The style of accommodation takes you back to the great days of African exploration. Pure cotton linen bedrolls (with duvets) on GI stretchers, bedside table with lantern and mini luggage benches complement the atmosphere in pristine, wild camping areas. Separate toilet and shower 'bathrooms' with old-style tin bucket showers and basins and amenities create simple serviced comfort.

Locations visited/nearby
Namibia, Africa
Comments from Facebook
Special information
This is a custom departure, meaning this trip is offered on dates that you arrange privately with the provider. Additionally, you need to form your own private group for this trip. The itinerary and price here is just a sample. Contact the provider for detailed pricing, minimum group size, and scheduling information. For most providers, the larger the group you are traveling with, the lower the per-person cost will be.
Family oriented trip.
Itinerary
DAYS 1 - 2; (2 Nights)
ANDERSSON'S CAMP, Etosha Region Jump to Andersson's Camp
White Rhino in OngavaApproximate flight distance: 260 miles.
Transfer by comfortable charter flight to Namibia's big game country: Etosha National Park, staying at Andersson's Camp in the neighboring Ongava Game Reserve. Here, the diverse flora and fauna is experienced in a variety of activities from game walks to game drives and visits to hides both in Ongava and Etosha.
Ongava Game Reserve was formed in 1991, when shareholders of Ongava converted four unproductive cattle ranches into a highly productive 74 100-acer private game reserve that is now a haven to large concentrations of wildlife. The Reserve forms a buffer between Etosha National Park and the farms to the south, thus enabling game such as lion, cheetah, hyaena and small antelope greater movement between the Park and the private reserve.
Andersson's Camp is surrounded by plains teeming with wildlife and situated close to Etosha. It is named after Charles Andersson, one of the 'discoverers' of Etosha in 1851, the vast expanse of savannah and salt pan, the largest in Africa, but the atmosphere of the camp makes for a much more comfortable modern-day exploration of this landscape. A resurrected farmstead now forms the anchor fronting onto a thriving waterhole and the 20 tented guest units, each with en-suite bathroom, are raised on decks for an enhanced view. This model of eco-sensitive lodging provides an authentic, safe and down-to-earth experience for small groups, families and independent travelers to Etosha.
DAYS 3; (1 Night)
PALMWAG LODGE (staying in tents), Palmwag Jump to Palmwag Lodge
Hartmann's Mountain Zebras at Palmwag CampApproximate road distance: 236 miles.
After an early breakfast, we travel to the 1,111,974-acre Palmwag Concession, a vast area of rolling, rocky hills, flat-topped mountains with scattered euphorbia, and stark plains with ancient welwitschia plants, scrubby vegetation and isolated clumps of trees. Thanks to freshwater springs, the concession supports a surprising array of wildlife in Namibia's dramatic north-west region including the largest free-roaming population of the endangered desert-adapted black rhino in Africa as well as a healthy number of desert-adapted elephants. Palmwag holds the core of the rarely seen desert-adapted lion population of north-west Namibia.
We will be staying at the small and personal Tented Camp at Palmwag Lodge.
Palmwag Lodge, one of Namibia's oldest and most popular tourist destinations, is renowned for its beautiful location and site, framed by palm trees and spectacular scenery and the opportunity for guests to view a host of desert-adapted wildlife ranging from the endemic Hartmann's mountain zebra, plains game, cheetah, leopard, and brown and spotted hyaena, to elephant and the exciting possibility of black rhino. A swimming pool, restaurant and cozy pool bar make this an ideal base for exploring Palmwag.
Over the course of the next four nights in the enormous wilderness areas of Damaraland and Palmwag our guides expose the sheer magnificence of nature's survival strategies in this arid but extremely diverse environment, through walks, tracking and game drives concentrating on a variety of topics from birds to insects, medicinal uses of plants and viewing wildlife.
DAYS 4 - 5; (2 Nights)
HOANIB CAMP, Kaokoland
Oryx climbing dune - Skeleton Coast, NamibiaApproximate road distance: 62 miles.
With an early start, our journey continues by road towards the ephemeral river of the Hoanib Valley. Please note that this is a long nature drive-transfer, giving guests a unique opportunity to see some of the most rugged and "hard to get to" areas within Namibia's remote North West. Here, in an area seemingly parched and desolate, we enter one of Namibia's richest desert wildlife areas.
The rugged mountains and canyons of the Hoanib River provide a last refuge for some of the continent's most unique wildlife; this is the home of the legendary desert elephant. In fact 75 percent of Namibia's endemic species inhabit this last bastion of the wild. While here, we have the opportunity to explore this area on game drives and walks.
Experience the wilder side of Africa where only the sporadic roar of lion or cackle of hyaena punctuates the silence of the night.
Our Discoverer-styled tented camp close to the Hoanib River is a relaxed haven from which we explore this wild land on foot, or from the comfort of one of our safari vehicles. The camp is powered by solar-powered inverter systems and there are no generators or pumps running whilst guests are in camp. There are 5 guest walk-in hexagonal Meru-style tents with en-suite and flush toilet and bucket shower bathrooms in a separate portion of the tent. Each tent is furnished with necessary comforts and styled with burnt orange interiors, wood and brass, effectively recreating a sense of the early explorers.
Discoverer camping is designed to bring the guest closer to nature, by means of a lively campfire, lanterns, wide-ranging activities and a warm atmosphere complimenting the comfort of the lodges visited. Hoanib Camp is specifically outfitted to ensure that old-style camping feel with a clear emphasis on necessary and stylish comfortable interiors, creating a peerless wilderness experience.
DAY 6; (1 Night)
DAMARALAND CAMP, Damaraland Jump to Damaraland Camp
Amazing vistas in DamaralandApproximate road distance: 74 miles.
Departing early, we travel east to Sesfontein and we end this road journey at the award-winning Damaraland Camp.
10 large en-suite, adobe-style thatched units that are raised off the ground, each with a walk-in dressing area and a large deck on which to sit and contemplate the wonders of the desert. The spacious living area combines the dining area, bar and fireplace. There is a swimming pool next to the bar. New technology combined with ancient knowledge has produced an eco-friendly yet high performance design. An open campfire and outdoor 'boma' are enjoyed during calm evenings and stargazing is superb thanks to the crystal-clear night skies.
Damaraland Camp is a rare synergy which integrates the local community and the environment with sustainable ecotourism, and has won an array of awards including the 2005 WTTC Tourism for Tomorrow Conservation Award, one of the top two global travel environmental awards in the world.
Damaraland is one of the most pristine wilderness areas in Namibia; as such it offers endless vistas across stark plains, ancient valleys and soaring inselberg of the Brandberg Mountains. Early morning mists generated by the clash between the icy Atlantic Ocean and the warm desert air of the Skeleton Coast, drift inland along the river sand canyon, providing sustenance to the flora and fauna of the region. Although wildlife is not concentrated, we are situated where the rare desert-adapted elephant roams, alongside gemsbok (oryx), springbok, Ostrich and other hardy desert animals. Rare succulent plants eke out an existence in this harsh countryside.
DAY 7; (1 Night)
THE STILTZ LODGE , Swakopmund Jump to Swakopmund
Beautiful SwakopmundApproximate road distance: 248 miles.
After an early breakfast, we travel to Twyfelfontein where we take a guided walk with local Damara guides to view the San petroglyphs – Africa's largest collection of prehistoric rock etchings strewn over the rock face.
After lunch we continue our journey travelling south via Uis en route to Swakopmund. As we get closer to the coast the gravel plains are strewn with lichen fields, one of the most fragile ecosystems on Earth.
After relaxing over our packed lunch en route, we make for The Stiltz Lodge in the quaint and charming town of Swakopmund, arriving in the late afternoon. Swakopmund, with its unique urban atmosphere that is a vibrant combination of Africa and Europe is a wonderful town in which relax after the experiences of the northern Namibian bush.
The Stiltz, as its name implies, is built on stilts, providing breathtaking views of the Atlantic Ocean, the red iron-rich beach dunes and the Swakopmund River mouth. Each of the 8 minimalist yet elegantly furnished thatched bungalows is linked by wooden walkways to the main restaurant. As the lodge is sited close to the central part of town, this allows for easy access to enjoy its special hospitality, history and cuisine.
DAYS 8 - 9; (2 Nights)
KULALA RESERVE, SossusvleI (Accommodated in either Kulala Desert Lodge or Kulala Wilderness Camp, depending on availability)
Jump to Kulala Desert Lodge Jump to Kulala Wilderness Camp
The lovely and massive red dunes of SossusvleiApproximate road distance: 223 miles.
After an early breakfast, we drive southwards to Walvis Bay Lagoon. Here in a protected bay, many flamingos, pelicans and other waterfowl amass. On the calm waters of the bay, we experience sea kayaking, a spectacular activity that allows us to approach seals, dolphins and water birds at a respectable distance and in their habitat, allowing for some unique photographic opportunities.
Afterwards, we drive inland to our private Kulala Wilderness Reserve to take in the stupendous red sand dunes of Sossusvlei, breathtaking mountain scenery and vast open plains.
The 98 842-acre Kulala Wilderness Reserve borders the expansive Namib Naukluft Park. Today, after ten years of habitat rehabilitation, Kulala is once again home to of all forms of desert wildlife and provides convenient access to the splendor of the towering red dunes of the Namib. The Sossusvlei dunes rise dramatically more than 984 feet above the surrounding plains, and are surrounded by rugged, ancient volcanic mountains and open plains. Larger desert-adapted wildlife such as ostrich, springbok and gemsbok flourish here with carnivores such as bat-eared fox, Cape fox, brown hyaena and black-backed jackal often seen. Unique birds include Dune Lark, Burchell's Courser, Ludwig's Bustard and Stark's Lark.
Here we enjoy access to the Sossusvlei dunes, for walks in the immense moving sands of the Namib, game drives on our concession and stargazing. Photography in the early morning of the dunes is particularly stunning with rich reds and dark shadows completing the extraordinary vista that is the enormity of the Namib Desert.
DAY 10
Transfer to Windhoek
Approximate road distance 198 miles.
After breakfast we transfer by road, including lunch overlooking the view of the plains nearby, to Windhoek and bid farewell to the adventure.
More information from Eyes On Africa: