ExperiencePlus! Bicycle Tours - vacations and travel
Bicycle Tours in Austria: Bicycling the Danube from Germany to Vienna Plus! Budapest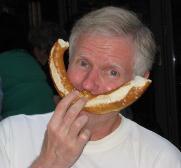 Munich airport, germany
Active & Adventure trips

Join us on a bicycle tour that follows the Danube River, from Germany to Vienna, and then on to Budapest. Enjoy long, leisurely rides along the longest river in Europe and through farm villages, picture-perfect Medieval German towns and the vineyards of the Danube in Austria. Along our bicycle route we'll have time to visit historic Abbeys and cathedrals in towns such as Regensburg, Passau, Linz, and Melk.
Locations visited/nearby
Austria, Europe
0 testimonials about this trip.
Reviewer:

Steve B.

located in

Asheville

,

NC

USA

"I felt I had the best benefits of a group tour - logistics, preplanning, support during the day, luggage handling, meeting new people - and the benefits of independent travel, in that I could ride on my own, at my own pace, and see the towns we stayed at as I saw fit, without being stuck with a group if I did not want to. A hard balance to achieve, but achieved it was."

5

Reviewer:

Carl N

located in

Portland

,

OR

"The tour was excellent! Our tour guides were outstandingly knowledgeable of the region. They were awesome and exceptionally attentive to our needs and details of the trip. They truly made it a memorable 'experience (plus)'!"

5

Reviewer:

Anne C.

located in

Bristol

,

TN

"Your system of chalk arrows is by far the very best method that we have ever seen for marking a cycling route. It would have been totally unnerving to try to read directions and be aware of traffic."

5
Comments from Facebook
Itinerary
Day 1: Arrive in Medieval Regensburg
Highlights: Northernmost point of Danube River; Medieval center; welcome dinner together
Meet us today in Regensburg, easily reached by train from the nearby airports of Frankfurt and Munich. Our starting point was a Roman outpost under Marcus Aurelius in 179 AD and marks both the northernmost point of the Roman Empire in Germany and the northernmost extent of the Danube. Its Medieval center is wonderfully preserved; we'll learn about the history of the city on a guided tour this afternoon and enjoy a welcome dinner together tonight. Daily Mileage: Test ride in town only.
Day 2: Regensburg to Deggendorf
Highlights: Walhalla Temple, and Benedectine Monasteries near Metten
Our first ride today takes us through more Roman settlements today along with Benedictine monasteries, including one near Metten. Bibliophiles will want to stop for a tour of the library in the Abbey of St. Michael of Metten as among the 160,000 volumes in this historic collection is one of the earliest bibles printed in Germany and a 1493 "Nuremberg Chronicle," one of the earliest printed world history books printed in German and Latin). Dinner on your own tonight. Daily Mileage: 96 km (59 miles)
Lodging: Hotel-Gasthof Höttl
Day 3: Cycling into Austria
Highlights: Passau and the Inn River as we enter Austria
We pass Niederaltaich Benedictine Abbey as we leave Deggendorf this morning on our way to Passau, gateway to Austria. In Passau we see the Danube nearly double in size as it is joined by the Inn River, flowing out of Austria and Germany. Passau is the popular start for Europeans pedaling the Danube river; the section Passau to Vienna is the most pedaled route in Europe! Saint Stephan's Cathedral here also houses the largest organ outside of the United States so it might be worth taking a peek at the impressive instrument. We'll have dinner together tonight. Daily Mileage: 59 km (36 miles)
Lodging: Hotel Weisser Hase
Day 4: Passau to Linz, Austria
Highlights: The Famous Danube Valley of Austria
The Danube River and the valley it has formed shape the central transportation artery of Austria. Today and tomorrow we ride through the heartland of Austria. Castles perch above the river as we ride one of the most famous bicycle routes in Europe. For those who have had too much history, the Ars Electronica Museum in Linz will be a welcome change - stop by this afternoon and visit this museum that tries to bridge the gap between art, science and technology. Dinner on your own this evening. Daily Mileage: 99 km (61 miles)
Lodging: Hotel Wolfinger
Day 5: Linz to Grein der Donau
Highlights: Farmland and vineyards, Danube bike paths, Mauthusen Concentration Camp
Our route after Linz will include more agriculture on alluvial farmland washed out of the Alps far to the south. Our destination today is a small town, Grein an der Donau. Those who wish can take time to visit the Mauthusen Concentration Camp a powerful and sobering experience as you walk up and down the 186 "death stairs". Over 130,000 people were killed here including Jews, Italians, Russian POWs, criminals and political prisoners. Dinner is together at the hotel. Daily mileage: 63 km (39 miles).
Lodging: Hotel Goldenes Kreuz
Day 6: Grein an der Donau to Duernstein
Highlights: Vineyards of the Danube, Abbey in Melk, wine tasting
On our way to Duernstein we enter the heartland of Austrian wine country. You'll want to stop and photograph and visit if you like the spectacular baroque Abbey of Melk. We'll have a wine tasting this evening before dinner together tonight and taste some of the white wines typical to this area and some of the lesser known red wines. Daily mileage: 76 km (47 miles).
Lodging: Garten Hotel Pfeffel Or Arte Hotel Krems
Day 7: Duernstein to Vienna
Highlights: Vienna, former capital of the Austro-Hungarian Empire
We'll have an easy day along the Danube today though not without bicycle traffic since this stretch of the Danube Bicycle Path is one of the busiest in the world. We'll arrive tonight in Vienna, the largest city in Austria and one of Europe's leading musical centers, where we will stay for two nights. The city was first a Roman and Celtic settlement, but as the Austro-Hungarian Empire rose to prominence, magnificent Medieval and Baroque architecture became especially prevalent. We'll have dinner together tonight. Daily mileage: 102 km (63 miles)
Lodging: Hotel Post Wien
Day 8: Rest day in Vienna
Highlights: Imperial Vienna; Hofburg palace; Viennese pastries
This is a rest day in Vienna, one of the great imperial cities of Europe. You've earned a rest. There is so much to see here we'll provide a briefing this morning, then you are free to wander and explore at your leisure. Be sure to explore the Hofburg Imperial Palace, home to the ruling Habsburg family for over six centuries or take in a concert at a local church or concert hall. Dinner on your own tonight. No ride today.
Lodging: Hotel Post Wien
Day 9: Vienna to Bratislava, Slovakia
Highlights: Entering Slovakia
An easy ride today takes us to Bratislava, the capital of Slovakia. Czechoslovakia was formed from parts of the historic Austro-Hungarian empire in 1918 and came under Soviet domination in 1948. Not until 1989, with the fall of the Berlin Wall, was the country freed from the Soviets. Bratislava became capital of Slovakia when it separated from the Czech Republic during the "velvet divorce" in 1993. Dinner together this evening. Daily mileage: 83 km (51 miles).
Lodging: Botel Garcia
Day 10: Bratislava to Györ, Hungary
Highlights: Bicycling along the Danube to Hungary
We'll ride by the Benedictine Arch Abbey of Pannonhalma and its winery today on your bicycle ride into Hungary. While Györ was a border town early in its history under the Romans, it was an imperial city under the Austro-Hungarian empire. It was also right in the way of barbarian invasions through the centuries. Much of the present city was built by Italian architects after the retreat of the Ottoman empire in the 17th century. Dinner together this evening. Daily Mileage: 84 km (52 miles)
Lodging: Hotel Klastrom
Day 11: Bicycle Gyor to Esztergom
Highlights: Esztergom
The towns we bicycle through today were destroyed and rebuilt repeatedly. The bridge over the Danube in Esztergom, for example, was first built in 1895, destroyed by the Germans in 1944 and only rebuilt in 2001. Esztergom was the capital of Hungary for two and a half centuries until the mid 13th century, was occupied by the Ottoman Turks for 150 years and enjoyed a rebirth of baroque architecture after 1700. Dinner on your own this evening. Daily Mileage: 102 km (63 miles)
Lodging: Hotel Esztergom
Day 12: Esztergom to Budapest
Highlights: Bicycling along the Danube into Budapest
We ride into Budapest today and our hotel is near the center of Pest so you'll be close to most of the sights. We have a special dinner tonight including a cruise on the Danube. Daily Mileage: 87 km (54 miles)
Lodging: Art'otel Budapest
Day 13: Bicycle Tour ends in Budapest
Highlights: Budapest
Our tour ends this morning in Budapest. We highly recommend that you take a few days to enjoy all that the city has to offer. Whatever you decide have a wonderful journey.
More information from ExperiencePlus! Bicycle Tours: