Horizon And Company - vacations and travel
British Columbia In Style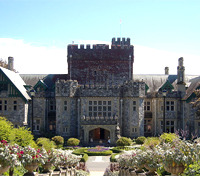 Contact provider for price
8 Days
Year-round
Comfort accommodations

Exertion level: 3

Operator:

Horizon And Company

12 people max
Vancouver international airport, richmond, british columbia, canada
Active & Adventure trips
Experience the cosmopolitan city of Vancouver, the quaint scene at Victoria and the coastal, relaxed feel of Courtenay in the beautiful, tranquil surroundings of the Comox valley - one of the most scenic corners of the world... Consistently ranked one of the most liveable cities in the world, based on its warm climate, beautiful scenery and modern infrastructure, Vancouver is a gem on the Pacific Ocean just waiting to be explored. Enjoy a seaplane ride over to Victoria on Vancouver Island - the most northern Mediterranean climate in the world. The capital city of Victoria is "more English than England", with high tea, proper dress, lavish public gardens and pomp and circumstance where you will be transported to a bygone era. Enjoy a whale watching tour to see some of the amazing marine life that live in these waters and spend some time wandering through the picturesque centre of town. Then sit back and relax on the scenic, coastal train ride up to Courtenay, at the foothills of Mt Washington - an outdoors-enthusiasts paradise. Spend a few days doing any number of fun filled adventures from kayaking, hiking, sailing, helicopter rides and bidwatching - or simply relax and enjoy the natural surroundings and the onsite spa as you luxuriate in top class accommodations! A short ferry ride brings you back to Vancouver where you can make the most of your last evening in the city before departure.

With private airport pick-up and drop-off, train connection, seaplane flight, ferry ride, a balance of private and shared tours to see all of the sights, and time at leisure to choose from any number of activities which entice you, this is a tour not to be passed over. Travel with confidence knowing you have 24/7 support from your Horizon team.
Locations visited/nearby
British Columbia , Canada, North America
0 testimonials about this trip.
Reviewer:

Mr. & Mrs. O

located in

Ottawa

"This tour was a "voyage of discovery". We very much appreciated having contact with the local people and their culture. It was refreshing not to be 'cocooned' as tourists."

5

Reviewer:

Mr. & Mrs. C.

located in

Agincourt

"It is not possible to find the words to thank you for your help and sincere caring on our fabulous trip to wonderful Labrador! To mention a few treats and surprises – the gifts of tea, syrup and spread – Horizon is excelling itself."

5

Reviewer:

Mr. & Mrs. L

located in

Barrie

"My wife and I would like to add an extra 'thank you' to all of your staff, and especially to the tour escort, for the superior quality of our recent Newfoundland and Labrador holiday. Horizon has gained our loyalty as the best escorted holiday company, and I have conveyed this belief to our travel agent."

5
Comments from Facebook
Special information
This is a custom departure, meaning this trip is offered on dates that you arrange privately with the provider. Additionally, you need to form your own private group for this trip. The itinerary and price here is just a sample. Contact the provider for detailed pricing, minimum group size, and scheduling information. For most providers, the larger the group you are traveling with, the lower the per-person cost will be.
Itinerary
Day 1: Vancouver
Enjoy a private transfer in a luxury vehicle with a professional guide who will meet you in the International Reception Lobby (IRL) located outside of customs.
You will be provided with a pre-departure package which will include all necessary information that you will need for your trip including materials such as vouchers, maps, train tickets (if relevant) etc.
Enjoy lunch at leisure (not included in tour price).
Enjoy a private, introductory tour of Vancouver (4 - 5hrs) highlighting the main sights of the city. With a private tour, you can set the pace and spend as much or as little time at each of the places of interest. Your driver/guide will delight in sharing their extensive knowledge of area's history, geography and current events. Places of interest on the tour include: B.C. Place, G.M. Place, Science World (Olympic Sites), Gastown - Historical area of Vancouver, Canada Place - Alaska Cruise ship terminal and home of the new convention centre, Stanley Park - The Totem Poles, Vancouver Aquarium (not included - optional) and Prospect Point as well as English Bay/Vancouver Harbour and Granville Island - which includes a stop at artists' studios, craft galleries, and the Granville Island Public Market. From here, the tour continues on to Queen Elizabeth Park before you are brought back to your hotel.
Consider taking a cruise along the harbour, a day trip to Victoria on Vancouver Island, an adventure filled day whale watching, a panoramic flight, or a day trip to Whistler crossing over the Capilano Suspension Bridge and forest canopy walkway. All of these options are available on a private or shared basis. Please speak to your Sales Advisor if any of these interest you.
Accommodation: Four Seasons Hotel Vancouver (4*)
At the hub of this international centre of commerce, culture and natural beauty is the cosmopolitan Four Seasons Hotel Vancouver (4*), rising above the Pacific centre's 100 fine shops and featuring the award winning YEW restaurant and bar. The hotel has recently undergone an extensive renovation and reflects the comfortable, elegant style of this quietly sophisticated urban centre with 373 classic, residential guest rooms, including 66 suites, all featuring large windows overlooking the city's stunning scenery and landmarks. The high level of service that you would expect at a Four Season's property is in evidence and the extensive facilities include an indoor-outdoor pool, state of the art gym and garden.
Day 2: Vancouver
Enjoy a half day (6 hrs) shared tour discovering the outskirts of Vancouver in North Shore where you will get into stunning nature in the area of Grouse Mountain. After being picked up at your hotel, you will cross Lions Gate Bridge to the North Shore, see Cleveland Dam and Capilano Reservoir, the source of Vancouver's drinking water, get to experience Grouse Mountain Sky ride where you rise to a viewpoint of 1200 metres (3,700 feet) above the city in an enclosed gondola. At different times of the year there are special exhibitions on such as a lumberjack show, grizzly bears at the Refuge for Endangered Wildlife, theatre presentations, sleigh rides, ice skating, and a great view (admission included). Then brace yourself for the Capilano Suspension Bridge and Park (admission included). Cross the world's longest suspension foot bridge and experience the new "Treetops Adventure" forest canopy walkway. Then enjoy the atmosphere at Lonsdale Quay - a market for shopping, with crafts, as well as seafood etc. At the end of the tour you will be brought back to your hotel.
Enjoy lunch at leisure (not included in tour price).
Accommodation: Four Seasons Hotel Vancouver (4*)
Day 3: Vancouver - Victoria
Enjoy the short transfer from Vancouver to Victoria by seaplane.
Enjoy lunch at leisure (not included in tour price).
Whale watching is an experience many say they will never forget. Enjoy a shared three hour whale watching tour from Victoria on board a luxury 61 foot motor yacht. Orcas (or Killer Whales) are commonly seen in the local waters off Victoria in April, May, June, July, August and September, and there is over 97% probability of seeing Orcas in the summer months. Other marine lives you may encounter are Humpback Whales, Grey Whales, Minke Whales, Dall's Porpoise and Harbour Porpoise! Bald Eagles soar above the seas and Sea Birds fly close to the water looking for food. Whales and other marine life are observed from the many viewing platforms on the "Marauder IV". Unobstructed viewing is possible as this is the only vessel in Victoria where you can walk around the entire boat. You can stand on the wide side decks, the huge fore and aft decks, or the command bridge and look into the water to catch a glimpse of a Dall's Porpoise, a Minke Whale or some majestic Killer Whales. You may also have an opportunity, if the conditions are right, to listen to the Orcas in the area with the onboard hydrophones which pick up the actual sounds (such as clicks and whistles) that the Orcas make when they are socializing. You are invited to listen to a Biology Lecture conducted by a university graduate of Marine Biology. Detailed information is given about the marine mammals of the Pacific Northwest as well as the unique vegetation and landmasses found in our rich waters. Discussions will cover the different whales of the world and comparisons to the killer whales and porpoises in the waters around Victoria. At the end of your tour you will be presented with a unique Marine Mammal Guide, which provides information on some of the mammals and seabirds found in the Pacific Northwest. You will also find a "map" where you can trace the route of your excursion through the scenic islands. This is sure to be an informative and fun excursion!
Accommodation: Fairmont Empress
The Fairmont Empress rises regally on the banks of Victoria's Inner Harbour and represents the center of British Columbia's Capital City. The Resort has been completely restored to her turn-of-the-century beauty and displays the grandeur of a bygone era, her facilities and services meet the needs of today's traveler. The Fairmont Empress features 477 luxuriously appointed guest rooms and suites, with magnificent views of the city, courtyard or spectacular Inner Harbor. No stay at The Empress would be complete without a visit to one of the magnificent Victoria restaurants in this historic hotel. Whether you partake in the coveted English ritual of Afternoon Tea, savor the famous curry buffet in The Bengal Lounge or sample award-winning food and wine in The Empress Room. For a full-body massage or a full-body workout, their luxury hotel in Victoria has a fully-equipped gym and indoor heated pool and whirlpool area.
Day 4: Victoria
Victoria acts as a hub for some great day excursions in and around the city. Consider a scenic panoramic seaplane flight, a tour to the magnificent Butchart gardens, a city tour by trolley bus or horse and carriage, an exciting treetop experience which includes 8 zipline cables, 2 suspension bridges, and an All Terrain Vehicle (ATV) ride or a private scenic tour with your own car and driver guide to take you to some great spots on this side of the island. Please speak to your sales Advisor if you are interested in any of these activities.
Enjoy lunch at leisure (not included in tour price).
Enjoy time at leisure to explore at your own pace, or relax at your hotel.
Accommodation: Fairmont Empress
Day 5: Victoria - Courtenay
Enjoy a train ride from Victoria to Courtenay. Train duration is approximately 5hr and departs Victoria.
Courtenay is a pretty, vibrant town with plenty of things to see and do in. Consider an afternoon at the aquatic centre wave pool - a great place for all the family. There are three museums in town; Courtenay Museum Explore the prehistoric past of the Comox Valley and see the Elasmosaur fossil. The museum offers guided field trips in the summer to local riverside shale beds where you can dig for your own fossils, Cumberland Museum: Experience Cumberland's mining history in the replica coal mine. Comox Air force Museum: Aviation history, with permanent exhibits reflecting the heritage, customs and traditions of Canada's Air Force. Historic aircraft are preserved at the museum's Heritage Air Park, including the recently restored H-21 Piasecki Flying Banana. The restoration of a WWII Spitfire is the museum's current project. Go swimming in one of the swimming holes along the Puntledge or Tsloum Rivers. Popular spots include Stolton Falls and Nymph Falls. The antithesis of a commercial of a tourist attraction, the whacky woods is a whimsical place that is known to local residents but is not on any tourist map. A local folk artist who lives adjacent to the woods has created a wonderland of surprises in, on and around the trees using everyday discarded articles. Trees sporting faucets, giant rope spider webs, way-stations with plaques citing quotations from Thoreau.
Accommodation: Kingfisher Oceanside Resort & Spa
The Kingfisher Oceanside Resort & Spa is located on the beautiful eastern shores of Vancouver Island, only minutes away from the picturesque towns of Courtenay and Comox. The Resort rests amongst an old Growth forest, on a gentle slope with stunning views across the Strait of Georgia to the Sunshine Coast. Enjoy the warm atmosphere, friendly service, and fresh, creative west-coast cuisine in the oceanside dining room or summer patio, all with one of the best views in the Pacific Northwest. Relax and rejuvenate in the spa, located right on the water`s edge, or in the heated outdoor pool or jacuzzi.
Day 6: Courtenay
Day tour options from Courtenay are many and include (but are not limited to) viewing the Comox Valley by helicopter, boat, kayak, mountain bike, horseback or foot. Go eagle sighting, observe killer whales or enjoy a trip through Strathcona Park to see the resident black bears. Enjoy the incredible views of the Georgia Strait from the alpine heights. Go diving, sailing, biking, the options are endless. You don't have to go far to see wildlife in the Comox Valley. Deer are frequent visitors to gardens, yards and golf courses and black bears are seen Spring through Fall munching on wild fruit and berries and devouring the remains of spawning salmon. In the Comox Valley wilderness you may just catch a glimpse of a cougar or member of the Island Roosevelt elk population; the adjacent ocean waters support a healthy population of seals and sea lions. Bald eagles, herons, hawks and countless song and marine birds inhabit or visit the Valley's marshes, fields, forests and waterways.
Enjoy lunch at leisure (not included in tour price).
Enjoy time at leisure to explore at your own pace, or relax at your hotel.
Accommodation: Kingfisher Oceanside Resort & Spa
Day 7: Courtenay - Nanaimo - Vancouver
Includes private transfer in luxury vehicle with driver from Courtenay to Nanimo ferry terminal. The journey should be just over an hour.
Enjoy the 2 hour crossing from Nanaimo to Vancouver on board BC ferries. There are multiple departures throughout the day to choose from.
Enjoy lunch at leisure (not included in tour price).
See all of the main attractions within the city of Vancouver with a city pass booklet. Complete with detailed tourist information and Vancouver history, this guidebook will save you up to 50% off many attractions on your vacation. Visit the Vancouver Aquarium, Capilano Suspension Bridge, H.R. Macmillan Space Center, and the Vancouver Museum. Or take a harbor cruise, watch a movie at the CN Imax Theater at Canada Place and dig up the facts at the Museum of Anthropology! This handy pocket-sized book is full of savings up to 50% at over 50 top Vancouver attractions including: Gulf of Georgia Cannery, Burnaby Village Museum and Carousel, Grouse Mountain Tramway, Vancouver Lookout, Vancouver Aquarium, Dr. Sun Yat-Sen Classical Chinese Garden, Imax Theatre At Canada Place, H.R. MacMillian Space Centre, BC Sports Hall of Fame and Museum, Vancouver Museum, Museum of Anthropology, Vancouver Maritime Museum, Vancouver Art gallery, Stanley Park Horse-Drawn Tours.
Escape by seaplane from downtown Vancouver's vibrant Coal Harbour to tranquil Horseshoe Bay for a memorable seaside dinner. Enjoy ocean views before boarding your limousine, then experience the city lights as you return to downtown Vancouver where you will be dropped off at your hotel.
Accommodation: Four Seasons Hotel Vancouver (4*)
Day 8: Vancouver
Enjoy a private transfer in a luxury vehicle with professional driver.
Accommodation: Depart (Int`l Airport) (standard)
More information from Horizon And Company: