Horizon And Company - vacations and travel
Top Game Parks & Zanzibar Luxury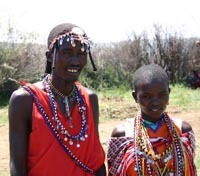 Contact provider for price
12 Days
Year-round
Luxury accommodations

Exertion level: 3

Operator:

Horizon And Company

12 people max
Jomo kenyatta international airport, nairobi, kenya
Culture & Nature trips
This African safari is designed to offer the very best game parks in Kenya and Tanzania. This trip offers unparalleled game viewing, with evening relaxation in the region's top quality hotels and game lodges. Private 4x4 game viewing vehicles with experienced guides will take you on several drives each day, searching out lion, elephant, giraffe, and the full profusion of wildlife. Internal flight transfers cut down on long vehicle rides and provide a bird's eye view of the amazing country below. Three days of game viewing in Masai Mara, famous for its plains of predator and prey, and the annual wildebeest migration. Cross the border into Serengeti for more game viewing and a visit into the fabled Ngorongoro Crater. Then fly to Zanzibar and unwind on languid beaches by the warm Indian Ocean for a truly memorable ending. Includes the cost of internal flights.

Locations visited/nearby
Kenya, Africa
0 testimonials about this trip.
Reviewer:

Mr. & Mrs. O

located in

Ottawa

"This tour was a "voyage of discovery". We very much appreciated having contact with the local people and their culture. It was refreshing not to be 'cocooned' as tourists."

5

Reviewer:

Mr. & Mrs. C.

located in

Agincourt

"It is not possible to find the words to thank you for your help and sincere caring on our fabulous trip to wonderful Labrador! To mention a few treats and surprises – the gifts of tea, syrup and spread – Horizon is excelling itself."

5

Reviewer:

Mr. & Mrs. L

located in

Barrie

"My wife and I would like to add an extra 'thank you' to all of your staff, and especially to the tour escort, for the superior quality of our recent Newfoundland and Labrador holiday. Horizon has gained our loyalty as the best escorted holiday company, and I have conveyed this belief to our travel agent."

5
Comments from Facebook
Special information
This is a custom departure, meaning this trip is offered on dates that you arrange privately with the provider. Additionally, you need to form your own private group for this trip. The itinerary and price here is just a sample. Contact the provider for detailed pricing, minimum group size, and scheduling information. For most providers, the larger the group you are traveling with, the lower the per-person cost will be.
Itinerary
Day 1: Nairobi
In the event of serious illness, Flying Doctors will cover the cost of emergency air evacuation service needed to fly back to Nairobi, Kenya for treatment. Excludes coverage for medical treatment.
You will receive a private airport transfer to/from the airport.
Accommodation: Serena
The Nairobi Serena Hotel is a member of the Leading Hotels of the World, excelling in quality, service, and comfort beyond expectations. Its vibrant tropical gardens and skyline offer a range of views from its 184 rooms and suites, each decked with pan-African themed influences. Two stylish restaurants, offer both a la carte and/or buffet, and serve an international selection of fine cuisine amidst mesmerizing settings. Take advantage of the local attractions and, following a demanding full day, relax in the hands of an expert masseuse at the Maisha Serena Health Club. Gym, spa & pool at the hotel.
Day 2: Nairobi - Masai Mara
Airport transfer with private vehicle and guide.
Take your flight from Nairobi to Masai Mara today. The flight duration is approximately 45 min.
Your expert guide will pick you up at the airstrip and will be taking you for a game drive on the way back to camp.
Enjoy lunch (included in tour price).
This afternoon's game viewing will be exciting as you are searching for game with your private guide and driver. The leopard is difficult to see as it moves fast and is very shy. If you're lucky there is a good chance to spot them around waterholes or up in a tree after a hot long day.
Enjoy dinner (included in tour price).
Accommodation: Kensington Mara West
Kensington Mara West Camp has been revamped and relocated to what is surely one of the best views in East Africa. Perched elegantly on the Ololoolo escarpment, forming the western boundary of the Masai Mara Reserve itself. This is the authentic Out of Africa experience where much of the original film itself was filmed & produced. The camp borders the remote and beautiful western edge of Masai Mara National Reserve. Kensington Mara West provides nature lovers with deluxe accommodations while experiencing the sights and sounds of an unforgettable African safari. Tents offer rustic charm surrounded by grassy fields. Chalets are perched in secluded spots on an escarpment edge overlooking the vast plains of the Masai Mara Game Reserve, giving tremendous views and a sense of private exclusion.
Day 3: Masai Mara
Masai Mara is named after the traditional inhabitants (Maasai) and the Mara River. At some point during your stay in the Mara, you'll drive by the river which is a great place to spot wildlife. This area is a photographer's delight where with any luck you'll be able to take amazing pictures of the hippos and elephants in the water.
Enjoy lunch (included in tour price).
On today's afternoon game drive the choice is up to you, search for the big 5 or expand your horizons to discover something different. Masai Mara not only has a rich mix of animal population, it also has an incredible array of bird life with almost 450 different species.
Enjoy dinner (included in tour price).
Accommodation: Kensington Mara West
Day 4: Masai Mara
Today you'll set out early on your morning game drive with your private guide and vehicle. The Mara is most famous for its exceptional population of game and the annual migration of zebra, Thomson's gazelle and the wildebeest from the Serengeti every year from July to October.
Enjoy lunch (included in tour price).
This afternoon you'll meet up with your guide and head out on your game drive. Mara is one of the few places you could spot the rare rhino. Stay alert as you track these elusive lumbering giants.
Enjoy dinner (included in tour price).
Accommodation: Kensington Mara West
Day 5: Masai Mara - Serengeti
If time allows, your expert guide will be fitting in one more game drive before dropping you off at the airstrip. It will be your last chance to see the Masai Mara's vast plains & its diverse range of birds and animals.
Take your flight from Masai Mara to Serengeti via Nairobi and Kilimanjaro International Airports. The flight duration is approximately 6hrs.
An expert guide will meet you at the airstrip, and take you on a game viewing drive, before bringing you to your camp.
Enjoy lunch (included in tour price).
Enjoy dinner (included in tour price).
Accommodation: Kensington Serengeti
A tented wilderness camp in the Serengeti, this is an intimate connection to nature in this world famous park. Look forward to attentive service with fine bush cuisine of the pan-African and traditional sort. Three main meals are served each day in the large canvas dining tent overlooking the plains. The tents, appropriately furnished with Masai inspired style, feature campaign furniture and canvas wardrobe. The Masai theme is showcased with evocative headboards, lamps and fixtures. Located in the Grumeti area, the camp sits right in the Serengeti plains inside the park. This is a rare opportunity to experience a classic tented camp experience. Fall asleep to the sound of animals outside; enjoy drinks by the fire as you watch the sun set over the plains.
Day 6: Serengeti
Head out into the park early in the morning as animals are more active in the early morning and afternoon. Tanzania's oldest and most renowned national park, the Serengeti offers the most expansive game-viewing in Africa: great herds of buffalo, smaller groups of elephant and giraffe, and thousands upon thousands of eland, topi, kongoni, impala and Grant's gazelle. Explore this amazing park with the help of your expert guide.
Enjoy lunch (included in tour price).
Today head out with your guide to explore the wide expanse of the Serengeti. The park is well known for its healthy stock of resident wildlife, particularly the "Big Five", named for the five most prized trophies taken by hunters: lion, leopard, elephant, black rhinoceros, and African buffalo. Though there are now few black rhino in the park, you may still spot them. The Serengeti has the largest population of lion and giraffe in all of Africa and the largest concentration of topi and Coke's hartebeest (kongoni). Enjoy the challenge of spotting other game such as cheetah, Thomson's and Grant's gazelle, eland, waterbuck, hyena, baboon, impala, African wild dog and giraffe. The park also boasts about 500 bird species, including ostrich, secretary bird, Kori bustard, crowned crane and marabou stork.
Enjoy dinner (included in tour price).
Accommodation: Kensington Serengeti
Day 7: Serengeti - Ngorongoro
This morning you will depart from the Serengeti on your way to the Ngorongoro Conservation Area. For the first part of the drive you'll be doing some game viewing as you leave the Serengeti. This drive usually takes between 5 and 6 hours but can take longer during the rainy season.
The Olduvai Gorge or Oldupai Gorge is commonly referred to as "The Cradle of Mankind." It is a steep-sided ravine in the Great Rift Valley, which stretches along eastern Africa. Olduvai is in the eastern Serengeti Plains in northern Tanzania and is about 30 miles (48 km) long. The gorge is named after the Maasai word for the wild sisal plant Sansevieria ehrenbergii, commonly called Oldupai.
Enjoy lunch (included in tour price).
Enjoy dinner (included in tour price).
Accommodation: Serena Safari Lodge Ngorongoro
Seated on the rim of the Ngorongoro Crater, the Serena Safari Lodge faces this unique biodiversity-rich area head on. There are 74 guest rooms and suites, each decorated with brass lamps and leather headboards & Afro- Arabian artifacts. Dining combines international & Pan-African fare, often served in the bush where barbeque cuisine is a delight. Take part in game drives and hikes around the rich Ngorongoro Crater, full of life and discoveries. Serena Lodge is situated to provide one of the world's most spectacular panoramic views of the Ngorongoro Crater.
Day 8: Ngorongoro
Private transportation and guide in the Ngorongoro national park.
Descend into the Ngorongoro caldera to view the wildlife on the crater floor. The crater is roughly 20 km/12 mi wide and 600 m/2,000 ft deep, once you've reached the top of the caldera it takes about 45 minutes to descend to the crater floor. The floor is home to a rich and highly concentrated wildlife. Some 20,000 mammals of size live there, including about 20 black rhinoceros, making the crater the best place in Tanzania to see the rhino. The crater floor also has one of the highest carnivore densities in the world. Lions, cheetahs, hyenas and jackals are commonly seen, while leopards, servals and bat-eared foxes may be seen with some good luck. You'll spend most of the day in the crater.
Enjoy lunch (included in tour price).
Enjoy dinner (included in tour price).
Accommodation: Serena Safari Lodge Ngorongoro
Day 9: Ngorongoro - Manyara - Zanzibar
Your guide will transfer you between the hotel and the Manaya airstrip. This drive takes approx. 45mins to 1hr.
Flight from Manyara to Zanzibar, and takes approximately 1hr and 55mins.
Transfer between airport and your beach resort with private vehicle and driver.
Accommodation: Ras Nungwi
Ras Nungwi lies at the north side of Zanzibar Island, a breezy beach escape on the spiciest island in Tanzania. The 32 rooms and suites are each delicately woven and laced with local and eastern contemporary designs. Meals are a healthy mix of Indian and African, buffet and service, as the country's variety of cultures fuse together to provide guests with a genuine taste of local colors. An air of relaxation emanates from every pore of the hotel's skin, welcoming all to join in on the educational and active games and water sports, including diving and snorkeling.
Day 10: Zanzibar
Time permitting, there are many optional activities. If you would like, you can book tours in advance. Half day tours include: Swahili Cultural Tour, Spice Tour, Stone Town Tour, or even Spice Tour and cooking lesson. Full day tours include: Dolphin Sandbank Picnic, Prison Island & Mangapwani Beach, Spice & Stone Town or our Stone Town, Slave Market, Spice Farm and Cultural Village. Ask your travel consultant for more details and pricing.
If you prefer, sign up for activities on the ground through your lodging (not included in tour price). Activities range from deep sea fishing to cultural village visits. Simply speak to your accommodations upon check-in to sign up for boat excursions, scuba diving, day tours and more.
Accommodation: Ras Nungwi
Day 11: Zanzibar
Today head out on your private tour of historic Stone Town and spice route. A visit to a spice farm village gives you an insight into local life and the opportunity to try some Swahili dishes, taste the fruits in season and try some spiced tea. Walk through the spice farm with your guide. Touch, smell and taste different spices and tropical fruits. Try to guess which is which, from the crushed leaves, the fruit, shoots and vines and creepers crawling up the trees.
Then follow the trail of the sultans, slaves and explorers in the winding streets of Stone Town. Your guide will tell you about the events that shaped Zanzibar, leading you through the buildings where it all happened, such as the former Slave Market and Anglican Cathedral, the House of Wonders and the Sultans' Palace Museum, the Old Arab Fort and Dispensary.
This tour is very flexible and can be adapted suit your interest and time frame. If you're a shopaholic, culture vulture or history buff, just let your guide know and they will adjust the tour for you. If you want to hunt for antiques and souvenir shop, follow David Livingstone's time in Zanzibar, or walk the path of the slave trade, your guide can recommend and develop routes and itineraries that will optimize your time and get the most out of your trip. (Lunch included)
Please bring:
• Sun hat and sun cream.
• Comfortable closed walking or hiking shoes and pants.
• Please dress conservatively when walking through Stone Town. Women should cover their shoulders and wear long skirts or trousers in respect to local customs.
Tour operates from Stone Town. Transfer time will vary depending on what part of the island you are coming from. Time in transit could be 30min to 1.5hrs each way.
Enjoy lunch (included in tour price).
Accommodation: Ras Nungwi
Day 12: Zanzibar - Nairobi
(Note: an extra departure tax of $30 must be paid on departure).
Transfer between airport and your beach resort with private vehicle and driver.
Take your flight from Zanzibar (ZNZ) to Nairobi (NBO) today. The flight duration is approximately 1.5 hr.
Includes opportunity to visit local handicraft markets to shop for souvenirs.
You will receive a private airport transfer to/from the airport.
Accommodation: Depart
Depart from Nairobi international airport - end of itinerary.
More information from Horizon And Company: