Royal Expeditions - vacations and travel
Thar Desert Horse Safari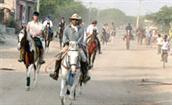 Contact provider for price
14 Days
October-March
Boutique accommodations

Exertion level: 3

Operator:

Royal Expeditions

12 people max
Delhi airport, igi airport t3 road, new delhi, delhi, india
Culture & Nature trips
Rajasthan - Land of the Kings - is steeped in romantic history, chivalry and valor. Formerly known as Rajputana, it boasts of the finest fortress-palaces, built with sandstone quarried from the land itself. In contrast with the pastel shades of the desert landscape are the brightly coloured costumes of its handsome people. With its turbaned men and richly jeweled women, its havelies and villages, its fairs and festivals, Rajasthan beckons you.

In Rajasthan especially, India's Raja's and Maharajahs of the past have turned their mansions, palaces & fortresses in cities, hotch potch bazaars, countryside and forests into Hotels. Thar Desert Horse Safari tour incorporates some of these atmospheric locations.

Thar Desert Horse safari unfolds a land steeped in history, religion, culture and architecture. The route will be through picturesque villages and farms. The Safari will move about 25 Kms a day with a lunch halt and breaks for tea, coffee and refreshments. The horses will be of Marwari breed, which are capable of trotting and cantering. These horses can travel upto 60 Kms a day at trot or slow canter.This is ideal for beginners.


Locations visited/nearby
India, Asia
Comments from Facebook
Itinerary
Day 1 - Arrive Delhi
Meet and transfer to hotel and overnight
Day 2 - Delhi
After breakfast, enjoy full day guided sightseeing tour of the city visiting both the Old and the New Delhi.
Overnight at hotel
Day 3 - Delhi / Jodhpur
After breakfast at the hotel, you will be transferred to the airport to board flight for Jodhpur.
(Reporting time at domestic airport is one hour prior to the time of departure of flight)
Delhi / Jodhpur – Jet Konnect – 9W 2631 – 1025 hrs / 1145 hrs
Meeting and assistance on arrival at Jodhpur and transfer to Vivanta by Taj Hari Mahal .
Later half day city sightseeing tour visiting Meherangarh Fort and Jaswant Thada.
Optional activity at additional cost:
Zipping on Mehrangarh Fort
Overnight at Taj Hari Mahal
Day 4 - Jodhpur / Mihirgarh
After breakfast drive 01 hour to Mihirgarh. Arrive and stay at Khandi Wilderness Camp
Lunch at the Camp.
Evening meet your guide and horses, and try out horses this evening.
Overnight at Khandi Wilderness Camp
Day 5 - Mihirgarh / Rohetgarh
Morning ride out past villages and through desert terrain till we reach Dhoondli - a village of Brahmins. Here we witness some of the customs and traditions of the desert including the amal ka dastoor or opium ceremony
Later ride to Rohet (16KM) (3 hour ride) Arrive and stay at Rohetgarh. Lunch at Rohetgarh
Evening relax at Poolside, walkabout this interesting village known for it's leather handicrafts.
Overnight at Rohetgarh
Day 6 - Rohetgarh / Sardar Samand
Morning ride 28km (5 hour ride) to Sardar Samand through
sandy tracts and scrubland, passing quaint hamlets occupied by
the various colourfully clad tribes of the desert.
Arrive and stay at Sardar Samand Palace
Evening relax at the luxurious Palace, with its comfortable rooms and terrace pool. For those interested in bird-watching, you can ask your escort to walk you around the lake edges and learn about Indian birdlife. The views at sunset from the pool terrace are quite spectacular.
Overnight at Sardar Samand Palace
Day 7 - Sardar Samand / Kotri Raola
Join your escort in a short Yoga lesson or rise at leisure for
breakfast. The morning is free to lounge by the poolside and
after an early lunch, we drive to (2 hrs drive), to "Rabaria
Village", where we mount up and ride (15km)(3 hrs) through
low foothills to Kotri. This is a small shepherds' village set
against a rocky hill. We will ride into the stables of our mounts
and also get to see the brood of mare and foal.
Later enjoy tea/ cocktails at the stables.
Overnight at Kotri Raola
Day 8 - Kotri Raola
Morning ride out past farms and lakes and you will soon arrive at
Muthana bird lake (3 hr ride)( 16 Km) Here we stop for
refreshments. We then transfer to jeeps and drive 10Km through
the merchant town of Sadri bringing us to Maharani Bagh for
Lunch.
Evening visit the famous 15th century Ranakpur Jain Temples
by Jeep. (4 km ).
Overnight at Kotri Raola
Day 9 - Kotri Raola / Narlai
After breakfast ride out past open farmland, en route to the rocky hills of Narlai. (This is a 3 hour ride) (15 Km ) Stop for lunch sunset
Evening ride (10km)(2 hrs) through farms and scrubland toGhanerao. Leave your horses here and return by Jeep to drive to Narlai. At Narlai, one can climb the Rock of Narad to view the sunset.
Overnight at Rawla Narlai
Day 10 - Narlai / Ghanearo / Kumbalgarh
Morning drive back to meet your horses at Ghanerao. The Castle of Ghanerao is the home of your riding escort. Mount up and ride out past tribal garasia villages and farms along the Aravalli and we enter the Kumbhalgarh Wildlife Sanctuary, riding (4hours) ( 18 km)up a Steep trail through the Kumbhalgarh Wildlife Sanctuary climbing 2000ft to the The Aodhi for lunch.
Evening visit the ancient Kumbhalgarh fort built in 15th century
Overnight at Hotel The Aodhi
Day 11 - Kumbalgarh / Udaipur / Jaipur
After early breakfast leave for Udaipur.
Arrive Udaipur and proceed on a guided tour of City Palace Museum
City Palace and City Museum: Towering over the Lake Pichola is the City Palace which is a fascinating combination of Rajput military architecture and Mughal style decorative techniques. Its stern façade, topped by a profusion of graceful balconies, cupolas and turrets, has been aptly described as a "massive cake topped with fabulous icing ". The largest palace in Rajasthan, the City Palace is spread out through several palaces in the complex.
Later transfer to airport in time to board flight to
Jaipur
(reporting time at airport is minimum one hour prior to the time of departure)
IT 4301- Udaipur/Jaipur-1400 hrs /1500 hrs
Meeting and assistance on arrival and transfer to hotel
Overnight at Trident
Day 12 - Jaipur
Full day guided tour of Amber Fort and City.
Optional activity at extra cost: Ascend Amber Fort on elephant back.
Optional activity at extra cost: Hot air ballooning over Amber Fort
Overnight at hotel
Day 13 - Jaipur / Bharatpur / Agra
After breakfast drive to Agra visiting Bharatpur Bird Park enroute.
In Bharatpur visit the world famous park on a cycle rickshaw with naturalist.
Overnight at hotel Trident
Day 14 - Agra / Delhi / Depart
Taj Mahal tour by sunrise.
After breakfast guided tour of the city visiting Agra Fort and Itmad-ud-Daulah Tomb.
Later drive to Delhi international airport (200 Kms, 4-5 hours) to board onwards flight
More information from Royal Expeditions: