Canoe & kayak - vacations and travel
Canoe Trip Outfitting in Algonquin Park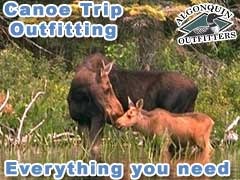 Contact provider for price
10 Days
Year-round
Comfort accommodations

Exertion level: 3

Operator:

Canoe & kayak

12 people max
Toronto airport, toronto, ontario, canada
Active & Adventure trips
The best way to discover the beauty of Algonquin Park is by canoe. A canoe trip takes you away from the pressures of everyday life. You choose the pace and the schedule. You decide when to stop for a swim or how long to pursue an elusive smallmouth bass or lake trout.

A canoe is the perfect vehicle for travelling the waterways of the Canadian Shield and Algonquin Outfitters can help you plan a trip that suits your interests and abilities. Whether you rent a canoe or take part in one of our completely outfitted, guided trips, our experienced staff will provide top quality lightweight equipment and the best service available.

Locations visited/nearby
Canada
Comments from Facebook
Special information
This is a custom departure, meaning this trip is offered on dates that you arrange privately with the provider. Additionally, you need to form your own private group for this trip. The itinerary and price here is just a sample. Contact the provider for detailed pricing, minimum group size, and scheduling information. For most providers, the larger the group you are traveling with, the lower the per-person cost will be.
Self-guided (includes hotels, maps, luggage transfer, etc but no guide).
Itinerary
From planning to packing, Algonquin Outfitters can help with every aspect of your canoe trip. Our partial outfitting service allows you to rent a canoe or extra pieces of equipment. Complete outfitting allows you to show up with your personal gear and find all your food and equipment ready to go. Several different packages are available to suit your needs and budget. A big part of our service to all outfitting customers is route and trip advice. Many of our staff members have considerable knowledge of Algonquin canoe routes and camping techniques and will be happy to, in a manner of speaking, tell you where to go.
Whether you've never been in a canoe before, are looking for the lightest Kevlar tripping canoe or want to try the latest in sea kayaks or whitewater playboats, Algonquin Outfitters has a rental craft to suit your needs. All four stores are on the water and offer day rentals for trips starting right from our dock.
More information from Canoe & kayak: