Uncharted Outposts - vacations and travel
Mobile Adventure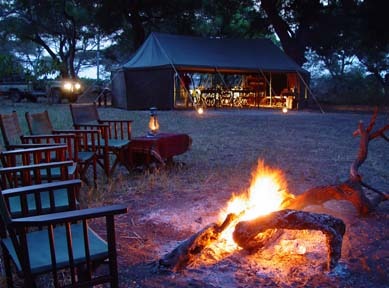 from $9,795* per person
11 Days
Year-round
Luxury accommodations

Exertion level: 3

Operator:

Uncharted Outposts

12 people max
Dar es salaam airport, dar es salaam, tanzania
Active & Adventure trips
During this Safari, you will be immersed in luxury and wildlife in the beautiful and languid areas of southern Tanzania. First you will visit the Chada floodplains and see herds of wildebeest and zebras and the famous Chada lion prides. You will then venture to the Selous and stay in stunning accommodations that offer lovely, pampered and very private service with the opportunity to go by land or water to view wildlife at its most natural and best. This itinerary includes two fly-camping overnights while at both Chada & Sand Rivers; a unique experience as you will gaze at the clear night skies with millions of sparkling stars listening to the stirring nocturnal creatures.
Locations visited/nearby
Tanzania, Africa
Comments from Facebook
Special information
This is a custom departure, meaning this trip is offered on dates that you arrange privately with the provider. Additionally, you need to form your own private group for this trip. The itinerary and price here is just a sample. Contact the provider for detailed pricing, minimum group size, and scheduling information. For most providers, the larger the group you are traveling with, the lower the per-person cost will be.
Itinerary
Day 1 — Dar-es-Salaam
Kilimanjaro Kempinsky
Your first day you will arrive at Dar-es-Salaam Airport, where you will be met by your driver who will transfer you to Kilimanjaro Kempinski. Enjoy superb views of the harbour, contemporary elegance and warm African hospitality. Known fondly as "The Kili" this iconic hotel has been a landmark since the mid 60s.
Day 2-3 — Ngorongoro Crater
Ngorongoro Crater Lodge
After your delicious breakfast at Rivertrees you will board your flight to the Lake Manyara airstrip and will be meet by your guide. Once you arrive at the splendid Ngorongoro Crater Lodge, you may enjoy a nice swim or a refreshing sun downer and a short evening stroll with your guide. The Lodge is one of the most splendid examples of African architecture coupled with a European baroque style, making it quite unique! On your first full day, you will begin with a very early start - rising earlier than everyone else as you escape camp in semi-darkness and start winding your way down towards the crater floor with your guide. As the first few vehicles arrive on the Crater floor, your guide will find a lovely, secluded and shaded area to unpack a gourmet picnic brunch. After brunch, head back up to the lodge for a swim and a short siesta before dinner. Another day in Africa.....what could be better?
Day 4-6 — Serengeti National Park
Nomad Serengeti Camp
This day after breakfast, you will say your good-byes, and take a scheduled flight to the Serengeti. The Serengeti holds the greatest and most diverse concentration of wildlife remaining in Africa today. This place is guaranteed to take your breath away! Serengeti Safari Camp is semi nomadic - it won't move whilst you're there - but it's actually on a wide orbit, shadowing the Migration, so you, your own private Tanzanian guide and his 4WD vehicle are as close to a million wildebeest as possible. It's the base for exciting game drives - conquering the landscapes and absorbing the sheer hugeness of it all. Daily adventures are yours to plan with your own guide to take you into the midst. Whilst you can head off from dawn to dusk on your own wandering migration expeditions, the small camp is sociable because it's shared - with just 12 guests staying in classic East African tented bush style.
Day 2-5 — Katavi National Park
Chada-Katavi Camp
After a hearty breakfast at the hotel, you will board a flight into the Katavi National Park. Unexplored and utterly remote, the floodplains of Katavi are home to heavy concentrations of game. At present, the park hosts only a handful of visitors - long may this last! Katavi has a wild, almost primeval feel, which hits you intensely from the moment you first see the game scattered over the Katisunga flood plain, as you approach by air. Herds of buffalo - two or three thousand strong - graze on the plains; pods of several hundred hippo cram the seasonal rivers; herds of elephant feed on the plains and drink from the springs. There is little to no infrastructure in the park, and, consequently, a palpable sense of freedom in the air. Here one can explore the untouched wilderness, by foot, at animal pace, or off-road by Land Rover, throughout the day, discovering the most hidden areas of the park, without ever seeing another soul. The day's itinerary is in your hands, leaving room for the many pleasant surprises that aboud in the African wilderness. Most days begin with early morning game drives and delicious bush breakfasts out on the plains. Guests return to camp between treks to eat lunch and relax. Inevitably, the afternoon game drives end up with a sunset over the hippo pool, across the plains from camp, where thousands of these chubby creatures provide evening entertainment. Returning to camp, you will settle in around the campfire, before a full dinner in the mess tent, and enjoy the sounds of the African night.
Day 6-10 — Selous Game Reserve
Sand Rivers
Today you will board your flight to the remote Selous Game Reserve. Sands River Selous is a luxurious lodge tucked deep into the vibrant Selous Game Reserve where it sits under magnificent Tamarind and Pod Mahogany trees on a rocky peninsula overlooking a vast sweep of the Rufiju River. There are 8 wonderful open-fronted guest cottages, constructed from local wood and stone with large en-suite bathrooms. The lounge and dining areas are in a thatched boma with open sides offering glorious views of the river and the open air swimming pool sits under an inviting baobab tree. There is a congenial, old-English atmosphere about the service here and the guides are exceptional. Your days and nights will be full of wildlife and adventure. A day on the river will offer hippos and crocs. There will be elephant bush walks and you'll take to 4wheel drive vehicles to track lion and wild dog. You'll sleep out under the stars and go on fly-camping expeditions and fishing safaris.
Day 14-16 — Pemba Island, Zanzibar
Fundu Lagoon
After your adventure in the Selous, you will board your flight to Pemba Island in the Indian Ocean. Fundu Lagoon is privately owned and run with a love for the natural environment that surrounds it; the epitome of shabby chic - stylish, cosseting and totally relaxed. Wooden walkways and sandy paths lead to eighteen Makuti thatched tented rooms and suites - all of the accommodations have breath-taking views of the Indian Ocean. For the ultimate in lazy relaxation, visit the spa for massage and beauty treatments. The marine life is amazing and activities include waterskiing, windsurfing and fishing. Or explore the mangroves by canoe, take a romantic sunset cruise to take in the surrounding beaches and islands.
Day 11 — Departure Day
Rivertrees
After breakfast your guides will take you to the airstrip, where you will board your flight to Dar where you will have a dayroom at Kilimanjaro Kempinski and then be transferred to the International Airport for your evening flight home.
More information from Uncharted Outposts: