Uncharted Outposts - vacations and travel
Alaska Safari Cruise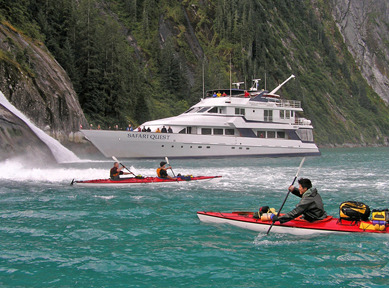 Contact provider for price
8 Days
Year-round
Boutique accommodations

Exertion level: 3

Operator:

Uncharted Outposts

12 people max
Anchorage, alaska
Boats, Barges & Small Ship Cruises trips
Perhaps only the most poetic voice can capture the grandeur of Alaska. With its vast, sweeping mountain ranges, earth-shaping glaciers, countless populations of wildlife, sea life and bird life, and more wilderness than the mind can imagine. Alaska simply embodies the world of superlatives. On our way to view Alaska's massive glaciers, we enter some of the world's deepest fjords. In the still of the evening, we watch bears ambling along wild shorelines. And everywhere in the swirling currents below, the world's largest mammals, the great whales, forage in the bountiful waters along the sheltered coastline. We meet Alaska and its wildlife at eye level and that's only the beginning....
Locations visited/nearby
Alaska, United States
Comments from Facebook
Special information
This is a custom departure, meaning this trip is offered on dates that you arrange privately with the provider. Additionally, you need to form your own private group for this trip. The itinerary and price here is just a sample. Contact the provider for detailed pricing, minimum group size, and scheduling information. For most providers, the larger the group you are traveling with, the lower the per-person cost will be.
Itinerary
Day 1 —
Alaska
After a fabulous tour of this sophisticated and cosmopolitan city and an amazing glacier tour, you will step aboard the "Safari Spirit" and be greeted by a glass of champagne and the warm and inviting smiles of your crew. You'll be escorted to your cabin, and then it's off to a secluded wilderness anchorage and your first magical evening in Alaska.
Day 2 — Lulled by the gentle waters you will wake refreshed and ready to meander along towards our first destination - Tenakee Springs on Chichagof Island. This remote and charming fishing village offers supreme solitude. There are no roads, no cars, one store and lots and lots of bicycles. All the diminutive frame houses are built willy-nilly on pilings along the shore and are home to about 104 interesting residents - mostly fishermen, but there is a sprinkling of artists and summer city folks. The woods are great for hiking and we might see a few of the resident Grizzly bears. But the real attraction is the hot springs located smack dab in the middle of the village. Back aboard the Safari Spirit, we will continue on to a remote bay, drop anchor for the evening and do a bit of kayaking.
Day 3-5 — For the next three days we'll ply the calm waters of Alaska's fascinating inside passage. We'll kayak under sea-carved arches, glide into hidden inlets and wander through misty coves were jewel-like sea creatures cling to intertidal rocks. We'll explore the temperate rainforest where bears live and cavort. Sounds carry and tell stories here. You'll hear the forlorn cry of a Pacific loon and the calls of the many beautiful seabirds that migrate through this vibrant waterway.. We'll spend our days cruising these placid waters where Humback whales, Steller's sea lions, orcas and porpoise feed and frolic. We'll visit deep, deep fjords, enjoy guided nature hikes. And we'll anchor in gorgeous, picture-perfect spots where 2,500-foot cliffs rise like skyscrapers straight out of the water. It doesn't get better than this!
Day 6-8 — We promise two more remarkable and not-to-be-forgotten days. We'll take you so close to a glacier that you can reach out and touch it. We'll step ashore on a massive glacial sandbar where birdlife abounds. We'll explore this glacial wonderland and discover plants that have emerged in this vast, newly uncovered landscape. We'll cruise in an ice-filled fjord still being formed by an active glacier. You'll be amazed at the color…a haunting, iridescent blue that seems to come from the bowls of the earth. On our last night we'll have a festive Farewell Dinner where we can celebrate our amazing Inside Passage journey and all the memories that we will take away. After breakfast on day eight we'll arrive in Petersburg…bud a fond farewell..and you'll be transferred to the airport for connections to Vancouver.
More information from Uncharted Outposts: