Uncharted Outposts - vacations and travel
Galapagos Islands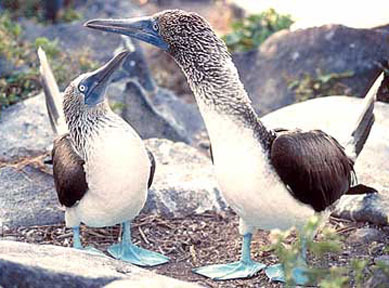 from $4,995* per person
11 Days
Year-round
Boutique accommodations

Exertion level: 3

Operator:

Uncharted Outposts

12 people max
Guayaquil international airport, guayaquil, ecuador
Boats, Barges & Small Ship Cruises trips
Come swim with playful sea lion pups, try to keep up with a penguin chasing a fishy dessert, tromp among giant tortoises in tall green grass, and quietly mosey past a motley crew of marine iguanas. Long ago, maybe upon first learning of the Galapagos Islands and their curious animals, you made a decision that someday you would visit the "Islas Encantadas." Since that time it has only been a question of when you would fulfill this contract with yourself. And of selecting the length and style of trip most suitable for you. We are here to help you make that selection.
Locations visited/nearby
Ecuador, South America
Comments from Facebook
Special information
This is a custom departure, meaning this trip is offered on dates that you arrange privately with the provider. Additionally, you need to form your own private group for this trip. The itinerary and price here is just a sample. Contact the provider for detailed pricing, minimum group size, and scheduling information. For most providers, the larger the group you are traveling with, the lower the per-person cost will be.
Itinerary
Day 1 — Quito
Alvear Palace
Welcome! You'll be met after you clear customs and will be transported to the Hilton Colón Quito Hotel, a short 20-minute drive from the airport. Quito is one of South America's most beautiful capital cities, surrounded by forested mountains and majestic volcanoes. The city offers grand Colonial architecture and shopping adventures in the famous Market of Otavalo.
Day 2 — Santa Cruz
Alvear Palace
In the morning you'll be met at the hotel, transferred to the airport and helped with luggage and check-in. Your short flight to the islands will include an intermediate stop in Guayaquil. Upon Arrival in Galapagos, you will be met and transferred to the Canal de Itabaca, a 15-minute, scenic drive from the airport. You will board a ferry and cross the exquisite blue waters passing the islands of Daphne Major and Monor, arriving on the island of Santa Cruz 20-minutes later. You'll board a private bus for your drive into the lush rainforest highlands that is home to the Royal Palm Resort Hotel. You'll check in and have a leisurely lunch – all meals and activities are inclusive.
A highlight of your stay in Santa Cruz will be the search for the elusive Giant Tortoises, recently spotted a short walk from the hotel. You will also explore two amazing lava sink holes or craters and will get to walk in underground lava tubes or channels near the village of Bella Vista where lava once flowed freely. And you will get to visit the Charles Darwin Research Station, where you will have a face-to-face photo op with several species of giant tortoises. You may even catch a glimpse of "Lonesome George," sole survivor of the Pinta tortoise subspecies.
Day 3 — Galapagos Islands
Alvear Palace
After breakfast you will be transferred to the Santa Cruz harbor and board the Integrity a new, 144 ft. yacht touting eight luxurious staterooms with beautifully-appointed bathrooms. The interior spaces are opulent with a restaurant on the upper deck and a Jacuzzi, bar, barbecue and inviting lounge area on the sundeck. The crew is well-trained and the service impeccable. Since no food is allowed on the islands, you will be delighted with the tantalizing and delicious menus served on board each day. Your first evening you will be hosted to a cocktail and dinner party where you will meet your captain and crew. During the evening, the Integrity will get underway, and you will awake in the morning to your first island adventure.
Day 4-9 — Galapagos Islands
Alvear Palace
After breakfast you'll take a panga to shore where your private guide will reveal the island's many secrets. You'll walk sandy beaches of every hue – green tinged, chocolate and white. You'll explore intimate coves, tide pools, lava flows and intriguing earthern paths. Some islands will have lavish flocks of song birds; others will offer fairy penguins, marine iguanas and the comical, blue and red-footed Boobies. Mid-morning you'll return to the yacht and suit up for snorkeling in the beautifully clear and warm waters. A dazzling Ecuadorian lunch of many courses will follow and then you're free to siesta or attend a fascinating talk on the Galapagos. There's usually a second visit to the island in the afternoon, followed by a wonderful dinner and overview of the next day's adventures. You'll fall asleep as the Integrity glides quietly towards its next island destination. For the next seven days you'll take to the waters of this astounding archipelago, traveling in style witnessing species so rare that they are found nowhere else in the world.
Each day on the Integrity will be an an adventure, choreographed to take you into the heart and soul of the Galapagos. Your guides have been hand-picked, not only for their vast scientific and historical knowledge, but over the years they have amassed wonderful anecdotes and stories that are guaranteed to make your Galapagos experience singular and memorable. On the following page we've put together a Sampler, so you can imagine how each of your days will unfold.
Day 10 — Quito
Alvear Palace
This morning the Integrity will anchor in the harbor. You will be transferred to the nearby airport and assisted with your flight to the mainland. You'll be met at the airport and transferred to the Hilton Colón Quito Hotel for dinner and an overnight.
Day 11 — Quito
Alvear Palace
This morning after your wonderful breakfast at the Quito Hotel you will be transferred to the Airport for your departure with memories to last a lifetime!
More information from Uncharted Outposts: