Dolomite Mountains s.r.l. - vacations and travel
Hike the South Tyrolean Ladin valleys of Val Gardena, Val di Fassa, and Alta Badia in the Dolomites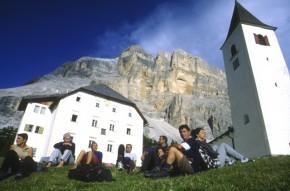 from €1,990* per person
8 Days
Year-round
Boutique accommodations

Exertion level: 5

Operator:

Dolomite Mountains s.r.l.

16 people max
Val gardena, italy
Active & Adventure trips
This itinerary lets us visit by foot three of the Dolomite Ladin valleys rich in traditions and customs that recall ancient times. Wild alpine meadows, deciduous and evergreen woods, high altitude lunar-like terrain soaring peaks, dramatic walls and towering heights alternate with the refined South Tyrolean towns of Val Gardena and Alta Badia and hidden delicious mountain inns that we encounter during our daily hikes.
Locations visited/nearby
Corvara , Selva di Val Gardena , Canazei , Dolomites, Italy
0 testimonials about this trip.
Reviewer:

Michelle Barclay

located in

USA

 Molto Bene!
Great views, great places to stay, great food/drink and even great weather.....you were able to accommodate a 15 month old as well as the over 50 crowd.  Lots of logistics for you to manage and it was well done.  We'll have great, fun memories of your beautiful country and we'll be talking about this trip for a long time. Please use me as a positive reference for your company any time.
Ciao!  Michelle Barclay, Atlanta-  August 2009

5

Reviewer:

Michael, Kate and Vicki.

located in

Australia

"Hiking in the Dolomiti is exhilirating for mind, body and soul.
Refugio life style is the perfect compliment to walking in these beautiful mountains. We are already looking forward to our 4th adventure in this area. Agustina offers a personal, flexible, and professional service ."
We hope to see you in ?? June 2011.
Best wishes,
Michael, Kate and Vicki.
September 2009

5
Comments from Facebook
Special information
This is a custom departure, meaning this trip is offered on dates that you arrange privately with the provider. Additionally, you need to form your own private group for this trip. The itinerary and price here is just a sample. Contact the provider for detailed pricing, minimum group size, and scheduling information. For most providers, the larger the group you are traveling with, the lower the per-person cost will be.
Itinerary
Day 1 ~ Arrive in Val Gardena, Dolomites
Arrive in Selva di Val Gardena on your own and check into your hotel. Meet your guide in the afternoon for a trip briefing.
D… Hotel in Val Gardena
Day 2 ~ Puez-Odle, Rasciesa, & Geological Phenomena
In the morning we'll have a short transfer to the beautiful town of Ortisei, dominated by the Rasciesa peak.?Here we'll hike on rich pastures up to its crest at 2,300m (7,545'). This superb panoramic traverse is dominated by the stunning Puez-Odle group to the east, with their pointed rock needles. This afternoon, we'll walk and discover the Tyrolean towns of Val Gardena. (5 hours hiking.)
B,D… Hotel in Val Gardena
Day 3 ~ Sassolungo – Sassopiatto Circumnavigation
Then come the gigantic masses of the Platt Kofel and Lang Kofel; the first, sliced off, as by the malice of a Titan, at a single blow; the second, an array of splintered spires, ashy-tinted or pale yellow." – Gilbert and Churchill, 1864
Morning transfer to Passo Sella, for our hike on a wide, well-marked trail under the Sassolungo and Sassopiatto massifs. This evening you will marvel at breathtaking sunsets and quietness of the mountains from the top of the Rifugio Sassopiatto, your home for the night. (5 hours hiking.)
B,D… Rifugio
Day 4 ~ Catinaccio (Rosengarten) Massif
A fantastic hike under the Catinaccio (Rosengarten) massif, one of the most recognized landmarks of the Dolomites. Indulge a peaceful evening on the terrace of your rifugio, enjoying fantastic panoramas. (4-5 hours hiking.)
B,D… Rifugio
Day 5 ~ Val di Fassa
From the rifugio, hike to Rifugio d'Antermoia and then descend to Val di Fassa where your hotel for the night is situated. (6 hours hiking.)
B,D… Hotel in Val di Fassa
Day 6 ~ Sella Massif
Within the enormous fortress-shaped Sella massif is an excellent network of paths. Today we will traverse along the south face of this incredible mountain. Arrive in Alta Badia, a sunny hollow on the south side of the Val Badia, where you will spend the next two nights. Spend a relaxing afternoon at the hotel swimming pool and spa, or explore any of the six Ladin villages that comprise this area and experience the unique culture that still thrives here. (6 hours hiking.)
B,D… Hotel in Alta Badia
Day 7 ~ Santa Croce Sanctuary
Indulge in a hearty alpine breakfast before hiking to Santa Croce Sanctuary. Walk through forest and green pasture to a typical Ladino shepherd's house for lunch. Taste local specialties such as turtres (Ladino vegetable pastries), grilled vegetables, and homemade cakes. Enjoy a wonderful relaxing massage in the afternoon. (6 hours hiking.)
B,D… Hotel in Alta Badia
Day 8 ~ Depart
Breakfast and departure.
B…
More information from Dolomite Mountains s.r.l.: