Dolomite Mountains s.r.l. - vacations and travel
Via Ferrata week in the Dolomites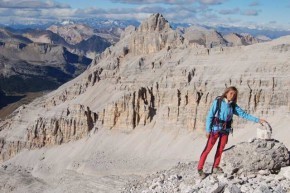 from €2,180* per person
8 Days
Year-round
Boutique accommodations

Exertion level: 5

Operator:

Dolomite Mountains s.r.l.

16 people max
Alta badia, italy
Active & Adventure trips
Climbing vie ferrate ("iron paths") is a wonderful way of experiencing the sheer magnificence of the Dolomite famous mountains. On this itinerary, you'll experience a week full of adrenaline while climbing some of the most beautiful Dolomite peaks in complete safety. ?We'll make our "base camp" in a comfortable bed and breakfast in either Cortina d'Ampezzo or Alta Badia, and ascend a different via ferrata each day.
The breathtaking pinnacles of the Dolomites are well known to climbers and non-climbers all over the world. For non-climbers, the world famous vie ferrate of the Dolomites provide access to mountains and views usually reserved for climbers and mountaineers. Wire cables are fixed to the rock walls for safety, in addition to iron rods and steps. These incredible well-protected routes allow almost anyone to can safely ascend a mountainside.
The origin of the via ferrata came during the First World War, when the Italian and Austro-Hungarian armies fought against each other on the vertical walls of these wonderful mountains. In ord er to succeed, they had to fix these iron ladders and wire cables to the rock, often under enemy fire. Today, many of these "iron paths" have been converted to recreational use and can be tackled by anyone interested in going a step beyond hiking, towards the magical world of climbing and mountaineering. This activity is suitable for all curious hikers that want to know what lies above the trails.
Locations visited/nearby
Italy
0 testimonials about this trip.
Reviewer:

Michelle Barclay

located in

USA

 Molto Bene!
Great views, great places to stay, great food/drink and even great weather.....you were able to accommodate a 15 month old as well as the over 50 crowd.  Lots of logistics for you to manage and it was well done.  We'll have great, fun memories of your beautiful country and we'll be talking about this trip for a long time. Please use me as a positive reference for your company any time.
Ciao!  Michelle Barclay, Atlanta-  August 2009

5

Reviewer:

Michael, Kate and Vicki.

located in

Australia

"Hiking in the Dolomiti is exhilirating for mind, body and soul.
Refugio life style is the perfect compliment to walking in these beautiful mountains. We are already looking forward to our 4th adventure in this area. Agustina offers a personal, flexible, and professional service ."
We hope to see you in ?? June 2011.
Best wishes,
Michael, Kate and Vicki.
September 2009

5
Comments from Facebook
Special information
This is a custom departure, meaning this trip is offered on dates that you arrange privately with the provider. Additionally, you need to form your own private group for this trip. The itinerary and price here is just a sample. Contact the provider for detailed pricing, minimum group size, and scheduling information. For most providers, the larger the group you are traveling with, the lower the per-person cost will be.
Itinerary
Day 1 ~ Arrive in the Dolomites
Arrive in Alta Badia or Cortina d'Ampezzo.?Meet your UIAGM/IFMGA mountain guide for a trip briefing and orientation, and to check-out the ferrata equipment you will use for your exciting week in the Dolomites!
B... B&B
Day 2 ~ Via Ferrata Averau or Col dei Bos
Before departing this morning, your guide will give you a lesson on technique for climbing the via ferrata, equipment use, and safety. Then we will begin with your choice of two of the easier via ferrata: Via Ferrate Averau or Col dei Bos.
Via Ferrata Averau (easy)
A good confidence builder for beginners, this via ferrata is the historic training ground of generations of rock climbers. Your guide will be with you all the way to teach you the basics of traveling over the near vertical walls. The views of the Tofane group to the north are outstanding on this route; Cinque Torri (Five Towers) is just below the imposing bulk of Averau.
or
Via Ferrata Col dei Bos (moderate)
This via ferrata is not marked on maps or guide books, as it is one of the via ferrata that the Italian alpine military units still use for training. The approach is quiet impressive, as the first stretch is quiet exposed and vertical, but well worth it: from the top of Col dei Bos the views of the surrounding mountains and the Ampezzo Valley are unforgettable.
B... B&B
Day 3-7 ~ Via Ferrata
Each day you will have the opportunity to ascend a different via ferrata! You will learn useful rope techniques, and have ongoing instruction to give you a range of skills for climbing and scrambling on different rock features along the via ferrata.
Bellow is a list of some of the vie ferrate you may ascend during your trip. The selection will depend on the ability of participants, weather conditions, and the area where you will be staying (Alta Badia or Cortina d'Ampezzo).
- Via Ferrata Tridentina (Sella Massif)
- Via Ferrata delle Mesules (Sella Massif)
- Via Ferrata Lipella (Tofana di Rozes)
- Via Ferrata delle Trincees (Padon Massif)
- Via Ferrata Marino Bianchi (Cristallo Massif)
- Via Ferrata Piz da Lec (Sella Massif)
B each day... B&B
Day 8 ~ Depart
Breakfast and departure.
B...
More information from Dolomite Mountains s.r.l.: