Dolomite Mountains s.r.l. - vacations and travel
Dolomites Backcountry Ski Tour - Natural Parks Loop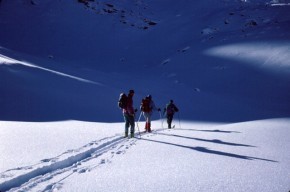 from €1,850* per person
7 Days
Year-round
Comfort accommodations

Exertion level: 6

Operator:

Dolomite Mountains s.r.l.

16 people max
Alta badia, italy
Active & Adventure trips
The Dolomites, inscribed as a UNESCO World Heritage Site in 2009, are some of the most stunningly beautiful mountains in the world, with dramatic skiing to match.?This five day back-country skiing loop around the Fannes-Sennes-Braies and Dolomiti Ampezzane Natural Parks will show you the best of this region while offering you many of the best descents in the area: long runs down remote valleys, dominated by the towering limestone cliffs. The journey covers a lot of ground and, and in order to get to some of the best off-piste downhill terrain, climbing skins (attached to the bottoms of your skis to help you ski up hill) are required – but we think you'll agree your uphill efforts were well spent as you enjoy the ski down!
And the Dolomites have much more to offer than the skiing – throughout you'll experience the rich combination of cultures, traditions, and cuisin es – Italian, German, and Ladin – found in northern Italy, that make this region and World Heritage Site so unique.
Locations visited/nearby
Italy
0 testimonials about this trip.
Reviewer:

Michelle Barclay

located in

USA

 Molto Bene!
Great views, great places to stay, great food/drink and even great weather.....you were able to accommodate a 15 month old as well as the over 50 crowd.  Lots of logistics for you to manage and it was well done.  We'll have great, fun memories of your beautiful country and we'll be talking about this trip for a long time. Please use me as a positive reference for your company any time.
Ciao!  Michelle Barclay, Atlanta-  August 2009

5

Reviewer:

Michael, Kate and Vicki.

located in

Australia

"Hiking in the Dolomiti is exhilirating for mind, body and soul.
Refugio life style is the perfect compliment to walking in these beautiful mountains. We are already looking forward to our 4th adventure in this area. Agustina offers a personal, flexible, and professional service ."
We hope to see you in ?? June 2011.
Best wishes,
Michael, Kate and Vicki.
September 2009

5
Comments from Facebook
Special information
This is a custom departure, meaning this trip is offered on dates that you arrange privately with the provider. Additionally, you need to form your own private group for this trip. The itinerary and price here is just a sample. Contact the provider for detailed pricing, minimum group size, and scheduling information. For most providers, the larger the group you are traveling with, the lower the per-person cost will be.
Itinerary
Day 1 ~ Arrive in Alta Badia, Dolomites
Arrive in Alta Badia. Meet with your UIAGM/IFMGA ski guide for an equipment check. ?Trip orientation and welcome dinner with the group at a charming local restaurant with regional cuisine, wines, and Dolomites ambiance!
D… B&B in Alta Badia
Day 2 ~ Up to Rifugio Lagazuoi
From the town of Corvara in Alta Badia we will use the ski lifts to the Rifugio La Vizza.? From here we skin up to the top Monte Sief (2,424m / 7,953'), and then enjoy a superb downhill to Passo Falzarego through Dolomiti Ampezzane Natural Park. ?Overnight in Refugio Lagazuoi with 360° views of the Dolomite peaks.
B,D… Rifugio
Day 3 ~ Tofane di Rozes & Cristallo Mountain Groups
We'll begin our day with a long ski downhill through the Val Travenanzes under the Cime di Fanis and Tofane mountain ranges. ?Skin up to the Refugio Som Forca, traversing the old railway of Cortina Dobbiaco on the way.? Enjoy the spectacular setting under the Cristallo Massif where the movie Cliff Hanger was filmed.
B,D… Rifugio Som Forca
Day 4 ~ Fanes-Sennes-Braies Natural Park
Ski down one of the best descents in the Dolomites: "Pra del Vecio Valley" to the Cimabanche Pass.? Skin up through the Fanes-Sennes-Braies Natural Park to the Rifugio Fanes or Lavarella where you will spend the next two nights.
B,D… Rifugio
Day 5 ~ Ski Around Val di Fanes
From our rifugio we will ski of the most spectacular day tours in the region, up to Castelletto. ?We return via a similar route to the rifugio for a second night.
B,D… Rifugio
Day 6 ~ Return to Alta Badia
Today begins with a long skin up to the Forcella Lavarella between two impressive massifs, where we'll have spectacular views of the Alta Badia region as we enjoy Puez-Odle Dolomitic Natural Park. Ski down the Medesc Valley to the village of La Villa in Alta Badia and transfer to your hotel. ?Farewell dinner at local restaurant.
B… B&B in Alta Badia
Day 7 ~ Depart
Breakfast and departure.
B…
More information from Dolomite Mountains s.r.l.: