Dolomite Mountains s.r.l. - vacations and travel
Off-Piste Adventure in the Dolomites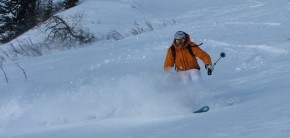 from $890* per person
7 Days
Year-round
Boutique accommodations

Exertion level: 6

Operator:

Dolomite Mountains s.r.l.

16 people max
Alta badia, italy
Active & Adventure trips
This trip is true backcountry skiing at its best!? Each day you'll set out with your guide to ski the best snow and off-piste terrain. While the emphasis is on where, rather than how, you ski, you'll also have general coaching, tips and hints on how to ski specific terrain and snow conditions, and sessions on mountain awareness and avalanche safety. Powder, spring snow, breakable crust and crud... we ski them all and love it!
Locations visited/nearby
Italy
0 testimonials about this trip.
Reviewer:

Michelle Barclay

located in

USA

 Molto Bene!
Great views, great places to stay, great food/drink and even great weather.....you were able to accommodate a 15 month old as well as the over 50 crowd.  Lots of logistics for you to manage and it was well done.  We'll have great, fun memories of your beautiful country and we'll be talking about this trip for a long time. Please use me as a positive reference for your company any time.
Ciao!  Michelle Barclay, Atlanta-  August 2009

5

Reviewer:

Michael, Kate and Vicki.

located in

Australia

"Hiking in the Dolomiti is exhilirating for mind, body and soul.
Refugio life style is the perfect compliment to walking in these beautiful mountains. We are already looking forward to our 4th adventure in this area. Agustina offers a personal, flexible, and professional service ."
We hope to see you in ?? June 2011.
Best wishes,
Michael, Kate and Vicki.
September 2009

5
Comments from Facebook
Special information
This is a custom departure, meaning this trip is offered on dates that you arrange privately with the provider. Additionally, you need to form your own private group for this trip. The itinerary and price here is just a sample. Contact the provider for detailed pricing, minimum group size, and scheduling information. For most providers, the larger the group you are traveling with, the lower the per-person cost will be.
Itinerary
This ski adventure is an opportunity for expert level skiers to spend a week skiing off-piste in the Dolomites with one of our team of international mountain guides.? Your trip can last from 4 to 7 days; there is no set itinerary.
The trip will begin on the evening of the first day with a welcome meeting and briefing.? This is an opportunity to meet your guide and to discuss the plans for the week.
The itinerary for the remainder of the week will be set by your guide based on the snow and weather conditions, fitness levels and skiing abilities of participants, your interests, and his or her recommendations. Skiing days are intended to be fun with lots of thrilling skiing, but always directed with maximum attention to your safety and the safety of others.
More information from Dolomite Mountains s.r.l.: