Dolomite Mountains s.r.l. - vacations and travel
Dolomites Hut-to-Hut Ski Safari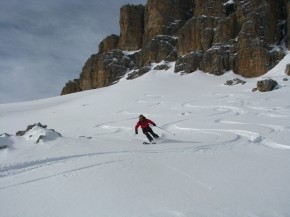 from $2,450* per person
7 Days
Year-round
Comfort accommodations

Exertion level: 6

Operator:

Dolomite Mountains s.r.l.

16 people max
Alta badia, italy
Active & Adventure trips
On our Dolomites Hut-to-Hut Ski Safari you'll enjoy 12 ski areas featuring 1,200 kilometers (746 miles) of prepared pistes and over 5,000 vertical feet of skiable terrain that will lead you to discover the breathtaking beauty of the Dolomites. We'll ski from valley to valley each day, traveling both on- and off-piste throughout, and enjoy the welcoming atmosphere of a different rifugio or B&B each night.
This ski tour offers you the opportunity to get a taste of backcountry skiing without the hard work of skinning uphill! You'll enjoy the advantage of lift-service pistes to help you move from hut to hut, so you can focus on your downhill turns! (Cheating? We call it plain old good sense!)
This tour also provides you with the opportunity to explore the Ladin valleys of the Dolomites and their people, as well as discover the traditions and history of these places, and explore the excellent culture and cuisine. With such incredible ;food and drink, and expansive skiable terrain, this is truly a vacation in paradise!
Locations visited/nearby
Italy
0 testimonials about this trip.
Reviewer:

Michelle Barclay

located in

USA

 Molto Bene!
Great views, great places to stay, great food/drink and even great weather.....you were able to accommodate a 15 month old as well as the over 50 crowd.  Lots of logistics for you to manage and it was well done.  We'll have great, fun memories of your beautiful country and we'll be talking about this trip for a long time. Please use me as a positive reference for your company any time.
Ciao!  Michelle Barclay, Atlanta-  August 2009

5

Reviewer:

Michael, Kate and Vicki.

located in

Australia

"Hiking in the Dolomiti is exhilirating for mind, body and soul.
Refugio life style is the perfect compliment to walking in these beautiful mountains. We are already looking forward to our 4th adventure in this area. Agustina offers a personal, flexible, and professional service ."
We hope to see you in ?? June 2011.
Best wishes,
Michael, Kate and Vicki.
September 2009

5
Comments from Facebook
Special information
This is a custom departure, meaning this trip is offered on dates that you arrange privately with the provider. Additionally, you need to form your own private group for this trip. The itinerary and price here is just a sample. Contact the provider for detailed pricing, minimum group size, and scheduling information. For most providers, the larger the group you are traveling with, the lower the per-person cost will be.
Itinerary
Day 1 ~ Arrive in Alta Badia, Dolomites
Arrive in Alta Badia. Meet your UIAGM/IFMGA ski guide for a trip briefing and equipment check (and rent gear if needed), and pick up your week long Dolomiti Superskipass.?If time permits, ski in the Alta Badia ski resort.? Evening trip orientation and welcome dinner with the group at a charming local restaurant, with your first taste of the incredible regional cuisine and wine!
D… B&B in Alta Badia
Day 2 ~ Alta Badia, Val Gardena, & Sella Ski Resorts
Ski in the Alta Badia and Val Gardena resorts, at the base of the imposing Sassolungo Group of mountains and the walls of the Sella Massif. ?Stay overnight in a rifugio where you'll have the opportunity to admire the beautiful sunset and sunrise (weather permitting).
B,D… Rifugio
Day 3 ~ Cortina d'Ampezzo
Ski down to the Cinque Torri (Five Towers) area and arrive in Cortina d'Ampezzo, the hub of the Italian Dolomites. ?Ski the slopes of the Cortina d'Ampezzo ski resort, host to the 1956 Winter Olympics.? Overnight at a rifugio on the top of the Cristallo massif, with great views of the Ampezzo valley.
B,D… Rifugio
Day 4 ~ Cortina d'Ampezzo & Civetta Ski Resorts
Ski in the Cortina d'Ampezzo ski resort and enjoy a gourmet lunch at the Rifugio Averau (2,416m / 7,926') between the Nuvolau and the Averau peaks. Ski to the Civetta ski resort in the heart of the Veneto Dolomites, passing by little romantic towns en route, set between impressive mountains, magnificent valleys, and silent forests.
Overnight and dine in the village of Alleghe at a charming hotel and restaurant owned by two brothers: one chef and one sommelier. Enjoy local specialties of the region combined with excellent wines.
B,D… Hotel in Alleghe
Day 5 ~ Fassa Valley, San Pellegrino Pass, & Marmolada Glacier
Ski in the Trentino region over the San Pellegrino Pass, Val di Fassa (Fassa Valley), and the Marlmolada Glacier. Known as the "Queen of the Dolomites", Marmolada (3,350m / 10,990') is the highest peak and the only glacier in the Dolomites. ?Overnight in a warm and welcoming rifugio and taste dishes typical of the delicious Trentino cuisine with a rich choice of fine wines.
B,D… Rifugio
Day 6 ~ Val di Fassa
Enjoy the sunny pistes and panoramas of the Val di Fassa. We will get our full share of stunning views all around us, including the Catinaccio, Sassolungo, Sella, Marmolada, and Gran Vernel. ?Ski on the Sella Massif and back to Alta Badia, your starting point. Farewell dinner at a local restaurant.
B,D… B&B in Alta Badia
Day 7 ~ Depart
Breakfast and departure.
B…
More information from Dolomite Mountains s.r.l.: