Aegean Adventures - vacations and travel
Wonders of Greece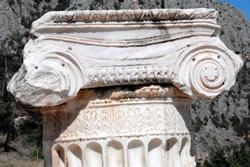 from €1,190* per person
8 Days
April-October
Comfort accommodations

Exertion level: 3

Operator:

Aegean Adventures

24 people max
Athens airport, greece, europe
Culture & Nature trips
Relaxation. Greece has the cleanest waters in
the Mediterranean where you can relax on a
beach chair under an umbrella with the sea
breeze keeping you fresh and cool. Or hang out
with the old men at a local kafeneion sipping
Greek coffee from doll-sized cups.
Antiquities. Nothing short of legendary from
the perfect geometry of the elegant Acropolis to
the astounding acoustics of the 3rd century BC
Epidaurus Theatre where up in its last tier you
can hear a whisper from the stage far below.
Culture. Loads of it. An ancient monastery
built into the side of a cliff. A museum that
reenacts the making of gunpowder which fueled
the Greek Revolution. Artisan shops
specializing in worry beads or goat bells or
handmade canes.
Culinary. The variety of Greek cuisine will
startle you. Hearty and healthy appetizers at
each meal. Fresh fish. Local meats. Regional
sweets like baklava. Wine tastings at
Peloponnese wineries. Unique spirits like rose
petal liqueur.
Locations visited/nearby
Greece, Europe
0 testimonials about this trip.
3 testimonials about the provider, Aegean Adventures:
Reviewer:

Francie Johnston

located in

San Francisco

,

California

USA

Our tour [on the Cyclades islands] was

meticulously planned

and executed -- the islands, towns where we stayed, cycling routes, sag support, etc. were terrific. It was logistically very complicated because we always had to be back at a port at the correct time to catch the ferry to the next island, but we never seemed rushed or anything cut short.


5

Reviewer:

Louise Taylor

located in

Olympia

,

Washington

USA

Thank you for another wonderful trip [hiking in Crete], I think

the very best

. I will miss the whole group, and of course Greece.
[her third trip with us]

5

Reviewer:

Marcia Migay

located in

Thunder Bay

,

Ontario

Canada

What a

fabulous trip!

3 of the women I train with are excited about the possibility of travelling to cycle Greece together next year with your company. I'll let you know as we discuss plans more! Thank-you once again for a fantastic trip. Your attention to detail was so appreciated. You just spoiled everyone. And I appreciated the opportunity to see a side of Greece most people will never experience.

5
Comments from Facebook
Special information
This is a custom departure, meaning this trip is offered on dates that you arrange privately with the provider. Additionally, you need to form your own private group for this trip. The itinerary and price here is just a sample. Contact the provider for detailed pricing, minimum group size, and scheduling information. For most providers, the larger the group you are traveling with, the lower the per-person cost will be.
Itinerary
Day 1: Corinth — Loutraki
En route, you may decide to stop at Eleusis famed for its ancient
mysteries. You'll cross the Corinth Canal, and marvel at its
steep depths, especially if a boat happens to be passing. Visit
Ancient Corinth and the towering Akrokorinthos with 360
degree panoramic views.
Day 2: Nafplio
Nafplio was modern Greece's first capital and remains the
prettiest city in the Peloponnese. Tour Mycenae where King
Agamemnon is buried in an unusual beehive tomb. You can
hear the sea waves lapping dining seaside.
Day 3: Nafplio
Tour the ancient Epidavros Theatre amidst shady pine trees.
Take an afternoon dip in the little bay lying beneath the towering
Palamidi fortress. Nafplio is memorable for its neoclassical
architecture with hints of a bygone Ottoman presence.
Day 4: Monemvasia
Step back in time to another era to car free Monemvasia, a rock
980 feet high, 1 mile high first settled in 500 AD and colonized
by Crusaders, Venetians and Turks. The town's medieval
character is enhanced by Agia Sophia, its towering Byzantine
church. You'll want to linger here indefinitely.
Day 5: Stemnitsa
You'll cherish your stay in this charming mountain village
selling traditional products such as rose petal liqueur. Visit the
Prodomos Monastery built on the side of a cliff and the live
action water power museum telling the story of the local
people's contribution to the Greek Revolution.
Day 6: Olympia
Home of the original Olympic Games, ancient Olympia is a
World Heritage Site and deservedly so. Just walking through
the portal to the stadium gives one goose bumps.
Day 7: Delphi
The ancient Greeks regarded Delphi as the center of the world for
here at the foot of Mt. Parnassos in the serenity of the mountains
the oracles prophesized for rulers and commoners alike. Nearby
Arahova offers traditional crafts and foods.
Day 8: Departure
Athens and Athens Airport are roughly two and
one half hours drive from Delphi.
More information from Aegean Adventures: