Aegean Adventures - vacations and travel
Minoan Palaces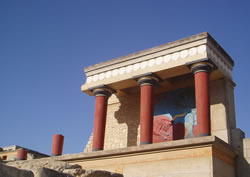 from €1,190* per person
8 Days
April-October
Comfort accommodations

Exertion level: 3

Operator:

Aegean Adventures

24 people max
Herakleion airport, greece near archanes, greece
Culture & Nature trips
The first civilization to thrive on European soil
arose in Crete. The ancient Minoans initially
worshipped fertility goddesses in caves, but
eventually with wealth acquired through
maritime prowess the earliest Cretan peoples
flourished. Artistic frescos, work in gold and
semi-precious stones, plumbing and Europe's
first writing system characterize the refined
Minoan culture.
Minoans concentrated their power around
palaces located in four areas of Crete:
Knossos, Malia, Zakros and Phaestos. In order
to see all of these sites we make a grand loop
around eastern Crete. We travel to each palace
and via private guided tours we descend into
the essence of Minoan life. Apart from walking
the length and breadth of these archaeological
sites, we also take walking excursions in Crete's
countryside.

Locations visited/nearby
Greece, Europe
0 testimonials about this trip.
3 testimonials about the provider, Aegean Adventures:
Reviewer:

Francie Johnston

located in

San Francisco

,

California

USA

Our tour [on the Cyclades islands] was

meticulously planned

and executed -- the islands, towns where we stayed, cycling routes, sag support, etc. were terrific. It was logistically very complicated because we always had to be back at a port at the correct time to catch the ferry to the next island, but we never seemed rushed or anything cut short.


5

Reviewer:

Louise Taylor

located in

Olympia

,

Washington

USA

Thank you for another wonderful trip [hiking in Crete], I think

the very best

. I will miss the whole group, and of course Greece.
[her third trip with us]

5

Reviewer:

Marcia Migay

located in

Thunder Bay

,

Ontario

Canada

What a

fabulous trip!

3 of the women I train with are excited about the possibility of travelling to cycle Greece together next year with your company. I'll let you know as we discuss plans more! Thank-you once again for a fantastic trip. Your attention to detail was so appreciated. You just spoiled everyone. And I appreciated the opportunity to see a side of Greece most people will never experience.

5
Comments from Facebook
Special information
This is a custom departure, meaning this trip is offered on dates that you arrange privately with the provider. Additionally, you need to form your own private group for this trip. The itinerary and price here is just a sample. Contact the provider for detailed pricing, minimum group size, and scheduling information. For most providers, the larger the group you are traveling with, the lower the per-person cost will be.
Itinerary
Day 1: Arhanes
From Herakleion you head south about 15 miles to Arhanes, a
quaint mountain village. On a short walk you'll visit the nearby
Minoan cemetery Fourni and then a short drive to the Minoan
winery Vathypetro. Dinner in a converted olive oil factory with
traditional Cretan music.
Day 2: Tzermiado
The grandest Minoan palace at Knossos is a mere 15 minutes
from Arhanes. Tour it early so that you'll have time to enjoy a
visit to the Herakleion Archaeology Museum which holds the
famous Phaestos disc, the oldest printed document in the world.
Afternoon take the Lassithi Plateau loop, stopping at the eco-park
with traditional weaving and other locals at work on handicrafts
Day 3: Tzermiado
Malia down on the seacoast is the second Minoan palace city on
your trip. This site was excavated by the French and digging is
ongoing.
If you're hungry for a hike you might want to walk the loop of
eighteen villages in the Lassithi Plateau. Stop at the mammoth
Dikteon Cave where Zeus was born. The Lassithi Plateau once
had 10,000 windmills.
Day 4: Sitia
En route to Sitia take a small boat to Spinalonga. Outside of Agio
Nikolao, this island was a Venetian stronghold and later housed
a leper colony until the 1950s. It is now abandoned and makes a
fantasy-like site for strolling amidst ruins.
Day 5: Aspro Potamo
Your third great Minoan palace city is Zakros on the far eastern
coast of Crete. It has a villa rich with wall paintings, wine
presses, cellars and tombs cut into the side of cliffs.
Overnight in a small stone cottage settlement originally built
more than a century ago by olive harvesters from the nearby
village of Pefki. The cottages have been lovingly restored offering
a peaceful simplicity. All electricity is solar-generated.
Day 6: Rethymno
Phaestos, your last Minoan palace, is where the still
undeciphered Phaestos disc was found, said by scholars
to be the earliest printed document in the world.
Visit Spili, a very traditional mountain town with a picturesque
fountain of lions heads. Shops sell a potpourri
of handmade and organic local products.
Day 7: Rethymno
Visit Armeni, the fascinating Minoan cemetery just
north of Rethymno.
Rethymno will delight you with its Fortezza — the
Venetian fortress that dominates the old city. Walk the
old alleyways and you'll marvel at the architecture of a
bygone era.
Day 8: departure
Rethymno has a port but no airport. Herakleion
is roughly 2 hours drive from Rethymno while
to the west Hania is a one hour drive. Both
Herakleion and Hania have ports with nightly
boats to Piraeus and airports with several flights
a day to Athens.
More information from Aegean Adventures: