Aegean Adventures - vacations and travel
Ambrosia & Nectar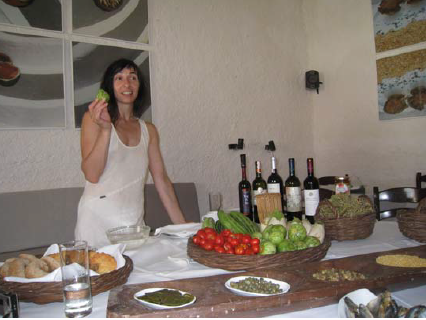 from €2,020* per person
9 Days
Year-round
Comfort accommodations

Exertion level: 3

Operator:

Aegean Adventures

24 people max
Athens airport , athens, greece
Culinary & Wine Travel trips
Ambrosia & Nectar is a food and wine
extravaganza. Cooking classes, wine
tasting, vineyard visits and gastronomic
activities conducted by local
gastronomical experts.

Santorini lies in the midst of the alluring
Cyclades islands. Everything in its
vicinity seems to be bluer and whiter
than Greece's national flag. Owing to a
perfect dry climate, the volcanic island
has been a wine making center since
the Bronze Age, and its food
epitomizes healthy Mediterranean
cuisine.

Crete is so huge, it is practically its own country with its own
culinary and wine traditions specific to the island and to each
locale. Your immersion into Crete foods and spirits will include
visits to famous and fascinating antiquities, including the Minoan
palace of Knossos and Venetian fortresses in Rethymno.
By the way, the accommodations in each overnight destination
are of honeymoon caliber!
Locations visited/nearby
Greece, Europe
0 testimonials about this trip.
3 testimonials about the provider, Aegean Adventures:
Reviewer:

Francie Johnston

located in

San Francisco

,

California

USA

Our tour [on the Cyclades islands] was

meticulously planned

and executed -- the islands, towns where we stayed, cycling routes, sag support, etc. were terrific. It was logistically very complicated because we always had to be back at a port at the correct time to catch the ferry to the next island, but we never seemed rushed or anything cut short.


5

Reviewer:

Louise Taylor

located in

Olympia

,

Washington

USA

Thank you for another wonderful trip [hiking in Crete], I think

the very best

. I will miss the whole group, and of course Greece.
[her third trip with us]

5

Reviewer:

Marcia Migay

located in

Thunder Bay

,

Ontario

Canada

What a

fabulous trip!

3 of the women I train with are excited about the possibility of travelling to cycle Greece together next year with your company. I'll let you know as we discuss plans more! Thank-you once again for a fantastic trip. Your attention to detail was so appreciated. You just spoiled everyone. And I appreciated the opportunity to see a side of Greece most people will never experience.

5
Comments from Facebook
Special information
This is a custom departure, meaning this trip is offered on dates that you arrange privately with the provider. Additionally, you need to form your own private group for this trip. The itinerary and price here is just a sample. Contact the provider for detailed pricing, minimum group size, and scheduling information. For most providers, the larger the group you are traveling with, the lower the per-person cost will be.
Itinerary
Day 1: Santorini
Welcome to the Cyclades region and its star island, Santorini.
Actually Santorini is four volcanic islands. On your first day
you have a land excursion visiting Ancient Thira, an underground
wine museum, a contemporary art gallery located in a
renovated winery and a peak inside a traditional Santorini cave
house from generations past.
Day 2: Santorini
Put on your apron. Today you learn all about traditional
Santorini cooking. You will make several dishes including local
specialties, fava Santorini-style with onions, stewed capers, and
tomato keftedes. You will sample five varieties of local wine
and learn the foods available each season. Eventually you
will sit down and consume the fruits of your labor.
Day 3: Santorini
Today's main event is a visit to a local winery in Oia. You will
see how the vine grows in a circle on the ground, like a wreath,
to better capture the night fog moisture in a land where water is
scarce. You will sample six wines accompanied by local foods
prepared on site. And then enjoy Oia's famous sunsets.
Day 4: Arhanes (Crete)
Arhanes is a beautiful village in the mountains about 1000 feet
high where eating and drinking are given full attention. Visit a
refurbished olive oil factory that is now a lively scene for
mezedes (small plates of food), wine and raki and traditional
Cretan music.
Day 5: Axos
Morning tour of Knossos, the celebrated Minoan palace and
then the Archaeology Museum in Herakleion with its lovely
Minoan frescos. Continue on to tiny Axos village in the Psiloritis
Mountains, home to a thriving eco-lodge emphasizing Crete's
homespun traditions. Engage in a cooking class learning to
make cheese and jams.
Day 6: Rethymno
A morning botonic walk will acquaint you with roughly forty
herbs that grow in the Axos region. By afternoon you leave the
mountains to descend to the sea to the harbor city of Rethymno,
Crete's best kept secret. Not many foreigners or even Greeks
visit Rethymno, yet, with its Venetian and Ottoman profile, it is
one of Greece's most captivating cities.
Day 7: Rethymno
Cretan specialties are the focus of today's cooking class, including
the foods of Sfakia the region of southern Crete where the
people are most traditional and most rebellious. The Turks
never did conquer Sfakia. If the bakery is open, you will get to
see how baklava is produced in large quantities, with the dough
rolled out on a round table bigger than a merry-go-round.
Day 8: Hania
Visit a family run winery whose owners enlighten you on the
varieties and richness of Cretan wine. Stroll Hania's harbor
with its Venetian architecture and tiny boutique shops.
Day 9: departure
More information from Aegean Adventures: