Aegean Adventures - vacations and travel
Sacred Sites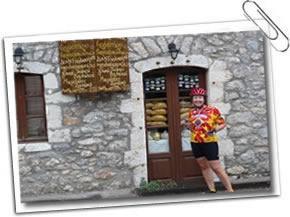 from €2,090* per person
7 Days
Year-round
Comfort accommodations

Exertion level: 3

Operator:

Aegean Adventures

24 people max
Athens airport , athens, greece
Culture & Nature trips
Plunge into the Peloponneses! No one comes to Greece without paying homage to at least one ancient ruin, and some of Greece's most legendary ruins lie here in the Peloponnese. Extensive biking enables you to visit a series of sacred sites, including Epidavros Theatre which once was the largest healing center in the ancient world. You also visit the home of the Olympics, a site that will unleash your inner athlete. Nature abounds on this tour that cuts through the Aracadian Mountains where traditional villages steeped in local culture abound. Many say the Peloponnese is the true Greece. Come judge for yourself!
Locations visited/nearby
Greece, Europe
0 testimonials about this trip.
3 testimonials about the provider, Aegean Adventures:
Reviewer:

Francie Johnston

located in

San Francisco

,

California

USA

Our tour [on the Cyclades islands] was

meticulously planned

and executed -- the islands, towns where we stayed, cycling routes, sag support, etc. were terrific. It was logistically very complicated because we always had to be back at a port at the correct time to catch the ferry to the next island, but we never seemed rushed or anything cut short.


5

Reviewer:

Louise Taylor

located in

Olympia

,

Washington

USA

Thank you for another wonderful trip [hiking in Crete], I think

the very best

. I will miss the whole group, and of course Greece.
[her third trip with us]

5

Reviewer:

Marcia Migay

located in

Thunder Bay

,

Ontario

Canada

What a

fabulous trip!

3 of the women I train with are excited about the possibility of travelling to cycle Greece together next year with your company. I'll let you know as we discuss plans more! Thank-you once again for a fantastic trip. Your attention to detail was so appreciated. You just spoiled everyone. And I appreciated the opportunity to see a side of Greece most people will never experience.

5
Comments from Facebook
Special information
This is a custom departure, meaning this trip is offered on dates that you arrange privately with the provider. Additionally, you need to form your own private group for this trip. The itinerary and price here is just a sample. Contact the provider for detailed pricing, minimum group size, and scheduling information. For most providers, the larger the group you are traveling with, the lower the per-person cost will be.
Self-guided (includes hotels, maps, luggage transfer, etc but no guide).
Itinerary
Day 1: Nafplio
Today's highlight is biking to Ancient Epidavros, Greece largest ancient theatre. This 3rd century BC outdoor wonder seats 15,000 and its acoustics are still so impeccable spectators atop the last tier can hear whisperings from the stage. From here we coast down to elegant Nafplio, modern Greece's first capital. You've probably never heard of it, but Nafplio will most likely rate as your favorite Greek town.
Day 2: Nafplio
An easy one hour ride through orange grove to Mycenae (a/k/a Mykines), a World Heritage Site. You will marvel at the unusual beehive tomb built for the mighty King Agamemnon who launched the Trojan War. Evening boat ride to Bourtzi island for a panoramic view of Nafplio, the Palamidi fortress and the expansive bay.
Day 3: Stemnitsa
The highest and most ascents of the tour. A "bald" tree-less mountain allowing panoramic views of distant mountains misleadingly resembling sea waves (2297 ft). After lunch the terrain turns forest-y, a bit steeper, climbing 4265 ft in the heart of Arcadia to Stemnitsa, a precious mountain village with stone houses and red tiled roofs overlooking the splendiferous Lousios Gorge.
Day 4: Olympia
Most of today's route is downhill with detours en route, including to a monastery built into a cliff from where you can see the "secret school" from the days of the Greek Revolution. A pit stop in Langada to buy homemade "sun liqueurs" or hand carved canes with goat antlers. The ride cycles past the Olympia stadium, the ruins lying within a discus throw of our bike route.
Day 5: Lampei
In the morning tour Ancient Olympia, the actual grounds where the world's original athletes competed as early as 796 B.C. The modern Olympics were resurrected in 1896. After lunch, it takes roughly three hours to reach a traditional mountain village called Lampei where the loudest noise is simply the clang-y orchestra of goat and sheep bells.
Day 6: Kalavrita
We are cycling deep in mountain territory, mostly following a ridge, but a fair amount of rolling ascents and descents make the ride entertaining. The day's highlight is Cave of the Lakes, a series of subterranean lakes inside a huge cave. Thereafter an hour's climbing until reaching Kalavrita, a charming mountain village popular for skiing, paragliding and homemade products.
Day 7: Athens Airport Sofitel or central Athens
The last cycling day has lots of mileage but it is most is down hill and flat hugging the Corinth Gulf coast. Lunch in Xylokastro where the pine trees border the beach. Ambitious cyclists can rendezvous with the vehicle at Ancient Corinth and Akrokorinthos Fortress whose strategic height offers panoramic views of surrounding seas. Dinner at a sea side taverna before transfers to Athens Airport Sofitel Hotel or central Athens.
Day 8: Departures
More information from Aegean Adventures: