Abercrombie & Kent - vacations and travel
Costa Rica: Rainforests & Volcanoes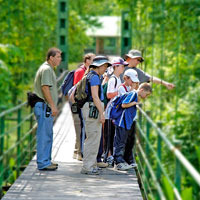 from $2,990* per person
7 Days
March, July, December
Luxury accommodations

Exertion level: 3

Operator:

Abercrombie & Kent

22 people max
San jose airport, san jose, costa rica
Active & Adventure trips
This program is part of A&K's Family Holidays. Costa Rica - a land of wildlife-rich parks and rain forests - is a dream destination for active families. Speed between lush trees by zipline, float down the rivers of Tortuguero National Park in search of hidden fauna and spend two nights at a hotel in the shadow of the booming Arenal Volcano, where you head off the beaten path to family owned hot springs and tour Don Juan's plantation.
Locations visited/nearby
Costa Rica, Central America
Comments from Facebook
Itinerary
Day 1: USA or Canada/San José, Costa Rica
Arrive in San José, and settle in to your colonial hacienda-style hotel, located on a flourishing, 30-acre coffee plantation.
Marriott Hotel
Day 2: San José/Tortuguero
Embark on a heart-thumping zipline adventure between six panoramic platforms. Watch for local wildlife as you zoom through tree canopies and across the magnificent Molinete River within the verdant natural surroundings of the 1,200-acre Rain Forest Aerial Tram Park. Board a private boat from the Caño Blanco dock, continuing to Tortuguero and your lodge, nestled amid a tangle of tropical foliage.
Tortuga Lodge B L D
Day 3: Tortuguero
You may take a guided bird walk before voyaging down the slow-moving tropical rivers that define Tortuguero National Park, one of the last large, intact tropical rainforests in Central America. Search for hidden wildlife hidden within the thick flora, perhaps spider; howler and white-faced monkey; three-toed sloth; river otter; caiman; iguana; river turtle; basilisk lizard; and poison dart frog — along with a multitude of bird species. Later, explore the village of San Francisco. You may also visit to neighborhood school (when in session), or join local children in a game of soccer.
Tortuga Lodge B L D
Day 4: Tortuguero
Head north by boat to Caño Palma (Palm Canal) for an exciting kayak adventure, travelling to places motorized boats cannot reach. Row through the wildliferich canal, visiting one of the most magical places in the flooded forest. The Tortuguero area is situated on an ancient flood plain and consists of lowland tropical wet forest; it is the richest biological ecosystem in Costa Rica. Later, take some time to unwind, gathering the children for a garden walk. Those who prefer may also have fun in the sun at the pool.
Tortuga Lodge B L D
Day 5: Tortuguero/Fortuna (Arenal)
Depart on a short, private charter flight to Arenal. Upon arrival, a private van and driver transfers you to your hotel at the base of the Arenal Volcano. Marvel at its near-perfect cone, which soars 5,357 feet above sea level and has a crater over 450 feet deep. From time to time, a mushroom cloud of gray, brown, orange or blue smoke billows out of the top. Arenal is most impressive at night: in the dark, you may see bursts of fire and red-hot rocks shoot hundreds of feet into the sky, while incandescent material cascades down the sides. Explosions usually happen every few hours — day and night. Next, visit Finca Burio (Burio Farm), which is owned by Don Juan. Take a comprehensive tour through the plantations with the farmer himself, while learning about the benefits and uses of fruit you may never have seen. Watch for many resident bird, and learn to process sugar cane at a trapiche (sugar mill). Sit down for an organic lunch — prepared by Don Juan's wife, Dona Yamileth.
Arenal Nayara Hotel or Springs Resort and Spa B L
Day 6: Fortuna
This morning, set out for the picturesque Arenal hanging bridges — an eco-project set in the majestic rainforest — with your private guide. The site was designed to blend with the natural environment, while leaving the forest habitat virtually intact. The trails, covering a distance of about two miles, are situated within the forest. As you walk, absorb the diversity of flora and wildlife that call rainforest home; meanwhile, see imposing views of the volcano (weather permitting). Later, visit the Hidalgo family's hot springs, a less-populated alternative to the overcrowded hot springs found elsewhere in the Arenal area. Tucked nearly a mile off of the main road connecting Lake Arenal Dam and La Fortuna, the springs consist of five free-flowing pools situated amid a natural river gorge. Water temperature in the pools is as high as 109 degrees Fahrenheit. Cool off with blended smoothies and cocktails at the pool-area bar (additional cost). Afterward, enjoy an authentic, home-style meal during your farewell dinner at the on-site restaurant, which is modeled after the first house that Don Manuel and Dona Hortemida Hidalgo built when they settled on the Farm in 1940.
Arenal Nayara Hotel or Springs Resort and Spa B D
Day 7: Fortuna/San José/USA or Canada
This morning, return to San José. Board your homebound flight in the afternoon, or continue to your next Latin American destination.
B
More information from Abercrombie & Kent: