Adventure Canada - vacations and travel
Ecuador and the Galapagos Islands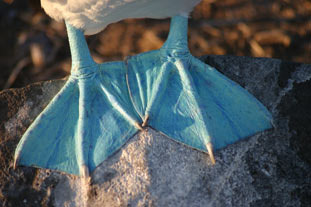 from $5,895* per person
12 Days
April
Luxury accommodations

Exertion level: 3

Operator:

Adventure Canada

12 people max
Airport, ecuador near quito, ecuador
Active & Adventure trips
Join us once again for our voyage to the real Middle Earth as we experience Ecuador and the Galápagos Islands. We'll have a chance to explore the UNESCO world heritage site of colonial Quito, shop in the shadow of a volcano at the Otavalo Market, and stand on the equator before heading to the Galápagos Islands. Aboard the luxurious M/S Islander, we explore the islands synonymous with Charles Darwin and the theory of evolution while sea kayaking, Zodiac cruising, hiking and snorkelling. The islands promise an unforgettable experience where the water, land and air are alive with birds, plants and animals, many of which are found no place else on Earth.

Snorkel with sea lion pups, marine iguanas, penguins and sea turtles. Explore the volcanic islands alongside giant tortoise and the Flightless Cormorant. Our resource staff is second to none and will be veritable fountains of knowledge as they introduce us to the history, flora and fauna of these unique islands through guided walking tours, Zodiac tours and onboard lectures. Interacting with the Galápagos wildlife is a surreal experience. Whether it's watching the mating dance of the Blue-footed Boobies from only steps away, feeling a seal pup brush by you in the water, or carefully winding your way through hundreds of sunning iguanas; the Galápagos Islands invite you to connect intimately with its ecosystem.

Aboard the Islander, we've also got a 'splash cam' to record the underwater action, state-of-the-art presentation facilities, and computers for e-mail and downloading your digital pictures. Just because we're on an adventure doesn't mean we'll be 'roughing it'. First-class, Ecuadorian-inspired international fare is served with an ocean view and daily wine selections, your cabins are inviting and luxurious, and there are even spa services available onboard for added decadence.

We hope you'll join us on what promises to be an unforgettable voyage, as Adventure Canada reveals the magic of the Galapagos Islands.

This voyage is presented in with our friends from the Royal Canadian Geographical Society and the Canadian Geographic Photo Club.
Locations visited/nearby
Ecuador, South America, Galapagos
Comments from Facebook
Itinerary
Day 1: Arrival in Quito
Arriving this evening we check into our elegant hotel and meet for snacks and cocktails at our welcome reception.

Day 2: Old Town Quito and the Middle of the Earth
After breakfast, our local guides take us on a walking tour of the UNESCO World Heritage site of Old Town Quito. We visit spectacular plazas, centuries-old churches and El Panecillo, which overlooks all of Quito. After lunch, we head north of the city to the Mitad del Mundo (Middle of the Earth) where we see equator coriolis-effect experiments, shrunken heads and blowguns.

Day 3: The Otavalo Market
Rising bright and early, we venture to one of the most famous markets in South America: the Otavalo Market. We wind up through the countryside, punctuated by volcanoes, mountain vistas and idyllic lakes. We're greeted in Otavalo by a riot of brightly coloured handicrafts bursting from the stalls, jewellery sparkling in the sun, everywhere deals are being made. This is the place in South America to find handmade weavings, garments, carvings and leather goods.

Day 4: Quito to the Galápagos
We rise early and head to the airport for our flight to Baltra Island, Galápagos, where the M/S Islander awaits. In the afternoon, we visit North Seymour Island as we walk over volcanic soil in search of Swallow-tailed Gulls, Blue-footed Boobies and Magnificent Frigatebirds.

Day 5: Bartolomé and Santiago Islands
This island is one of the most picturesque and geologically interesting in the archipelago, renowned for its stark volcanic landscape and the famous Tuff Cone formation known as Pinnacle Rock. A double-sided, white sand beach becomes the perfect base to snorkel with the Galápagos Penguins who make the rocky shores of Bartolomé their home. An optional half-hour walk up the moon-like landscape of an extinct volcano, past spatter cones and lava tubes, rewards visitors with spectacular panoramic views. In the afternoon, we head to Puerto Egas on the Island of Santiago with the opportunity to enjoy the best tide pooling in the archipelago.

Day 6: Puerto Ayora, Santa Cruz
This morning we ascend into the highlands in search of giant tortoise in the wild. Darwin's ground finches will also be found here. We have a chance to visit Puerto Ayora, the largest community in the Galápagos Islands, with almost 12,000 inhabitants and home to the Charles Darwin Foundation.

Day 7: Puerto Villamil, Isla Isabela and Isla Fernandina
Villamil is often considered the most beautiful site in the Galápagos with its palm-lined, white sand beaches. Behind Villamil are several brackish water lagoons where Pink Flamingoes, Common Stilts, Whimbrels, White-cheeked Pintails and Gallinules are usually seen. The beaches and lagoons near Villamil provide the best migratory bird viewing in the Galápagos. Villamil is home to the Darwin Station's tortoise breeding centre on Isabela. We?ll also explore Isabela's caves and shoreline and search the waters for dolphins, whales, sea turtles and the elusive ocean sunfish - the mola-mola. In the afternoon we make our way to Fernandina, the youngest island in the Galápagos, a youthful 700,000 years old. Here, at Punta Espinoza we?ll walk past the mangroves and marine iguanas, over the "pahoehoe" and "aa" lava, and around the marine iguanas. We watch as male Flightless Cormorants bring nesting material to their mates.

Day 8: Southern Isabela
This morning we will visit an area on the western coast of Isabela that is of great geological and historical interest. In 1954, 1.5 km2 of the marine reef off the coast of Urbina was uplifted almost instantaneously, by as much as 4 metres! The marine creatures were left high and dry and some evidence of this occurrence can still be found. We will offer a hike here and a chance to swim from the beach. We?ll also have a chance to explore the brackish water lagoon where we will find shorebirds and sometimes even ducks. A Zodiac cruise will also be available to visit this dramatic volcanic coastline.

Day 9: Champion and Punta Cormorant, Isla Floreana
On our visit to Floreana we learn it is best known for its colourful history of buccaneers, whalers, convicts, and colonists. We have a chance here to send some mail back home from famous Post Office Bay. We make our landing on a unique green sand beach and follow a trail with good viewing opportunities for Large Billed Flycatchers, Small and Medium Ground Finches and Cactus Finches. Flamingos sometimes feed in the island?s large lagoon. We end at a beautiful white sand beach that's as fine as flour. At Champion Islet, we get into the water at one of the best snorkelling sites in the islands, with its playful colony of sea lions.

Day 10: Gardner Bay and Punta Suarez, Isla Española
Española Island is the oldest and most southerly island in the chain. Its remote location makes for some unique endemic inhabitants, including the only marine iguana to change colour during the mating season. We may also find some Waved Albatross here, as Española is their only nesting place in the Galápagos, attracting 12,000 pairs each year. Mating for life, the males reacquaint with their mates by a ritual dance, taking up to five days, which includes strutting, honking, and beak fencing. Sea kayaking, snorkelling and hiking are all offered here today.

Day 11: Baltra to Quito
On Sunday we arrive back at Baltra Island, where we say goodbye to the M/S Islander and crew. Our flight will arrive back in Quito in the afternoon. You have the rest of the day to explore Quito's 'new' town and perhaps finish shopping at your leisure. In the evening join your new friends for a goodbye dinner.

Day 12: Depart Quito
This morning we bid farewell and make our ways home.
More information from Adventure Canada: