African Portfolio - vacations and travel
Gorillas In The Mist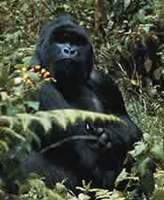 from $4,210* per person
4 Days
Year-round
Comfort accommodations

Exertion level: 3

Operator:

African Portfolio

12 people max
Entebbe airport, uganda
Active & Adventure trips
This tour is the ideal itinerary for the gorilla lover -- This trek is designed as a fly in safari to offer the optimal gorilla trekking experience with a short amount of time. This safari offers two full days of gorilla trekking thus making this tour the perfect add on to a safari in Kenya or Tanzania. Your three night safari concentrates time at the spectacular Impenetrable Forest of Bwindi - a World Heritage Site. Its beautiful montane forest and rain forest is the ideal setting for bird species from East and West Africa. However, Bwindi is of course best known for its primates – gorillas and chimpanzees, which live in this forest region. You'll find the country's stunning natural beauty breathtaking and its warm, friendly people quite welcoming. If you have more time, we recommend a visit to the Source of the mighty River Nile at Jinja, with the option of a half-day whitewater rafting adventure, at either the beginning or end of this safari
Locations visited/nearby
Uganda, Africa
Comments from Facebook
Special information
This is a custom departure, meaning this trip is offered on dates that you arrange privately with the provider. Additionally, you need to form your own private group for this trip. The itinerary and price here is just a sample. Contact the provider for detailed pricing, minimum group size, and scheduling information. For most providers, the larger the group you are traveling with, the lower the per-person cost will be.
Itinerary
Day 1 - Day 2
Meet our local representative on arrival at Entebbe International Airport
Transfer to Serena Lake Victoria Hotel
Serena Lake Victoria Hotel Resort is a 5 star resort hotel operated by the Serena Hotels Group. The hotel has 124 rooms, 114 Standard Rooms, 8 Executive Suites and 2 Presidential Suites. Housed in typically Tuscan villas, which are widely spaced around the terraced rose gardens, each Standard Room is elegantly presented in shades of terracotta and cream and features either a queen-sized or two twin beds, a dressing table, work station, seating area, balcony and lavish marble bathroom with walk-in shower. The Executive Suites also feature a spacious living area with flat-screen TV, office space and second balcony. The two Presidential Suites are located on the penthouse level of the main citadel and feature: a luxury ensuite bedroom with king-sized bed, an elegant reception room, dining room (with private kitchen), furnished terrace and staff accommodation. The Presidential floor also features its own private event or conference space. The hotel offers a wide range of dining choices; The Citadel all-day brasserie offers extensive buffet breakfast and lunch choices while the a la carte evening menu features both an international selection and the Chef's own array of typically Mediterranean cuisine. A wide selection of snacks can be enjoyed, either on the extensive Lake View Pool Terrace, in the Courtyard Lounge or on the Piano Bar Terrace. Breakfast and lunch are presented in buffet-style and feature a wide range of international choices. The table d'hôte dinner menus feature a salad buffet, soup, entrée, pudding, cheese and biscuits and tea or coffee. Vegetarian options are always available. The majority of the meat and dairy products, as well as our fruits and vegetables are sourced from the communities that surround the resort. The wine list offers a broad selection of old- and new-world wines, and local and imported beers and spirits. Also on offer is a 24-hour room service, which features an extensive menu offering everything from the classic club sandwich to a delicately-spiced curry.
You stay at Emin Pasha Dinner
Day 2 - Day 5
Pick up from Serena Lake Victoria Hotel and transfer to Kajjisi Airstrip
Private charter flight Kajjisi – Kayonza
Transfer from Kayonza Airstrip to Gorilla Forest Camp
Day 3 – Gorilla Trekking
Bwindi Impenetrable National Park is an enduring pocket of a huge primeval forest that once stretched from the Virunga Volcanoes in the South to the Rwenzori Mountains in the North. The fertile 331 square kilometers of the park contain 113 species of mammals (including a herd of the rare forest elephant), 200 species of butterfly, over 360 species of birds and a prodigious 324 tree varieties (10 of which are endemic to the park). In addition to this incredible diversity, Bwindi is home to seven species of primates, attracting the attention of international conservation efforts, of which the most endangered is the Mountain Gorilla. Only 600 of these magnificent animals remain worldwide, and Bwindi is home to just over half of them. Fittingly, Bwindi is one of the most biologically diverse areas on Earth, recognized by UNESCO as a World Heritage Site. Gorilla Forest Camp is a permanent luxury tented camp nestled in the mist-swathed rainforests of a mountainside in the heart of Bwindi Impenetrable National Park. It has been designed to blend seamlessly into this most atmospheric of environments, carefully-appointed towards the misty valleys and looming, forest-clad mountains that protect this fragile eco-system. Accommodation is in 8 double tents, raised on wooden platforms, each with en-suite facilities and hot and cold running water, WC, basin and unusually – a bathtub looking out onto the forest. Each tent has a spacious wooden verandah where guests can relax, enjoy a private meal and absorb the exotic mystery of the surrounding rainforest that provided the inspiration for the animation of Disney's The Jungle Book. Electricity is provided for lighting and recharging of video camera batteries. This small oasis of luxury provides complete comfort - duvets and hot water bottles at night. The camp is an eco-sensitive camp, constructed to have as little impact as possible on the surrounding forest and its diverse ecosystem. The camp offers a bar and dining cottage overlooking the rain forest, as well as a raised natural platform for open air dining. At night, a traditional African campfire is lit from where a lecture might be given by a visiting primatologist, the gorilla briefings are undertaken or guests simply admire the myriad brilliance of Bwindi's crystal clear mountain sky. Note: Children of all ages are welcome at The Gorilla Forest Camp, but only children aged 15 or above can track the gorillas.The next day's activities may be amongst the most exciting and challenging of your trip. The Mountain Gorillas in Bwindi are part of a worldwide population of just 600 individuals. The gorillas you are allowed to track belong to either one of two habituated family groups. For up to five years each, these groups have undergone an extremely delicate process that has gradually brought them to tolerate the presence of humans for a brief period every day and allowed a few privileged visitors to interact with them in the wild. The gorillas are by no means tame, and are completely wild animals. However, experienced guides will accompany you on our tracking, many of who have been involved in the habituation process themselves. The guides will use their knowledge of the gorillas' habits and information from the previous day to locate the group's whereabouts. Because of this, the time taken to track the gorillas varies enormously, from as little as half an hour to as much as 9 hours before one returns to camp. Once the gorillas are located, our group will be allowed a maximum of one hour with them. This is one of the world's truly memorable experiences – a look into the eyes of one of these magnificent creatures brings home the bond that exists between them and us. It also brings home the poignant fact that they are on the edge of extinction, and that your presence here contributes to ensuring their continued survival. The hour is often over all too quickly, and you slowly make your way back to camp to recount the day's adventures.
You stay at Gorilla Forest Camp Breakfast, Lunch, Dinner
Day 5
Transfer from Gorilla Forest Camp to Kayonza Airstrip
Private charter flight from Kayonza – Kajjisi
Transfer from Kajjisi Airstrip to Enetebbe International Airport
The huge vistas that open up on your one-and-a-half-hour flight belie Uganda's small size. You see in the distance the hills and plains of Rwanda and Tanzania and the Rift Valley dropping away from you towards Lake Edward and the Congo. Below you rolling ranchland soon gives way to dry scrub and gigantic wetlands just before your final approach over Lake Victoria.
Breakfast
More information from African Portfolio: