African Portfolio - vacations and travel
Rafiki Safari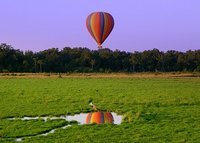 from $5,580* per person
10 Days
Year-round
Comfort accommodations

Exertion level: 3

Operator:

African Portfolio

12 people max
Jomo kenyatta international airport, nairobi, kenya
Active & Adventure trips
A diverse country, Kenya offers many rewards for the first-time, as well as the seasoned, safari traveler. Magnificent wildlife, excellent accommodations, and a warm and friendly population await you. It is on this Rafiki safari that you will encounter the greatest concentration of free-ranging wildlife on earth, explore the customs of the proud Masai and marvel at the magnificent vistas, including that of the great snow-capped Mount Kilimanjaro, from your first safari stop at Amboseli National Park. Traveling by light aircraft affords the maximum time possible on safari enjoying what you came to this fascinating continent to experience. Setting out from Nairobi you fly over the highlands of Kenya's northern frontier and onto the bush country of the Lewa Conservancy. Situated against the dramatic backdrop of the snow-covered massif of Mount Kenya and with the magnificent Northern Frontier District stretching out to the North, Lewa is an outstanding tourist destination, offering spectacular scenery, superb game viewing and exciting activities for the discerning traveller. The conservancy, formerly a working cattle ranch and otherwise known as Lewa Downs, has been in the Craig family since 1924. Three generations of the family continue to be involved in daily operations on Lewa. Then fly over the Rift Valley to Kenya's most favored game reserve, the Masai Mara. Rich in game and birds, the Masai Mara is the scene of the spectacular annual migration of wildebeest and zebra, when millions of animals follow the unbroken cycle of survival as they move between Tanzania and Kenya in search of fresh grasses. The Mara River bisects this great reserve and provides a rich habitat along its banks. And everywhere, the seemingly endless herds of animals live out their daily lives to the rhythm of nature. Your specially equipped Land Cruiser allows you to drive off the road in search of the wildlife, enhancing your safari experience.
Locations visited/nearby
Kenya, Africa
Comments from Facebook
Special information
This is a custom departure, meaning this trip is offered on dates that you arrange privately with the provider. Additionally, you need to form your own private group for this trip. The itinerary and price here is just a sample. Contact the provider for detailed pricing, minimum group size, and scheduling information. For most providers, the larger the group you are traveling with, the lower the per-person cost will be.
Itinerary
Day 1 - Day 2
Meet our local representative on arrival at Jomo Kenyatta International Airport
Transfer from Jomo Kenyatta International Airport to House of Waine
Nairobi's leading boutique hotel, The House of Waine lies in Nairobi's prestigious forested suburb of Karen. It is situated on 2.5 acres that blends the elegance of gracious living with the spirit of modern Africa in an exclusive and serene setting. There are 11 bedrooms that are all individually styled as well as conference facilities and a swimming pool. There is good access to the city, Jomo Kenyatta International Airport and Wilson Airport. The aim is to provide guests with an experience that exceeds all their expectations of city hotels and is punctuated by personalized, friendly and excellent service and cuisine in beautiful surroundings. As a recently renovated and converted house on the outskirts of Nairobi, House of Waine still retains much of the charm of a family home. Little has been done to change the structure of the house and so guests are assured of a relaxed and informal atmosphere where they can be free to do as much or as little as they like. That is not to say though that the House is lacking in the amenities present in any city hotel. They can still find a mini bar in each room as well as direct dial telephones, TVs with satellite and local channels as well as tea and coffee-making facilities with fresh flowers and pastries delivered daily to the room.
You stay at House of Waine
Day 2 - Day 4
Transfer from House of Waine to Nairobi Wilson Airport
Safarilink flight Nairobi Wilson – Amboseli
Transfer from Amboseli Airstrip to Tortilis Camp
Tortilis Camp is named after the local Acacia Tortilis, set in Amboseli's few remaining areas of unspoiled woodland. The camp is managed as a conservation project, the goal being to take a sensitive approach to tourism. Your first two nights in the African bush will be spent "Hemingway style" in a luxury, tented camp with spectacular views of the snows of Kilimanjaro. Tortilis Camp is a welcoming blend of rustic style and modern comfort designed to make the traveler feel comfortable in Africa. The camp offers luxurious spacious tents with wooden floors, traditional thatched roofs and modern en-suite bathrooms, combined with elegant African décor and furnishings made of locally available materials. One of the distinctive features of Tortilis is the unsurpassed view over the Amboseli plains to Mount Kilimanjaro from each tent's semi-circular verandah. Your days are spent on both morning and afternoon game drives accompanied by your safari guide. Tortilis offers nature walks guided by the local Masai, which are absolutely fascinating. The guides are happy to pass on their traditions and medicinal lore and to point out which plants they use and which they avoid. Your safari at Tortilis promises to be a high quality, customized adventure for visitors seeking a personal view of Kenya.
You stay at Tortilis Camp Breakfast, Lunch, Dinner
Day 4 - Day 7
Transfer from Tortilis to Amboseli Airstrip
Safarilink flight Amboseli – Nairobi Wilson
Safarilink flight Nairobi Wilson – Lewa Airstrip
Transfer from Lewa Airstrip to Lewa Safari Camp
Lewa Safari Camp is located inside the Lewa Wildlife Conservancy, made famous by conservationist and author Anna Mertz. Anna Merz ranks as one of the world's foremost champions of the black rhino. This is not only in her public profile but also in her hands-on approach which has contributed enormously to the survival of Kenya's black rhino. Lewa Wildlife Conservancy is a wilderness area of pristine beauty and remoteness far away from the madding crowds. Lewa Safari Camp's permanent tented accommodation is discrete and comfortable with twin beds and en suite bathroom, placed on raised platforms and stonewalls of local lava rock. There are two specially enlarged family and honeymoon suite tents. These, along with the main buildings, are thatched with a beautiful woven papyrus that was introduced to the area from Scotland in the 1920's. There is a saltwater swimming overlooking the rolling hills and plains. The camp's excellent chefs produce delicious, freshly cooked home meals, with emphasis on locally available ingredients. Adjoining the dining area is a warm and cozy lounge, and in the evening guests sit around a campfire under the stars. Activities at Lewa Safari Camp include day and night game drives in search of rhino and other wildlife, horseback riding, camel riding, walks, hikes, and cultural interaction with the II'Nguesi, Ndorobo and Samburu peoples. A few days at Lewa Downs offers a unique combination of hospitality, spectacular scenery and abundant wildlife.
You stay at Lewa Safari Camp Breakfast, Lunch, Dinner
Day 7 - Day 10
Transfer from Lewa Safari Camp to Lewa Airstrip
Safarilink flight Lewa Airstrip – Mara Airstrip
Transfer from Mara Airstrip to Elephant Pepper Camp
Elephant Pepper Camp is situated on the Northern Edge of the Masai Mara reserve on the Koiyaki Community Ranch, within the protected Koiyaki wilderness area, away from other lodges. In order to preserve this special area, the camp is seasonal and is completely dismantled for three months of the year. Looking from the camp across the plains one can see the 'greatest game show on earth' when the annual wildebeest migration thunders past to seek new grazing in the lush savannahs of the Masai Mara. Elephant Pepper Camp has been recently refurbished and the 8 spacious canvas tents, with an en suite dressing room, flush loos and safari showers are comfortably furnished. The appetizing food is prepared by chefs trained by the owners' family using traditional North Italian recipes mixed with international and local favorites. A barbecue by the campfire, dinner in the mess tent, or a bush breakfast on the open plains are some of the lasting memories to take home. Extended game drives each day and some night game drives make game viewing a complete experience. Leave the modern world behind, return to the traditional bush safari camp: starlit nights, campfire tales and hurricane lamps. Elephant Pepper Camp is a step back in time but with modern comforts: evenings by the campfire and dinner under the stars are a special feature of this tented camp.
You stay at Elephant Pepper Camp Breakfast, Lunch, Dinner
Day 10
Transfer to from Elephant Pepper Camp to Mara Airstrip
Safarilink flight Mara Airstrip – Nairobi Wilson Transfer from Nairobi Wilson to Jomo Kenyatta International Airport
The afternoon is free to spend at your leisure on returning to Nairobi before you are transferred to Jomo Kenyatta International Airport to continue with your onward travel arrangements.
Breakfast
More information from African Portfolio: