Journeys of the Spirit - vacations and travel
Kenya, Africa: A Woman's Safari for the Mind, Body & Spirit!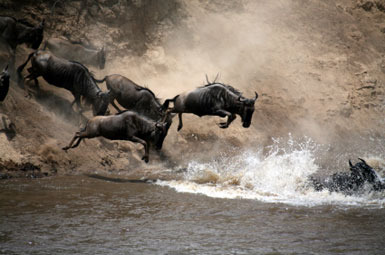 from $5,995* per person
13 Days
October
Boutique accommodations

Exertion level: 4

Operator:

Journeys of the Spirit

20 people max
Nairobi airport, nairobi, kenya
Culture & Nature trips
Highlights Of Your Adventure:

Deeply connect with the Motherland of all humanity
Be in the presence of some of the most graceful and powerful animals on our earth
Experience the culture & spiritual philosophy of the Masai people
Visit, give and be in service to the children at the Kid's Alive Home
Meditate under the huge skies of Africa
Share a loving and non-judgmental womens circle of wisdom
Participate in group ceremonies under the stars
Enjoy our fabulous Safari Camps for an authentic African connection
Delicious food, fun, laughter and relaxation!
Explore Sangare, a 6500 acre private wildlife conservancy
Visit the Kamatongu Primary School, an in need publicly funded school
Marvel at the Nakuru National Park, a protected sanctuary for endangered species
Take a boat ride to explore the beautiful & private Crescent Island
Connect with the jade-green Crater Lake & it's vast wildlife in the Game Sanctuary


Locations visited/nearby
Kenya, Africa
Comments from Facebook
Special information
This is a custom departure, meaning this trip is offered on dates that you arrange privately with the provider. Additionally, you need to form your own private group for this trip. The itinerary and price here is just a sample. Contact the provider for detailed pricing, minimum group size, and scheduling information. For most providers, the larger the group you are traveling with, the lower the per-person cost will be.
Offers some women-only departures.
Itinerary
Day 0 Oct 1-2nd (-/-/-) Leaving for Africa
Depending on where you are flying from you will either depart your home on Oct 2nd or 3rd to meet us on the 4th in Nairobi, Kenya at the Jomo Kenyatta International Airport!
Day 1 Oct 3rd (-/-/-) Nairobi
You will be met by our representative at the airport and taken to our hotel for a meet and great session with our hosts.
Transfer from the airport to the Nairobi Safari Club B&B in Nairobi.
Day 2-3 Oct 4-5th (b/l/d) Sangare Conservancy
After breakfast and check-out, we'll be driving to the lush hill country of the Kikuyu people. This area is known for its growing of it's famous Kenyan Arabica coffee beans. The horizons are filled with coffee and pineapple plantations, which are beautiful to see. Stopping for a brief tour of the Karatina open-air market – it's famous for its fresh fruit and vegetables – yum! Then we're off to the Sangare Camp arriving in time for lunch after check-in. The ranch is located in the northern foothills of the Aberdare mountain. It's rich in buffaloes, zebras, giraffes, antelopes, leopards, warthogs amongst many others. This evening we'll enjoy a welcome dinner, and relax in a ceremonial gathering with fire to bless our journey and ground ourselves in the sacred land of Kenya, Africa. **Overnight at Sangare Tented Camp.
Sangare Ranch:
Sangare is a 6500 acres private wildlife conservancy sandwiched between the Aberdares and Mt. Kenya. The 12-tent camp overlooks a fresh water lake where magnificent bird life and game come to drink. The Sangare Hill forms a breath-taking backdrop for the camp. The ranch's habitat is savannah land with scattered bushes and is home to zebras, giraffes, antelopes, warthogs, leopards, hyenas, elephants and buffaloes. Bird life in Sangare is rich with +300 bird species reordered. Binoculars and cameras are highly recommended!
The tents are spacious and luxurious with four poster beds, unique African furnishings, private verandas and en suite facilities with flush toilets and shower. Your stay here will be for guided game viewing walks in the open plains where you will have sights of giraffes, zebras, gazelles, elands, bush bucks and of course the numerous birds. Meals can be enjoyed in the main dinning room by the fireplace or at the terrace overlooking the beautiful lake. All meals are made from pure organic vegetables and fruits grown in the ranch's gardens.
On day 3 – Breakfast at the camp followed by a visit to the Kids Alive Children's home, a faith-based charitable organization which rescues orphans and vulnerable children, restores their dignity and gives them hope for the future. This is done by creating safe family-based homes, schools and community programs – truly amazing! Return for lunch at the camp followed by an afternoon game drive until sunset. We recommend you take a few minutes to go to their website and learn more about the beautiful things they do for the community: Kids Alive.
Day 4 Oct 6th (b/-/d) Solio Ranch & School visit
After breakfast we check-out from the lodge and drive to Solio Ranch for a game drive. The Ranch is a privately owned protected area for Rhino Conservation – which is wonderful since most tourists won't come here. It's also home to zebra, giraffe, buffalo, eland, oryx, impala, reticulated giraffe, white rhino, waterbuck, birds and warthogs – wow! Our experience here will be a true journey of distinction. Return for lunch at Green Hills Hotel, the base hotel for Sangare Camp. After lunch we'll drive to Kamatongu Primary School for a tour and make some donations to the school.
The Kamatongu Primary School is a public funded school just outside the Sangare Ranch. It has a population of around 450 children ages 4 – 14 years. In theory it is supported by government but only on minimal running costs and provision of teachers. The school is in dire need of a permanent source of drinking water (they have a tank but no water supply), they also need pit latrines for their pre-school class. We are going to donate funds for their most dire needs during our visit (your donation is not-included in the trip cost, but personal to you ?).
This evening's reflection will guide us and open us to the joys of giving and receiving. By creating balance in ourselves through efforts of compassion and generosity, doors open for profound receiving. Meditation ceremony and blessing will open our energy for fully connecting to this powerful gift inside each of us. **Overnight at the Naro Moru River Lodge.
Day 5 Oct 7th (b/l/d) Lake Elementaita
A three hour bus transfer takes us to the Rift Valley, where we will stay for 2 nights at the newly built Sunbird Lodge. Located in the Great Rift Valley, one of the wonders of the world, on the shore of the "pink" Lake Elementaita, overlooking the vast plains of Soysambu Conservancy. We will interrupt the transfer at the Equator for a water demonstration and proceed to Thompson's Falls – one of Africa's loveliest natural sites. Thomson's Falls is located next to one of Kenya's highest towns, Nyahururu. Free afternoon for leisure or visit to the Kariandusi prehistoric site, a place where early man made his tools. Discovered by Dr. L. Leakey in 1928 and excavated in 1929 to 1947, it is an interesting place to visit. (The site is in the vicinity of our lodge.)
Evening reflection as directed by the Spirit among us. By this day we should be well acclimated into the heartbeat of Africa. Tonight's meditation will take us deeper within to align with our own personal rhythm. **Overnight at Sunbird Lodge.
Day 6 Oct 8th (b/-/d) Lake Nakuru National Park
After breakfast we are off to the Nakuru National Park, a protected game sanctuary for endangered species such as the Black & white Rhino, Rothschild Giraffe and other game such as leopard and lions. It's not only known for its thousands of flamingos but also for the vast herds of buffaloes. Of the big five only the elephant is missing. We'll enjoy the nature here and and later go back to the hotel for lunch and a drink at the Lake Nakuru Lodge. Afternoon game drive until sunset before returning to the Sunbird Lodge. In tonight's meditation circle we'll offer the spirit of peace and gratitude to ourselves and others. And in our blessings of universal peace, prosperity, and wellness – we will honor all the joy life has to offer. **Overnight Sunbird Lodge.
Day 7 Oct 9th (b/l/d) Crescent Island
After our morning check-out we drive to Naivasha town – less than an hour's drive away from Elementaita. Here we visit the colorful market (if we have time). You'll find everything ranging from knic-knacs, veggies, clothes, tools, kitchen supplies and souvenirs. We reach the Lake Naivasha Country Club, our base for the next 2 nights, before lunch. In the afternoon we take a boat ride to explore private Crescent Island, which is formed from the protruding rim of a collapsed volcanic crater on the eastern side of Lake Naivasha. We'll walk amongst the yellow barked acacias in search of giraffes, waterbucks, elands, zebras, impalas and an occasional gigantic python! It is also a retreat for birds with +200 species recorded. The walk restful and it's beautiful to see such an abundance of wildlife. We return to the lodge in time for afternoon tea. Evening of leisure. Restorative group mediation ends our day together. **Overnight Naivasha Simba Lodge.
Day 8 Oct 10th (b/l/d) Crater Lake
If you get up early – you'll have the change to get a magical display of the various birds. After breakfast we'll go to the Crater Lake Game Sanctuary on the west side of Lake Naivasha. It is a lesser lake in the Rift Valley but the display of nature is exquisite. There are lots of trails and we'll be able to be in the middle of giraffes, black and white colobus monkeys, elands, hartebeests and a range of gazelles, all which are easily found in the sanctuary. FYI: The tiny jade-green crater lake is held in high regard by the local Maasai, who even believe its water helps soothe ailing cattle. Tonight in sacred ceremony we honor Mother Earth. Through a combination of meditation, trance, and Toltec prayer rhythms to enable us to find the source of our own personal power. Expect a profound awakening within. **Overnight Naivasha Simba Lodge.
Day 9 Oct 11th (b/l/d) To the Masai Mara
This morning, we travel to Maasai Mara Game Reserve, so named to mean the "spotted plains" in Maa language. This is home to the greatest concentration of large mammals and is widely recognized as Africa's ultimate wildlife reserve. The park is the northern extension to the vast Serengeti-Mara ecosystem, famous for its annual migration of wildebeest. This is a spectacular place of breathtaking sceneries, never-ending plains and the most abundant variety of wildlife remaining anywhere in the world.
The landscape is made up of rolling savannahs dotted with patchy shrubs and bush thickets. Here you will view Thomson and Grant Gazelles, Topi, Eland, Zebra, Waterbuck, Giraffe, Hippo, Wildebeest, Warthog, Crocodile, Ostrich, Vultures among others, and over 450 bird species, with over 50 birds of prey. Elephants, rhinos, giraffes, buffaloes, gazelles and all the big cats are found here.
Evening of leisure. A good night for star-gazing, sharing and campfire tales. **Overnight at the Sekenani Tented Camp.
Day 10-11 Oct 12-13th (b/l/d) Masai Mara
These are our cultural and activity days in Masai Mara. During your stay, you have the opportunity to explore this great reserve in depth. You will have the chance to see elephant, giraffe, prides of lion, and thousands of impala, topi, grants and Thomson's gazelle. Birds are prolific including immigrants, 450 bird species have been recorded among them 57 birds of prey. The Mara is the scene of annual migration of millions of wildebeest up from the Serengeti plains in search of water and grasses. While in Mara, you will have a chance to visit a Maasai tribal village to learn the way of life of the Maasai community which still maintains its culture. These are a beautiful warrior culture and we will be blessed to learn from them.
The Masai are a strongly independent people who still value tradition and ritual as an integral part of their everyday lives. They regard themselves not just as residents of this area but that they are as much a part of the life of the land as the land is part of their lives. Traditionally, the Masai rarely hunt believing that living alongside wildlife in harmony is sacred. Lions and Wildebeest play as important a role in their cultural beliefs as their own herds of cattle. This unique co-existence of man and wildlife makes this Masai land one of the world's most unique wilderness regions.
Closing dinner gathering and evening ceremony of ritual to again bless all we have encountered and discovered with in on this journey. We are grateful for all we have gained on this journey, and are departing more deeply connected to our inner wisdom of knowing. By honoring ourselves, we know we will honor all those we come into contact with in lives. **Overnight at the Sekenani Tented Camp.
Day 12 Oct 14th (b/l/-)
Kiambethu Tea Farm / Nairobi Airport
After breakfast drive back to Nairobi but first stopping at Kiambethu Tea Farm. This is an old colonial home established by the early settlers and the pioneers of tea growing in Kenya. There will be a talk on tea: its arrival in Kenya, the growing, processing and tasting for those interested.
A short walk in the tea plantation and into a small remaining part of indigenous forest completes your travel in Kenya. Enjoy a healthy farm lunch and thereafter transfer to Nairobi for your onward flight home.
Day 13 Oct 15th Arrival Home
We'll be on our way home after many hugs and tears, feeling enriched, centered, and awakened by this by this powerful and beautiful land!
More information from Journeys of the Spirit: