AdventureSmith Explorations - vacations and travel
Rivers Of The West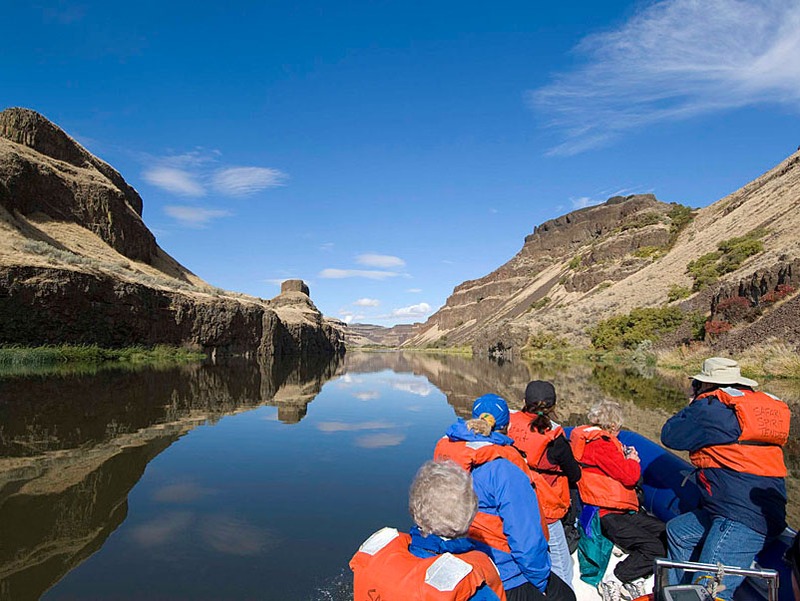 from $5,995* per person
8 Days
March, April, October, November
Boutique accommodations

Exertion level: 2

Operator:

AdventureSmith Explorations

16 people max
Lewiston airport, id, united states
Culinary & Wine Travel trips
Step into the American west on a Columbia River yacht cruise that encompasses human history, natural history and even time itself. Experience the Columbia and Snake Rivers completely by jet boat, kayak, inflatable skiff and by transiting through eight mammoth dams. Taste wine from the barrel in Washington's wine country and converse with local specialists as they relate tales of the epic Lewis and Clark Expedition. No other Columbia River small ship or yacht cruise will take you this far into the breadth and depth of the wilderness, history and culture of the American West.
Locations visited/nearby
Wilderness exploration , Private Wine tours and tastings , Kayaking on the Columbia river , History and Culture , Jet boat excursions , Snake Rivers , Columbia River , Small ship Cruises, Oregon, United States, North America
0 testimonials about this trip.
Reviewer:

R. and D. Ivanova

Galapagos Motor Yacht Eric/Letty/Flamingo Cruise

Thank you for the most incredible experience! We just came back from our trip to the Galapagos. We were on the Eric - a terrific yacht and an even greater team. The islands are beyond belief, but I wanted to tell you how perfect the entire trip was. Everything went incredibly smoothly from our arrival (late) in Quito where our guide was waiting for us despite the late hour, to all transfers, luggage and ticket arrangements - everything. Our guides were fabulous, as was the entire crew, including the Captain. AdventureSmith Explorations did a terrific job!

5
Comments from Facebook
Itinerary
Day 1 - Lewiston, Idaho - Embark
Welcome to the headwaters of the Columbia River! You will be met at the airport this afternoon, and transferred to the Safari Spirit. The crew aboard the Safari Spirit greets you with champagne and smiles; enjoy a short dinner cruise along the canyons of the Snake River and Clearwater River. This evening a local historian joins us in the salon for an informative presentation on the area.

Accommodations: Safari Spirit
Included Meals: dinner

Day 2 - Hells Canyon by Jet Boat
After breakfast this morning, transfer to a jet boat for an invigorating ride into Hells Canyon. Vertical cliffs carved by the river now hem in the rushing waters that we travel upon, and watch some of the most dramatic scenery unfold as we jet upriver. Watch for big horn sheep and hawks throughout the day. After our excursion, cruise the Snake River, passing through our first lock and dam called Lower Granite. After dinner our Expedition Leader will provide a brief orientation to the journey.

Accommodations: Safari Spirit
Included Meals: breakfast, lunch and dinner

Day 3 - The Palouse Canyon
Pass through the Little Goose lock and dam first thing this morning then anchor at the mouth of the Palouse River. The kayaks and skiff will be lowered for an up-close exploration of the pristine and lovely Palouse canyon. Watch for hundreds of cliff swallows that nest on the canyon walls, and for Northern harriers and osprey hovering above the still waters as they hunt.

Accommodations: Safari Spirit
Included Meals: breakfast, lunch and dinner

Day 4 - Birding, Rivers and Historical Confluence
Today transit through the McNary Dam locks. The McNary Dam encompasses an impressive wildlife region. Keep your eyes peeled and binoculars in hand to see some of the 212 species of migratory birds that rest here en route through the Pacidic fly-way: snow geese, tundra swans, canvasbacks, ring-nexked ducks, redheads and many others. Later we pass by Sacajawea State Park and learn about the Lewis and Clark Expedition's travails and triumphs through this river confluence area.

Accommodations: Safari Spirit
Included Meals: breakfast, lunch and dinner

Day 5 - The Washington Wine Country
The fastest wine-growing region in the U.S. is in eastern Washington, and today you will see why. With Pepper Bridge Winery and Basel Cellars on our itinerary, our "taste of Washington" will be most enjoyable. Return to the yacht after our tours and tastings, and have time to relax on board before dinner.

Accommodations: Safari Spirit
Included Meals: breakfast, lunch and dinner

Day 6 - Cruising the Columbia River
The vast eastern plains give way to the flanks of the Cascade Mountain Range as we cruise west today. Watch as the banks of the river go from gentle and low-lying to cliffs rising hundreds of feet high beside us. The wind and weather shifts from arid to temperate as we come closer to the Pacific Ocean. Stop in Hood River (the windsurfing capital of the world) this afternoon for some time to browse the boutique shops or tour the local brew pub. We'll stay dockside here tonight, so take your time and enjoy the town.

Accommodations: Safari Spirit
Included Meals: breakfast, lunch and dinner

Day 7 - Columbia River Gorge and Bonneville Dam
This morning, cruise through the Columbia Gorge National Scenic Area. The outside decks provide the best views of this beautiful passage. At Bradford Island, step ashore for a guided tour of Bonneville Lock and Dam, the final lock on our journey. Visit the power station and fish ladders, learning more about how this engineering marvel fits into the local environment and community. This evening we'll anchor in a quiet channel for the night.

Accommodations: Safari Spirit
Included Meals: breakfast, lunch and dinner

Day 8 - Portland, Oregon
A Fond Farewell to your Columbia River cruise! Your crew serves another excellent breakfast this morning before bidding you "adieu." At 9:00 am you'll be transferred to the Portland airport for connections home.

Accommodations: n/a
Included Meals: breakfast

More information from AdventureSmith Explorations: