AdventureSmith Explorations - vacations and travel
Panama Adventure Cruise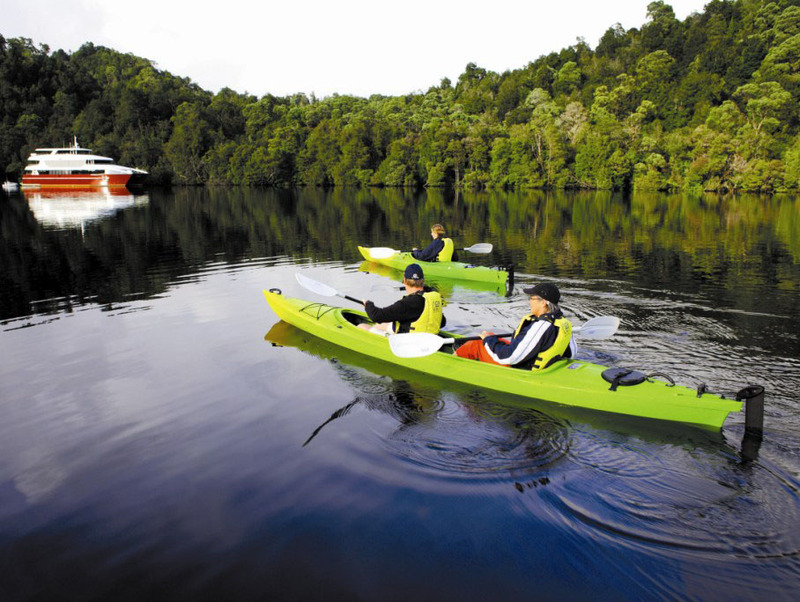 from $3,450* per person
7 Days
May-August
Boutique accommodations

Exertion level: 2

Operator:

AdventureSmith Explorations

24 people max
Panama city
Boats, Barges & Small Ship Cruises trips
Three million years ago a thin strip of land emerged from the sea, uniting the Americas. For eons, this land bridge has been a path for an ongoing natural pilgrimage. Thousands of years later, the same path was covered by the natives, the Conquistadors, pirates, slaves, railway builders, and ships from coasts and seas all over the world. Today, the Panama Canal stands as a living monument to this land of transit, this crossroads, stretching over a historic path trodden by those who opened the way and by the footsteps of those who remained.

Our Panama small ship cruise travels from tropical rainforests to isolated beaches, from remote Native villages to the Panama Canal. It is a journey that will astound lovers of nature, culture, birdlife, wildlife and activity. Cruise to Panama up close and in style aboard the 24 passenger Discovery catamaran. Each day offers new opportunities for off vessel explorations. Expert naturalist guides lead nature hikes, visits to remote villages, kayaking excursions, or snorkeling among unspoiled reef. Each evening rest comfortably and enjoy delicious cuisine aboard the Discovery.
Locations visited/nearby
Panama
0 testimonials about this trip.
Reviewer:

R. and D. Ivanova

Galapagos Motor Yacht Eric/Letty/Flamingo Cruise

Thank you for the most incredible experience! We just came back from our trip to the Galapagos. We were on the Eric - a terrific yacht and an even greater team. The islands are beyond belief, but I wanted to tell you how perfect the entire trip was. Everything went incredibly smoothly from our arrival (late) in Quito where our guide was waiting for us despite the late hour, to all transfers, luggage and ticket arrangements - everything. Our guides were fabulous, as was the entire crew, including the Captain. AdventureSmith Explorations did a terrific job!

5
Comments from Facebook
Itinerary
Day 1 - Panama City - Flamenco Marina
Sail the tropical waters of the Pacific Ocean towards Contadora, where the Discovery will stay the first night before navigating to the Darien Jungle. Take this opportunity to meet your expedition leaders, the crew and your fellow travelers while you savor our tempting native cuisine.

Accommodations: M/V Discovery
Included Meals: Dinner
Day 2 - Darien Jungle
Step aboard a time machine and travel back more than 600 years to a place that not many have had the privilege of experiencing. More than an excursion, this is a journey into the lives of the Embera Indians. A proud people who have been able to maintain their traditions and lifestyle as they were before the Spaniards colonized the region. These natives are also master crafters of cocobolo wood carvings and basketry. After motoring up river you will see the village emerging from the jungle, as if by magic. Keep your eyes open along the way as the region offers abundant wildlife that is particularly active along the rivers edge.

Accommodations: M/V Discovery
Included Meals: breakfast, Lunch, and Dinner
Day 3 - Pearl Islands – San Telmo
Snorkel and swim on the waters of the Pearl Islands. The archipelago owes its name to the abundance of Pearl Oysters which supported a substantial fishery in the early 1900`s. On the outer portion of the archipelago, the islands of San Telmo and Galera are home to some pristine beaches and fertile fishing grounds. Join the divers from Esmeralda in their search for pearls and kayak along beautiful and unspoiled beaches. View the remains of the submarine Explorer built in 1865 during the Civil War and which sunk off the coast of San Telmo during the oyster fishery of the late 1800´s.
Accommodations: M/V Discovery
Included Meals: breakfast, lunch and dinner
Day 4 - Panama Canal Transit – Gatun Lake
Wake up at the Pacific entrance of the Panama Canal and join the morning's ship convoy for our northbound canal passage traversing Miraflores Locks and Pedro Miguel Locks. The Discovery will be raised 85 feet above sea level to Gatun Lake. You will have a once in a lifetime opportunity to experience up close the history and operation of this engineering marvel. Navigate the Gaillard Cut, the narrowest section of the Panama Canal, bisecting the Continental Divide. This section of the canal is full of history and geological value and you will be able to appreciate the continuous maintenance that this area requires, because it is very susceptible to landslides. Spend the night in Gatun Lake on Panama Canal waters.

Accommodations: M/V Discovery
Included Meals: breakfast, lunch and dinner
Day 5 - Panama Canal – Barro Colorado
Prior to the construction of the Panama Canal, the vast jungle area that is now the Gatun Lake was teeming with an overwhelming abundance of wildlife. As the region was flooded to create the lake, animals took refuge in the mountain peaks, which are now the many islands that dot the renowned lake. Explore Barro Colorado Island where the Smithsonian´s Tropical Research Center is located. Your expedition leader will take you on board small crafts past lush rainforests to secluded areas of the lake to witness first-hand the splendor and excitement of the jungle. Exotic birds, monkeys, sloths, iguanas, and crocodiles are just a few of the animals that you could see in their native surroundings. The sights, sounds and scents that make up this beautiful, tropical jungle will engulf you. Cameras are a must as this is considered the world's premier location for viewing monkeys and other animals in the wild. The Discovery will exit the Panama Canal in the afternoon on its way to the mouth of the Chagres River.

Accommodations: M/V Discovery
Included Meals: breakfast, lunch and dinner
Day 6 - Chagres River - Fort San Lorenzo
Experience the magnificent Chagres River which was used by the conquistadors to move their gold across the Isthmus of Panama en-route from Peru to Spain and by the gold prospectors who attempted a "short cut" from the US East coast to the gold fields of California. The river was the center piece of the colonial inter-oceanic route and is now the lifeline of the Panama Canal full of wildlife and tropical jungle. Explore Fort San Lorenzo which is located on a cliff at the mouth of the Chagres on the Atlantic side where your leader will offer details of the immense amount of history found on this area. The fort was built by the Spaniards in the 16th century to defend their well known gold trail.

Accommodations: M/V Discovery
Included Meals: breakfast, lunch and dinner
Day 7 - Portobelo – Caribbean
Wake up to a farewell breakfast before you disembark the Discovery. Travel by motor coach to Portobelo and enjoy this town located on Caribbean waters which was founded by Christopher Columbus on his fourth voyage to the new continent in 1597. This quaint town is rich in history as it was the site of many sea and land battles between the Spanish colonials and the pirates and corsairs raiding the Spanish Main. Explore the fortifications built by the Spaniards to protect their treasures and visit the Church of San Felipe, the sanctuary of the Black Christ. Later in the afternoon, board the Panama Canal Railway train back to Panama City. This one hour railroad trip will allow you to traverse the picturesque trans-isthmian route from the Atlantic to the Pacific Ocean. The line flanks the Panama Canal passing through lush rainforests, cruising alongside the Canal's locks, through the historic Gaillard Cut and gliding over slender causeways in Gatun Lake.

Accommodations: n/a
Included Meals: breakfast, lunch

More information from AdventureSmith Explorations: